THOUSAND OAKS, CA -- Having only one day left wasn't going to change much, right? Well, not exactly. From early in the morning to late at night, there were games all day Sunday at Sports Academy that had a major impact on division standings and Peach Jam hopes. It was a wild one, indeed, and all that's left following Nike EYBL Session IV is to figure out which teams made it.


THE PERFECTIONISTS
California Supreme (CA) defended its home turf in strong fashion. Bradley Beal Elite (MO) used discipline to find ways to beat really strong teams. Expressions Elite (MA) continued its rapid climb up the standings. Oakland Soliders (CA) grinded its way to better status. These are the four squads that went 4-0 this past weekend. It was not your typical setting, playing all four games in just two days, especially at the end of a competitive season, so the fact there were multiple teams to have perfect marks is impressive.
THE RISERS
Outside of Expressions Elite (MA), which perhaps had the hottest tournament of any squad given the schedule, circumstance, and where it sat at the halfway mark, teams such as E1T1 (FL) and BABC (MA) each bounced back to nice weekends. Then, of course, there were the bubble teams that made noise. Although both RM5 Elite (TX) and Nike Team Florida (FL) didn't move too many spots, each went 3-1 when it absolutely needed to in order to stay in the running for a spot, and it didn't go unnoticed.
THE FALLERS

There weren't too many changes here. Sure, Team Penny (TN) dipped a little bit in the standings and on the seed line, but most of it stayed the same. The last few games, although important, didn't hold too much weight to make any drastic changes. The only squad that probably took the biggest tumble of all is Team Final (PA). An 0-4 weekend to drop to 7-9 overall was not a great last impression after showing much more promise in Session III.
THE WINLESS
Not one. Not two. Not… just stop at two. Going 2-2 is nothing stellar by any stretch of the imagination, but it deserves some big-time credit when they were the first and only wins of the entire season. Nike Phamily (AZ), with Flo40 No. 1 Marvin Bagley III, finally notched its first wins, including against the No. 1 overall seed, Howard Pulley, which was without star point guard Tre Jones, on Sunday. Still, wins are wins.
Unfortunately, Team United (NC) couldn't find that little glimpse of success and finished the season 0-16.
THE PEACHOLOGY

Taking into account the record, schedule, and division standings, here is what FloHoops thinks the seedings for Peach Jam stand after Session IV: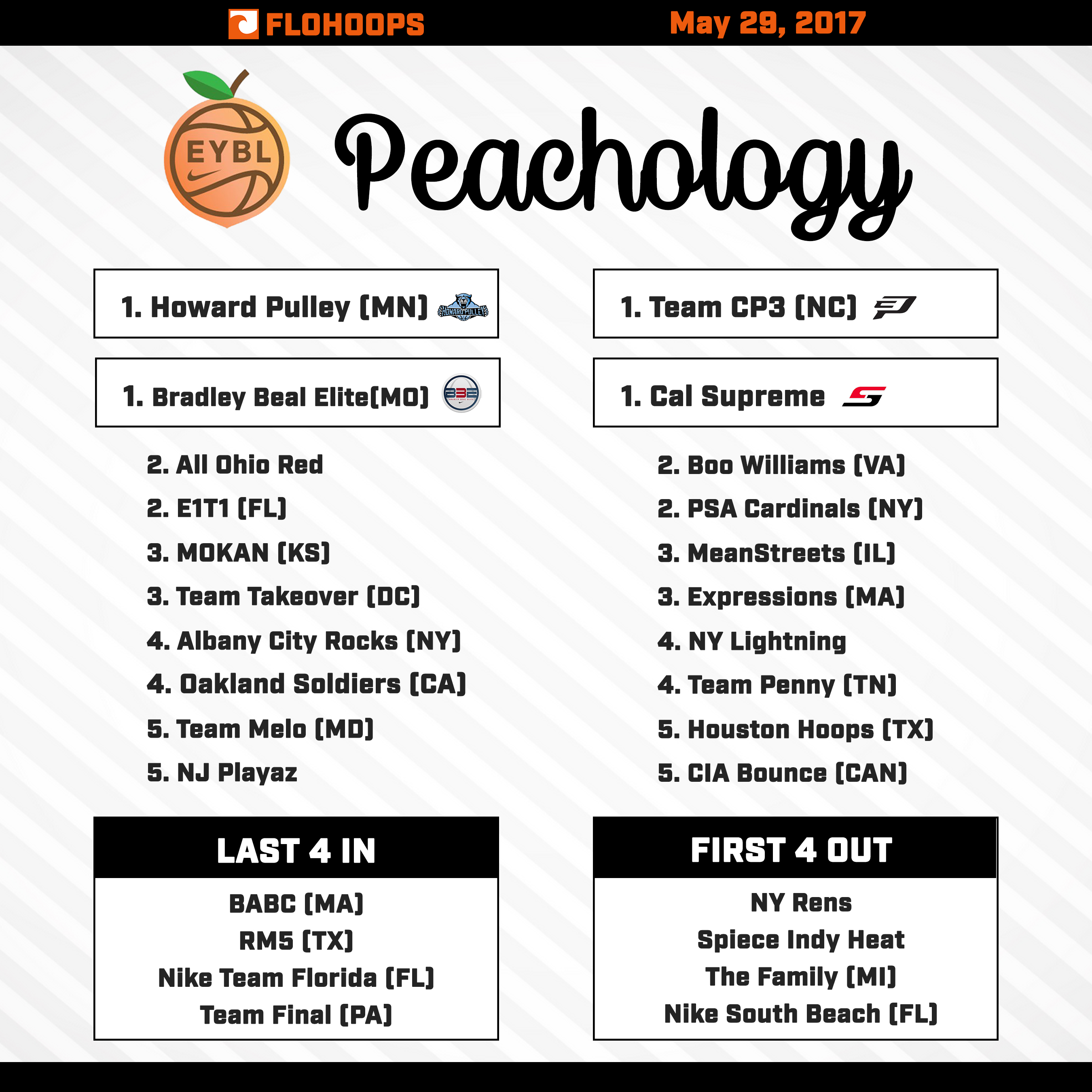 FloHoops' best content, delivered to your inbox!
Don't miss breaking news, feature stories, event updates, and more. Sign up for the FloHoops mailing list today.