Creighton picked up a commitment from 2018 prospect Marcus Zegarowski on Monday, following the 6-foot-1 combo guard's official visit to Omaha, NE, over the weekend.

Zegarowski, a native of Hamilton, MA, clearly had no regional bias when it came to finding the perfect fit, so we'll cut right to the chase as to how he fits the Bluejay blueprint.

At last year's Paradise Jam, we saw Creighton's "run and gun" offense in action against Washington State. In just the second game of the season, the Bluejays went on an absolute scoring tear in a 103-77 win over the Cougars while draining 15 3-pointers.



Not only has this fast-paced style of play put Greg McDermott's crew on the map over the past several years, but it's also been the key in recruiting top prospects that best fit Creighton's offense. Just this past year, McDermott signed his first nationally ranked recruiting class, which included Oak Hill's Ty-shon Alexander and La Lumiere's Jacob Epperson. Zegarowski becomes the third prospect to commit to the Bluejays in 2018.

But it's not all rainbows and green-lit shootouts. Don't think for a second Creighton doesn't have the numbers to back it up. In 2017, the Bluejays finished second in the country in field-goal percentage. Since then, they've only recruited highly efficient players who can add to that success.


EYBL Season Shot Chart: Marcus Zegarowski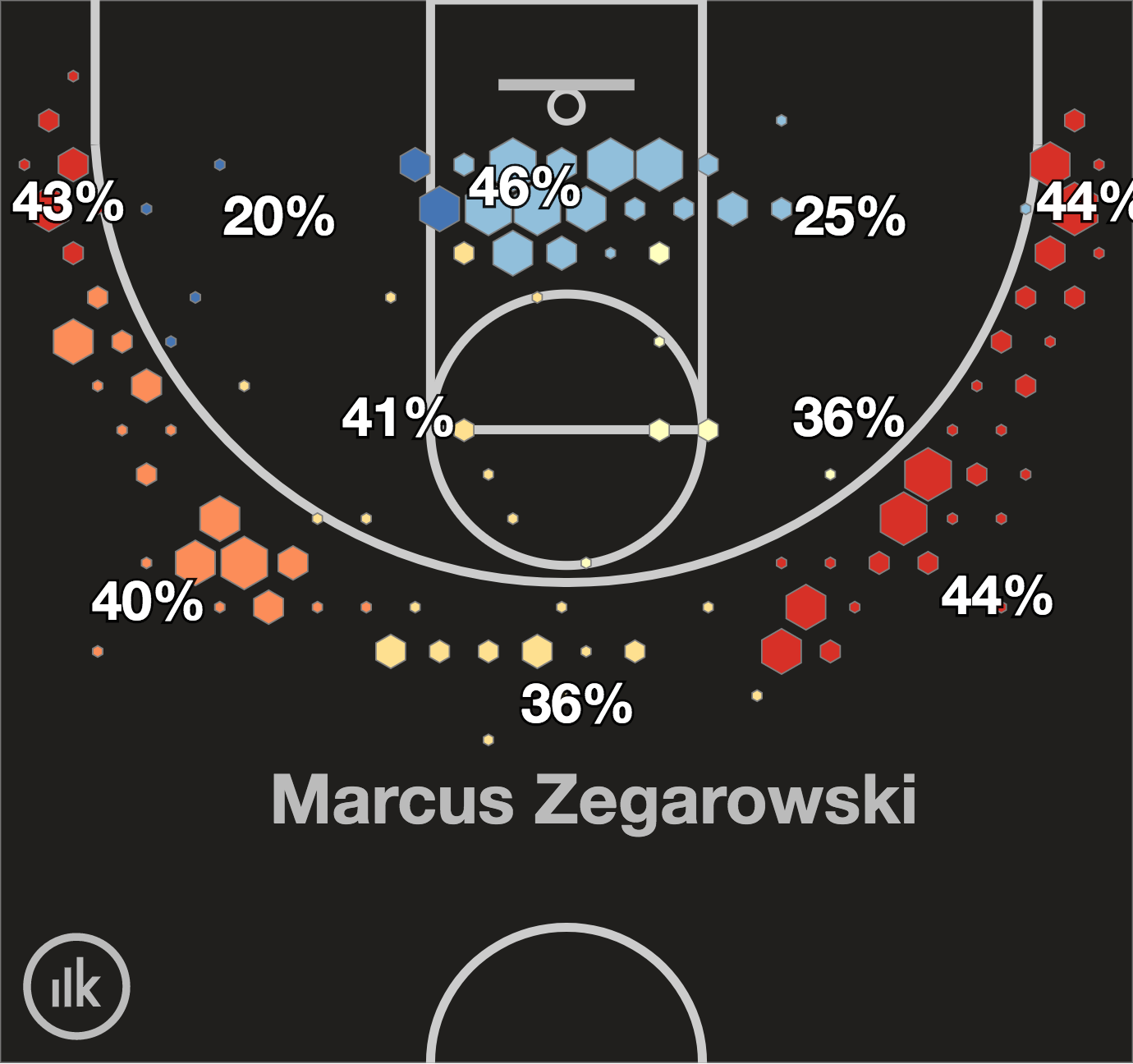 Standing at 6-foot-1, Zegarowski was one of the most lethal shooters of the Nike EYBL season, pouring in 40 percent of his shots from behind the arc. His ability to make the right decision in transition lead him to being just as effective in the paint.
Creighton wants guards who are constantly seeking out opportunity: for themselves and for their teammates. Zegarowski showed how his skill set fits that mold with his play during the Nike EYBL season for Expressions Elite.
This 20-point performance by Zegarowski at Nike EYBL Session IV in late May serves as a great sneak peek for Bluejays fans.
--
FloHoops' best content, delivered to your inbox!
Don't miss breaking news, feature stories, event updates, and more. Sign up for the FloHoops mailing list today.