DeRozan's Unique Scoring Ability Has Raptors Eyeing Finals
DeRozan's Unique Scoring Ability Has Raptors Eyeing Finals
DeMar DeRozan is leading the best Raptors team we've ever seen, making Toronto a legitimate threat in the Eastern Conference.
Mar 12, 2018
by Cleft Fielder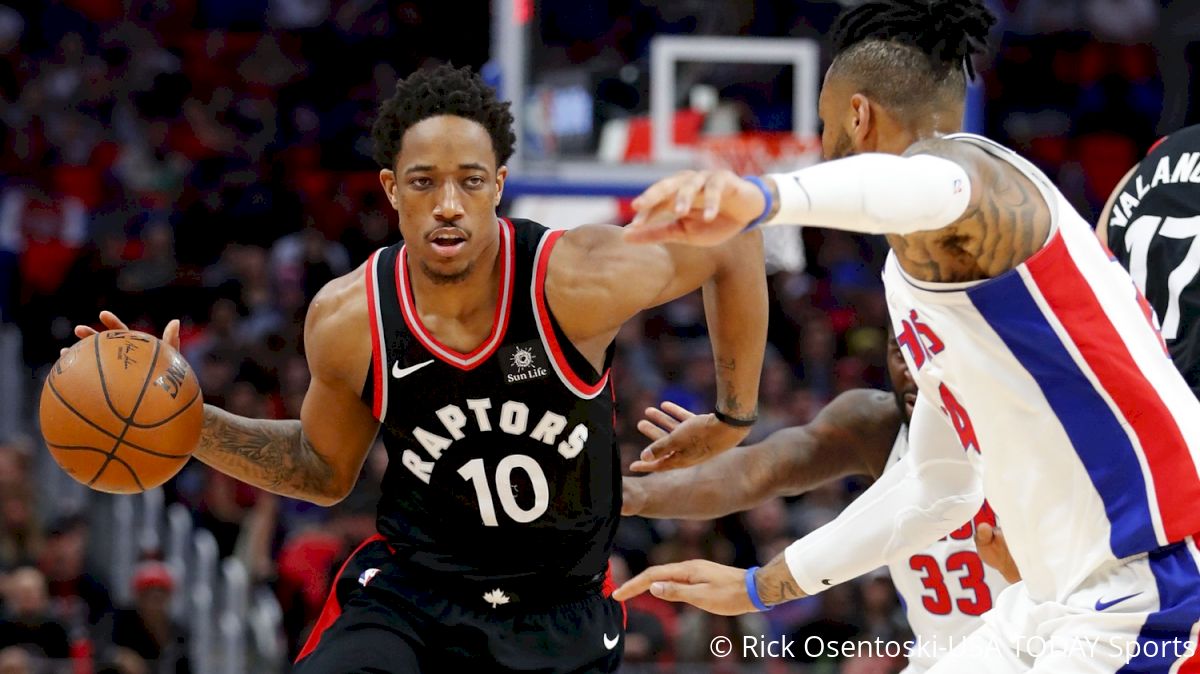 Unlock this article, live events, and more with a subscription!
Get Started
Already a subscriber? Log In
In a season of greatness for the Toronto Raptors, to this point anyway, most fans will remember one play above any other: DeMar DeRozan's length-of-the-court drive and dunk to beat the Detriot Pistons in overtime and keep their winning streak alive last Wednesday.
ICYMI: DeMar DeRozan had one of the best dunks of the year. pic.twitter.com/aRKmGZazW8

— SportsCenter (@SportsCenter) March 8, 2018
It's a streak that is still going after ending Houston's own 17-game run and beating the Knicks on Sunday. What made the DeRozan dunk memorable was the drama and the fact that it was a game-winner. But there was more to it if we look at it as a symbol of what DeRozan is showing the league this year: He is relentlessly attacking the game in an elite competitors style of play.
He may handle himself in a "California cool" type of way, the opposite of fellow Californian Russell Westbrook, but inside he is approaching offense like a prized boxer: always on the attack.
Toronto's best-ever team has an All-Star point guard and the best bench in the league. DeRozan, though, is the Raptors' MVP, thanks to his "always forward" mentality. If Toronto can break through and end LeBron James' dominance over the East, DeRozan will likely be the primary reason why.
Let's examine what he is doing to defenses.
For starters, DeRozan in some ways reminds me of a prolific scorer from the recent past. He has that "attack quickly" mindset of Gilbert Arenas. No, he doesn't shoot like Arenas did nor is he the primary ball handler in his offense, but Arenas, in his prime, was like Joe Frazier in a ring. Always forward, always putting opponents on their heels.
That's what I first see with DeRozan.
We see iso-greats like Harden and Westbrook in what we call "settle dribbles" frequently, rocking the ball back and forth before attacking. DeRozan will settle-dribble too, just not for nearly as long and not as often. Some great scorers are the type that attack with no real plan, trusting skills and craft as they improvise. Less efficient but often still productive, they are hard to scheme for defensively because of their ability to find creases.
DeRozan is different.
Scouts like to use the phrase "he knows where he wants to go," and this fits DeMar perfectly. Study his "shot frequency" chart (I use Ben Falk's "Cleaning the Glass" for these kinds of data and charts) and you will see where DeRozan is likely headed: to the rim, the paint, or the left wing.
His role as primary scorer means he has to take shots from everywhere, since he often gets the ball with little time left on the clock without time to get to exactly where he wants to go. But early in possessions, he's focused on those golden areas for him. And he wants to go there now. There is a huge benefit to his quick attacks — the defense has less time to send bodies to those areas.
They know where he wants to go, too, so if he over-dribbles they have the time to get there. It's one reason why he has developed an excellent "mid-range" game. As a rookie he had 48 percent of his shots come from drives all the way to the rim, and now, despite being far more skilled as a dribbler and much craftier too, that number this season is 25 percent. He knows he would be met with the cavalry if all he did was attack the rim.
As elite scorers go, DeRozan spends less time dribbling and less time overall with the ball, per touch, according to the data Second Spectrum provides the NBA, than most of the top level scorers. He ranks tied for 13th with Jimmy Butler in "frontcourt touches" per game among the highest-scoring guards and wings in the NBA (Westbrook, Harden, LeBron lead the way).
Yet, despite not being a good or volume 3-point shooter he is second among all off-guards in scoring — first, if counting only the teams in playoff contention (Devin Booker is first overall).
That puts DeRozan in very rare territory, a scoring machine who is very efficient despite not making more than 1.2 3-point shots per game. The only perimeter players who take so few 3s per game but still rank in the top 25 in scoring for the league are Giannis Antetokounmpo and Butler. Giannis is an athletic and physical freak. Butler is a bully but very skilled. DeRozan is so much more about skill, craft, and mindset.
We should mention his mid- and long-range jump shot, here, as he wouldn't be an All-Star without it.
Just as DeRozan hunts the rim with purpose, so, too, does he look for what I refer to as the "second box" — the area from the free throw line down to about 9 feet in front of the rim, in the paint. Not only is this a high percentage shot for him, but he is also able to draw fouls more often than we might expect from a jump shooter because defenses have to fight harder to keep him from getting to that area.
DeRozan has made more free throws this season than anyone in the NBA other than Harden and Antetokounmpo, an incredibly important stat to consider knowing he isn't getting a lot of points from behind the 3-point line. Efficient players simply have to get points from one line or the other (or both).
He attacks straight lines with pace and purpose, forcing defenses to be more physical to slow him, and that is what draws many fouls. Add in his ability to make shots in mid-range and that forces defenders to contest as close as they can, which draws even more calls.
His jump to becoming elite at drawing fouls is what propelled him to another level of scorer and player overall. That he is a foul magnet and a bucket-getter without holding the ball for a long time has helped Toronto create its most potent offense in memory — a top four machine that is playing faster and moving the ball far more quickly than previous teams did.
Throw in the fact that DeRozan is one of the best scorer/assist men who play off the ball in the league and it is easy to understand why the Raptors have such a problematic offense to defend. They have two primary scorers who are very comfortable creating easy baskets for teammates.
Conventional wisdom says that Toronto is not built for the playoffs because DeRozan isn't a perimeter threat, nor will his constant attacks to the rim draw as quick a whistle in the postseason. But the postseason has so often featured events that everyone just knew could not happen.
Kevin Garnett and Dirk Nowitzki were champions after being labeled "not capable enough." LeBron was once doubted too, remember. This is the best Raptors team and DeRozan seems primed to play his best, too, if his determined and competitive play this season is an indication of anything.
To my eyes, DeRozan leading his team to a Finals series won't be surprising in the least.