2018 GEICO High School Nationals
R.J. Barrett Wins Gatorade National Basketball Player Of The Year
R.J. Barrett Wins Gatorade National Basketball Player Of The Year
R.J. Barrett wins Gatorade National Basketball Player of the Year, talks Duke in NCAA Tournament, and the upcoming GEICO Nationals.
Mar 16, 2018
by Jaki Goldner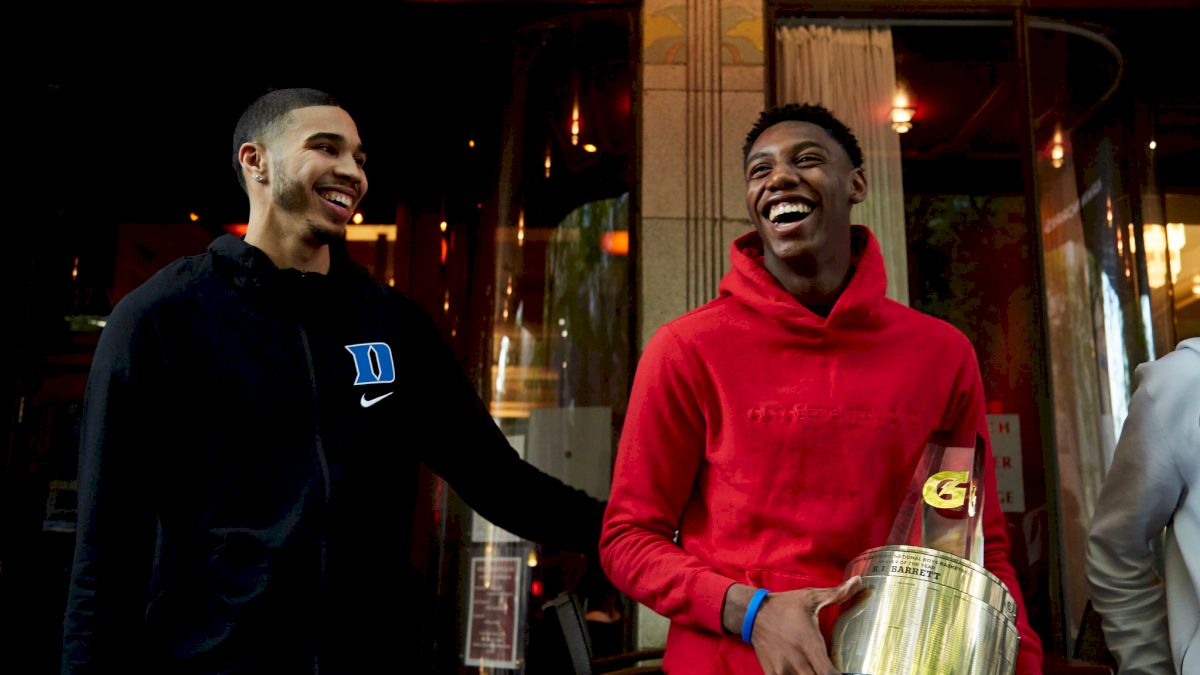 By Adam Zagoria
---
After R.J. Barrett finished dinner with his family at an Orlando, Florida, steakhouse on Thursday night, the valet pulled up in the family's black SUV.
It turned out the valet was no ordinary Joe. Instead, it was Boston Celtics rookie Jayson Tatum who stepped out of the car and presented the 6-foot-7 Barrett with the Gatorade National Boys Basketball Player of the Year trophy.
"Welcome to the club, man," said Tatum, who also won the award in high school before going on to a one-and-done season at Duke, as he presented Barrett with the hardware. "National Gatorade Boys Basketball Player of the Year."
Barrett looked stunned when he realized it was Tatum handing him the award as his family, friends, and Montverde (FL) Academy teammates joined in the celebration while cameras rolled.
"I had no idea what was going on," Barrett said. "My parents just said we were going to go out and celebrate my other awards and I came outside and he just pulled up in the car, so it was crazy. I mean, it's great. I've seen this award over the past couple years and it was one of my goals to get it. So it feels amazing."
Barrett, a Canadian who is part of Duke's blockbuster recruiting class for 2018, has now won both the Gatorade and Naismith High School Boys Player of the Year awards. He was also selected for the McDonald's All-American and Jordan Brand Classic Games.
"He's a great player, a great athlete," Tatum said in a phone interview. "He's a lot taller than I thought he was. He definitely has a bright future."
Barrett is the projected No. 1 pick in the 2019 NBA Draft, per ESPN and other outlets. He could become the third Canadian after Anthony Bennett and Andrew Wiggins to go No. 1 overall.
"[He] can do a lot of things well on the court but I think he's more athletic than I was at that age," said Tatum, the No. 3 pick in 2017. "He's probably stronger than me. I think my advantage was I was a little bit taller and my ability to score the ball was my strong suit."
Barrett doesn't model his game after his fellow Canadians, though. He's more a fan of the King.
"My favorite player growing up was LeBron James," he said. "I love the way he plays. He shares the ball, he can score, he's dominant. I love the way he plays."
Barrett has goals before then, though.
His Montverde team is the No. 1 seed in the upcoming GEICO High School Basketball Nationals (formerly DICK'S Nationals) which is set for March 29-31 at Christ the King High School in Queens, New York.
Led by legendary coach Kevin Boyle, Montverde won the tournament three years running from 2013-15 behind current Philadelphia 76ers rookie Ben Simmons. But last year Barrett and Montverde were the runners-up to a Brian Bowen-led La Lumiere (IN) team.
Barrett and the Eagles (32-0) haven't played since a Feb. 11 blowout of Christ the King at the Metro Classic in New Jersey, so they will have had 45 days off between official games. Barrett used the time off to decompress and unwind. He got to see "Black Panther."
"It's a great movie and I'd definitely go watch it again," Barrett said.
This week Montverde has been practicing during its spring break, and Barrett is anxious to get back on the court in New York.
"[We've been] working, getting better, practicing hard with the guys, we're grinding," Barrett said. "It's my last year and we're trying to come out of there with a championship. It's definitely a goal of ours."
Barrett was also able to watch on TV as Duke blew out Iona in the first round of the NCAA Tournament in Pittsburgh on Thursday. The No. 2 seed Blue Devils are set to face No. 7 seed Rhode Island in a second-round game on Saturday. Duke is seeking to become just the third team in the one-and-done era to win an NCAA championship while relying on one-and-done players; Kentucky in 2012 and Duke in 2015 were the others.
"They looked pretty good today," Barrett said. "If Trey Duval keeps shooting like that and attacking the rim, we're going to be tough to beat." Duval went for 19 points and 8 assists in the win.
A year from now, Duval will likely be in the NBA, while Barrett will be at Duke with the No. 1 recruiting class that also includes Zion Williamson, Cam Reddish, and Tre Jones. Barrett, Reddish, and Williamson are the top three projected picks in the 2019 NBA Draft, per ESPN, but Barrett believes they will coexist and thrive at Duke. The group stays in regular touch on Snapchat group chat, and Barrett says they're working on a nickname for their foursome.
"We talk every day about many different things, not always about basketball," Barrett said. "I think the ways our games are set up, we're going to play well and feed off each other."
Barrett said it's Duke coach Mike Krzyzewski's "job" to figure out how the pieces will work, but "none of us need the ball. We're unselfish so it isn't going to be hard."
For his part, Tatum said Coach K has the one-and-done thing figured out and has no doubt he'll make it work with Barrett and the other stars.
"There is a structure [at Duke] and it gives you an opportunity to play and he lets you have freedom," Tatum said. "And he teaches you how to play the game the right way and great players know how to play with other great players."
---
Adam Zagoria is a Basketball Insider who runs ZAGSBLOG.com and contributes to The New York Times. Follow Adam on Twitter.