No. 1 RJ Barrett, No. 1 Montverde Take Home GEICO National Title
No. 1 RJ Barrett, No. 1 Montverde Take Home GEICO National Title
No. 1 Montverde Academy ended the season with a 76-58 defeat of No. 3 University School to win the Geico National Championship.
Mar 31, 2018
by Jaki Goldner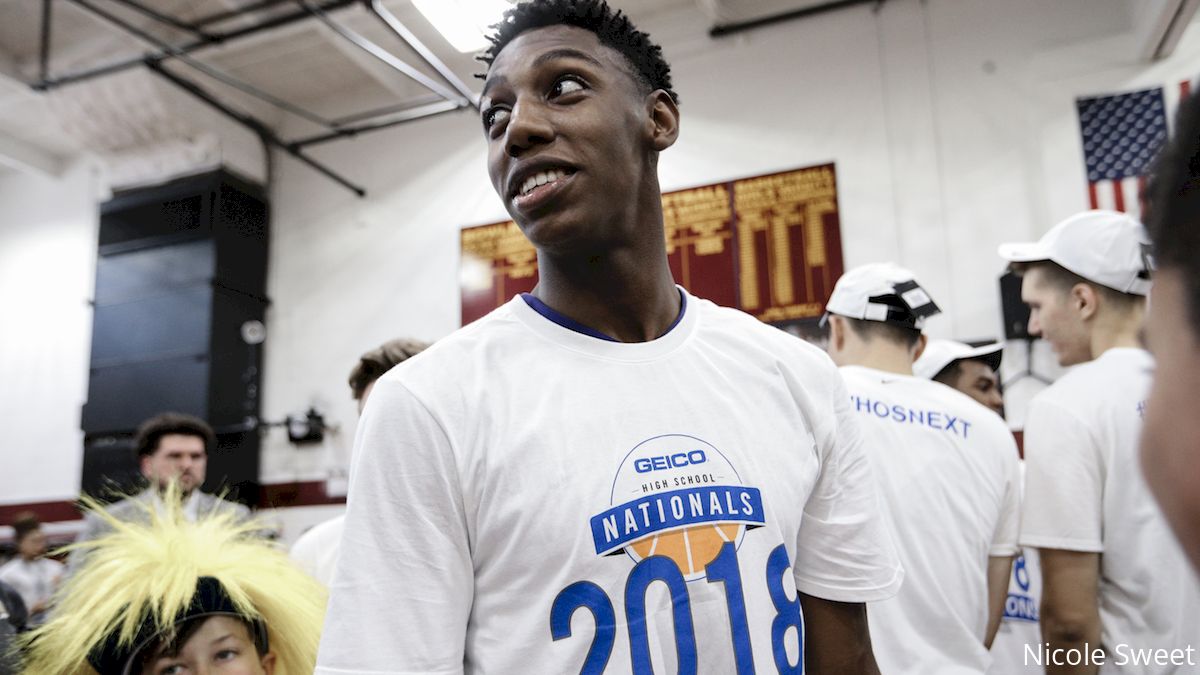 By Dennis Chambers
---
NEW YORK -- RJ Barrett finally reached the pinnacle of high school basketball that he had been searching for.
On Saturday afternoon, Montverde Academy (FL) took down University School (FL) 76-58 in the championship round of the GEICO Nationals tournament. In fitting fashion, Barrett led all players in scoring and rebounding with 25 points and 15 rebounds. His Most Valuable Player award for the entire tournament placed a bow in his championship performance.
Gold medals, MVP trophies, countless records, and accolades have been showered over Barrett from the moment he stepped foot on Montverde's campus. None of that was a national championship and a perfect 35-0 season.
"This is the cherry on top of everything that happened throughout my high school career," Barrett said.
Dominance is a mainstay for the Florida prep school. Of the 10 GEICO National tournaments to take place, Montverde has made it to the championship round in nine of them. This title, their fourth, breaks a tie with Findlay Prep for most such victories. Entering this weekend as the top seed, with a perfect record, and the best player in the country, all eyes were on the Eagles to complete their season in a way they failed to the previous two years.
"Obviously the last several groups we had here had great success," head coach Kevin Boyles said. "We had to raise the bar a little, if we started number three in the country people expect a good team. The last two years we were very good, we were kind of there. We were ranked number one at some point in the season but we weren't able to close it out. These guys have restored us to hopefully our rightful spot."
Throughout the entire course of the game, Montverde was in control. They won every quarter and trailed for only three minutes of game's 32. There wasn't ever much of a doubt that Barrett and his teammates would come out on top. But that didn't make it any less painful for the University School bunch.
"It's just depressing to get here and end up losing to Montverde," Scottie Barnes said.
Barnes was the lone bright spot for the Sharks on Saturday, continuing to build on his strong weekend. Barnes finished with 24 points and 10 rebounds. His versatility on the perimeter and down low were some of the few things that gave Montverde trouble throughout the game.
"Scottie Barnes, he reminds me of Michael Gilchrist," Boyle said. "Just a great motor, always chases balls. Sometimes throws it to himself on a shot to go get. He's one of those guys."
Barrett agreed with his coach in reference to Barnes' performance, adding that "he's a really good player man, he's up next."
While being "up next" doesn't get Barnes or his teammates a championship, it does signal what could be on the horizon.
"We've been in talks of doing a home and home for the next couple years," University School head coach Adrian Sosa said. "So that's something we're working on."
Boyle may feel like this team restored Montverde Academy to their rightful place, but there's a sense of relief on his end that this season with heavy expectations ended the way it was supposed to, in his mind at least.
"I have a short attention span," Boyle said. "It's the next day. I'm into the game, I'm passionate about it. If we lose, believe it or not, it doesn't kill me that much. It's the next game or the next season. If we win, I'm super excited. I'm satisfied but also relieved because I thought we had pressure. A good pressure, I feel my most focused and do my best when I'm under pressure. I feel like we had to win this year. We had seniors, we had the best player. I felt a lot of pressure as a coach that I should win with that team, and excel with that team."
Although this season was very much about the team's success and making good on their missed opportunity at last year's tournament, it was equally as much Barrett's swan song.
The senior, and best player in the nation, capped off his high school career the way he wanted to. With that in his rearview, Barrett has one message to send out as he heads to Tobacco Road and Duke University.
"Get ready."