USA Basketball, NCAA Debut Next Generation Featuring 2019 Flo40 Prospects
USA Basketball, NCAA Debut Next Generation Featuring 2019 Flo40 Prospects
Twenty-four players from the class of 2019 participated in USA Basketball and the NCAA's Next Generation Events at the Final Four in San Antonio.
Mar 31, 2018
by Adam Zagoria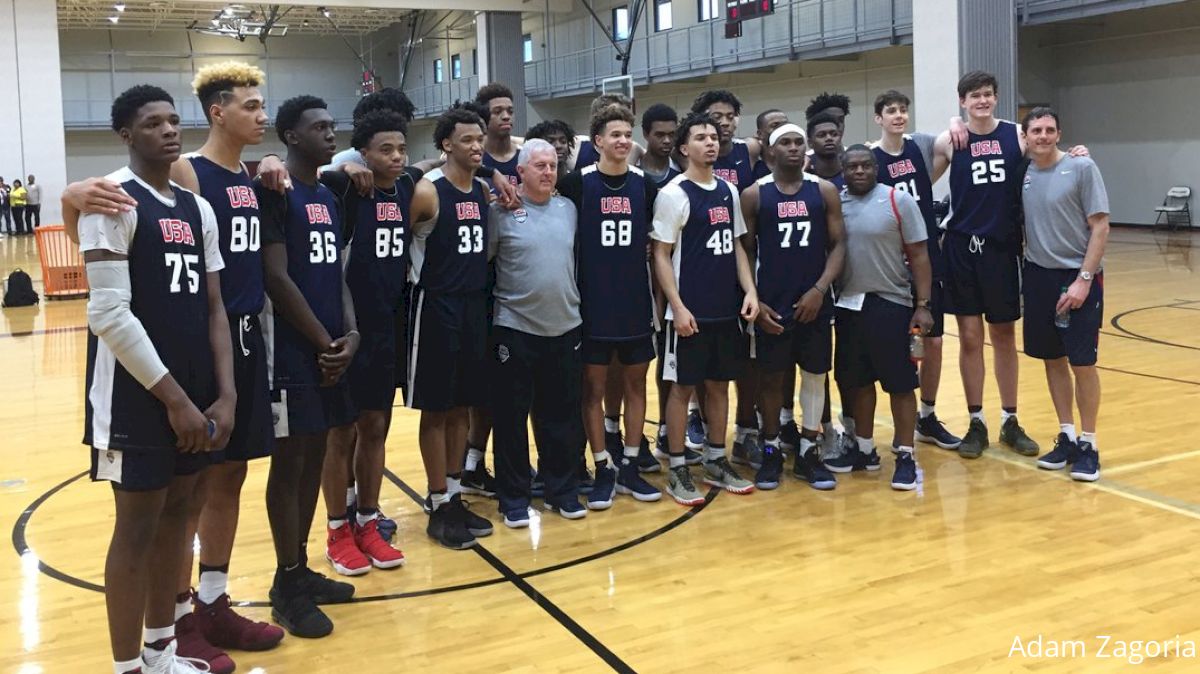 SAN ANTONIO -- USA Basketball and the NCAA debuted their first Next Generation Sunday Program on Saturday at the George Gervin Academy.
A group of 24 of the top prospects in the Class of 2019 were invited, with 21 of them making it here to compete in events surrounding the actual Final Four games featuring Loyola-Chicago against Michigan and Villanova against Kansas. The players were divided into two teams, USA1 and USA2, and each played a pair of games against NBA Africa Academy and NBA Global Academy. Sixty-six total players competed on all four teams. Andy Katz, formerly with ESPN and now with NCAA.com, gave an introductory speech to the players before the games began.
Vern Carey Jr. (University School/Southwest Ranches, Fla.), Isaiah Stewart (La Lumiere School, Ind./Rochester, N.Y.) and James Wiseman (Memphis East H.S./Nashville, Tenn.) were unable to attend due to other obligations.
The high school players, but not their family members, were given tickets to attend the national semifinals Saturday night at the Alamodome. The USA players will also compete in an inter-squad scrimmage on Sunday morning at the Alamodome and then depart later Sunday before the NCAA championship game on Monday.
No NBA or college scouts were permitted to attend, and only five media members were credentialed, including myself.
"I'm trying out for the [USA] U18 team," said Scottie Lewis (Ranney School/Hazlet, N.J.), who is being recruited by Duke, Kentucky, Villanova, Florida and Harvard, among others. "We were here last year as sophomores in Colorado and this is a special group. I think we're a better group than we were last year. Coming in and seeing a lot of new faces and being surrounded by the top 24 players, it only makes you better. You have a great coaching staff, from everyone from both sides, internationally and for us. They're all teaching each other, trying to make each other better. I think that's the best part about it."
2019 @Scott_lewis_23 of @RanneyAthletics hitting the jumper at @usabasketball pic.twitter.com/JKztpXyOcc

— Adam Zagoria (@AdamZagoria) March 31, 2018
The USA U18 mini-camp will be held May 31 through June 2 in Colorado Springs and this group featured 12 players eligible for the team that will compete for the in the 2018 FIBA Americas U18 Championship for Men June 11-17 in St. Catherines, Canada. Kansas coach Bill Self will coach that team, while Anthony Grant (Dayton) and Danny Manning(Wake Forest University) will serve as assistants.
"Our goal is to really get them together and give them a little bit of what USA Basketball is all about," said USA Basketball youth coach Don Showalter. "It's not an All-Star team, it's not a traveling team weekend. When you're here, expectations are really high for you guys. That's more so than anything, trying to have them buy into our culture a little bit and what we're doing."
Showalter said plans were underway to hold the same event at the 2019 Final Four in Minneapolis featuring Class of 2020 players.
Class of 2019 @TheDH11 scoring on a breakaway layup for @usabasketball Vs Africa pic.twitter.com/gZwwWrjFXO

— Adam Zagoria (@AdamZagoria) March 31, 2018
With the FBI investigation into bribery in college basketball casting a shadow over the sport this season, this event also gave the NCAA the opportunity to promote its brand in a positive light and bring together many of the top prospects who may play in future Final Fours.
"Definitely, I think it was a smart thing for them to do, to bring us here because a lot of players are leaving right out of high school and going overseas," Lewis said. "I think it was cool to bring the top 24 players in our class just so we can get a little bit of a taste of what the Final Four is really like so we can picture ourselves being in that kind of setting."
Pretty sweet dunk here by 2019 Will Baker from @usabasketball today. pic.twitter.com/faxcMDbxar

— Adam Zagoria (@AdamZagoria) March 31, 2018
Bryan Antoine (Ranney School/Tinton Falls, N.J.), Lewis' high school and AAU teammate, agreed.
"Yeah, I think so because they're taking the top 24 players in the country to see the Final Four in person, so any kid who sees that would probably want to be a part of that," said Antoine, who is being recruited by Duke, Kentucky and Villanova, among others.
Cole Anthony (Archbishop Molloy H.S./New York, N.Y.) is another player from the New York/New Jersey area who was invited. His father, former NBA point guard Greg Anthony, was on hand to support his son.
"It's a great event to come out there and showcase my talent and see the talent around me and see where I stand as a player and see what I need to work on and improve my game," said Cole Anthony, who runs with the PSA Cardinals on the Nike EYBL circuit.
The NCAA and @usabasketball brought in 24 top kids from Class of 2019, including Jersey Boys @Scott_lewis_23 and @BryanAntoine_ pic.twitter.com/g0J9gYYI6D

— Adam Zagoria (@AdamZagoria) March 31, 2018
Like Lewis and Antoine, Anthony hopes to play for the USA U18 team this summer.
"Oh, without a doubt," he said. "It would be super-fun [being] reunited with my guys on Team Rio, getting back and playing with them would be real fun."
He added: "It's not just my dream, it's probably every kid's dream. I mean, who wouldn't want to represent their country and try to go fight for a gold medal."
Just arrived st the George Gervin Academy where @usabasketball invited these top 24 Class of 2019 kids to compete against other NBA Academies pic.twitter.com/tRq7jQoS35

— Adam Zagoria (@AdamZagoria) March 31, 2018
ESPN analyst Fran Fraschilla said the event marked "a great collaboration between the NBA, USA Basketball and the NCAA," and pointed out that some of these players might one day compete for Team USA.
"It's a way No. 1, for the NCAA and the NBA to get their hands on the best young players in our country to expose them to what may be ahead in a positive fashion," Fraschilla said. "Getting an opportunity to represent your country at this age is something that all these kids should strive for. All of our best NBA players now are part of USA Basketball.
"The other thing it does is, it brings closer together a relationship between the NCAA and the NBA. And that's important now that we're about to make drastic changes to the structure of our college game, such as potentially allowing for the opportunity for these players to market themselves, to have agents, to understand that there's more than one way to eventually reach your dream. It may be the NCAA, it may be the G League, it may be going overseas. But that the NCAA still has great viability for these terrific young players. I think everybody wins in this environment because when these great young players see that there's a collaboration between the NCAA and the NBA and they're not working separately, I think that sends a positive message."
Iowa coach Fran McCaffery was the only college coach on hand, but he was there as a father only because his son Pat McCaffery, an Iowa commit, was invited.
"I can only talk as a parent," he said. "I thought it was a fabulous day. I thought in terms of organization, the USA Basketball message to the kids. And I thought the games were really good. The kids defended, they competed, it wasn't an all-star game mentality."
Lewis, for his part, was especially excited to hit the Final Four games on Saturday, a spot he dreams of one day being in.
"One hundred percent," he said. "I was excited that 'Nova and Kansas made it because those are two teams I was rooting for for the whole run. So I'm happy they're playing each other and I'm excited for that game and just to be surrounded by these guys that we grew up playing against. It's going to be fun having them there at the Final Four itself."
---
Adam Zagoria is a Basketball Insider who runs ZAGSBLOG.com and contributes to The New York Times. Follow Adam on Twitter.