Flo40 No. 6 Romeo Langford Targeting Decision In Next Few Weeks
Flo40 No. 6 Romeo Langford Targeting Decision In Next Few Weeks
The top available prospect in the 2018 class, Romeo Langford is looking to make his college decision in the next couple of weeks.
Apr 7, 2018
by Adam Zagoria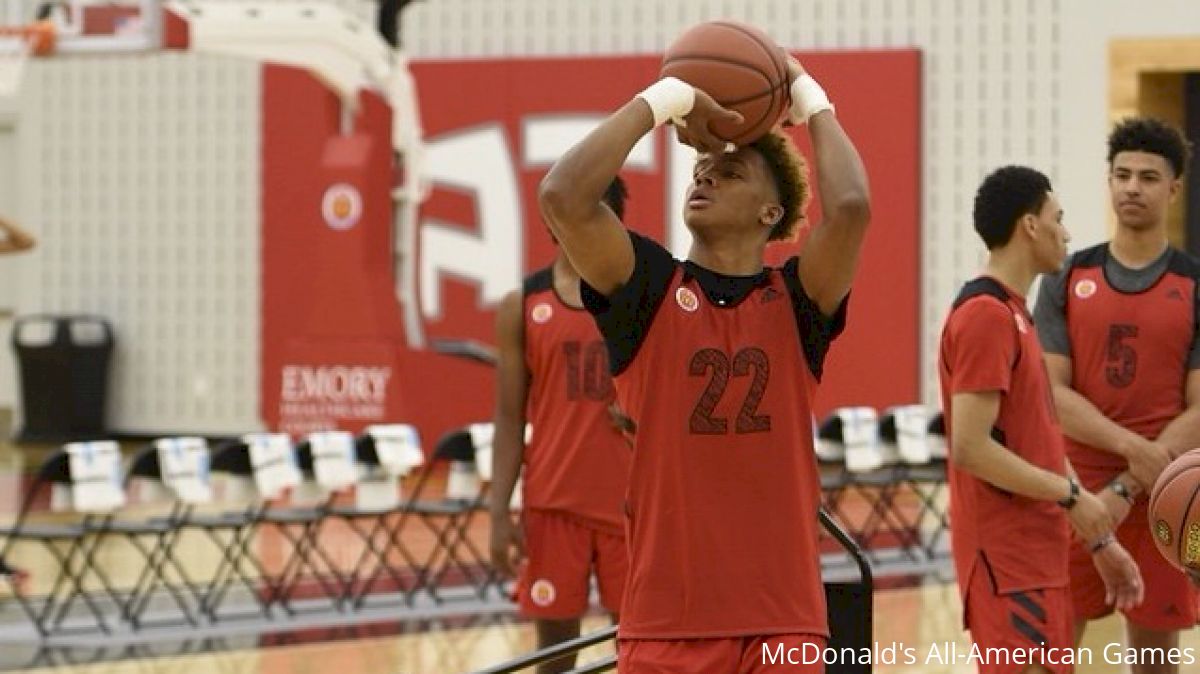 NEW YORK -- The Romeo Langford Sweepstakes is coming to a close.
The 6-foot-6 shooting guard from New Albany (IN) High School will play here in the Jordan Brand Classic on Sunday and then the Nike Hoop Summit on April 13 in Portland, Ore. After that he plans to huddle with his family and make a decision between Kansas, Indiana and Vanderbilt.
Romeo Langford, Cam Reddish, Tre Jones, Jalen Smith, Cole Swider and Emmitt Williams shooting on the other court. Jordan Brand Classic practice in Brooklyn pic.twitter.com/StVPqtTRwe

— Jonathan Givony (@DraftExpress) April 7, 2018
"It's going good, I'm at the home stretch now," Langford said Saturday in Brooklyn following Jordan Brand practice at the Nets' facility. "The decision's coming close. I just gotta get through these next couple weeks, these all-star games and the week after sit down with my family and make a decision."
When he does decide, he already has a plan on how he may announce.
"I'm probably going to do it at my high school in the gym," he said.
Langford said he doesn't plan on taking any more visits and has all the information he needs on the three schools.
"No," he said, "I'm not taking a visit. I'm not taking any more visits."
Langford said he "doesn't think" he'll have any more home visits, either. I've heard everything now and I just have to make a decision."
Langford said Kansas recruits Quentin Grimes and Devon Dotson have been in his ear at the all-star games, as have Vanderbilt-bound Simi Shittu and Darius Garland.
Langford once more broke down all three schools.
Indiana: "I like coach [Archie] Miller. He gets the best out of his players and he proved that this year. Even though they weren't that good of a team, having the best season, he got them ready for big games like Duke and stuff like that. And then they also got coach [Ed] Schilling. His individual development over the summer with guards, his resume says it all. He sent so many guys to the NBA when he was at UCLA. So those two are reasons I like Indiana."
Vanderbilt: "Coach [Bryce] Drew has been in the league and he does everything based off the league, so he knows what it takes. He knows what the league is like so his practice, the stuff they do on and off the court gets you ready."
Kansas: "Bill Self's resume speaks for itself. His success with big guards, he's good at People like Andrew Wiggins, Kelly Oubre, he got them better, sent them to the league. He knows what it takes to get to the league so that's what I like about Kansas."
Asked if he's looking forward to getting the process over with so he's no longer asked about it, Langford smiled and said, "Yeah."
---
Adam Zagoria is a Basketball Insider who runs ZAGSBLOG.com and contributes to The New York Times. Follow Adam on Twitter.