EYBL 17U Session II | 2018 Nike EYBL (Indianapolis)
Flo40 No. 5 Scottie Barnes Talks Potential Preps-To-Pros Option
Flo40 No. 5 Scottie Barnes Talks Potential Preps-To-Pros Option
Nike Team Florida wing Scottie Barnes could potentially have the option of going straight from the preps to the pros.
Apr 28, 2018
by Adam Zagoria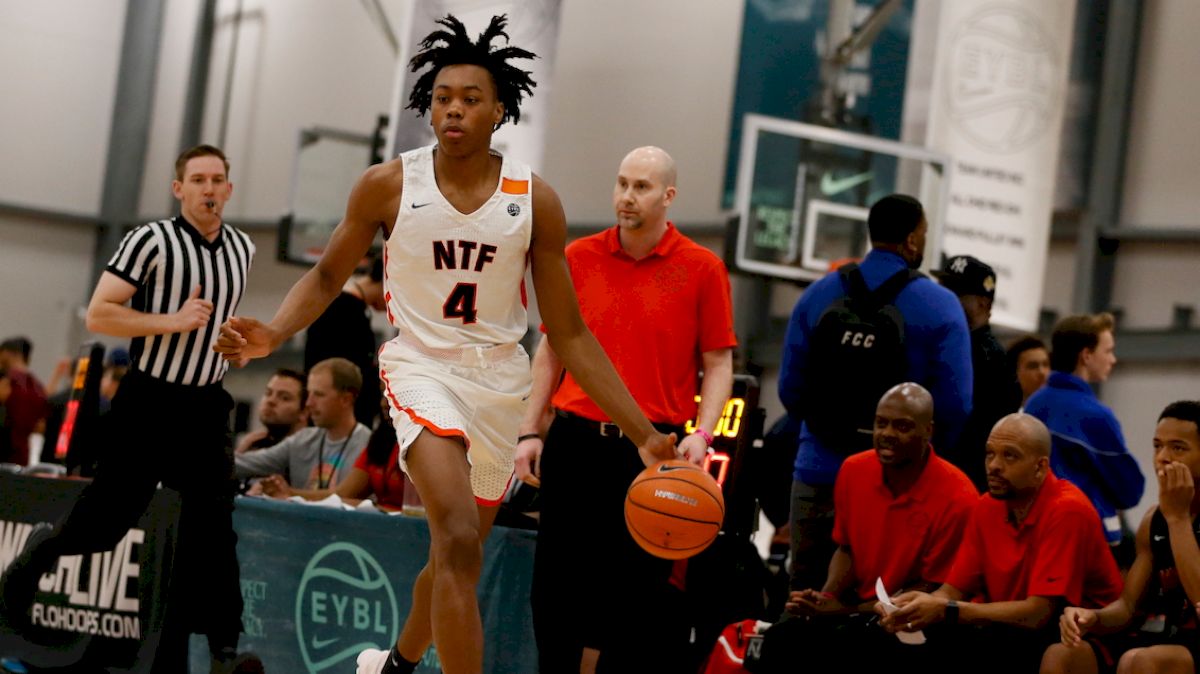 By Adam Zagoria
---
INDIANAPOLIS — As one of the top players in the class of 2020, Nike Team Florida wing Scottie Barnes could potentially have the option of going straight from the preps to the pros if the NBA drops the one-and-done rule the year he finishes high school.
ESPN's Adrian Wojnarowski reported this week that there is momentum toward abandoning one-and-done but that it wouldn't happen before 2020.
"It's always going to be something to look into to see if you're in the right position or not, but me personally I think I want to go through the college experience and see what's that like," the 6-foot-5 Barnes said here at the second Nike EYBL live session. "I just want to go to college."
Barnes, ranked No. 5 in the 2020 Flo40 out of Fort Lauderdale (FL) University School, also said he doesn't envision himself following the Darius Bazley model of skipping college for the NBA G League.
"I don't agree with that decision," Barnes said. "I'd rather just go to college and just do that."
As far as colleges, Barnes just picked up an offer from Kentucky, which rarely offers sophomores. Miami, Syracuse, Villanova Kansas, and Louisville are among the other schools working hard for the multi-faceted Barnes. North Carolina has also reached out.
Blessed to receive an offer from the University of Kentucky!⚪️? #BBN pic.twitter.com/pmWzSalm8p

— Scott Barnes (@ScottBarnes561) April 28, 2018
"It's always going to be a blessing to get an offer from one of the best coaches that ever coached, so that's a big blessing in my life," Barnes said of Kentucky's John Calipari.
"They saw the type of player I am on and off the court, the way I play, and I guess they like the way I play and they want me to fit in their style."
Jimmy Carr, an assistant coach with the University School and Team Florida, raved about Barnes' upside.
"He's playing as well as anyone nationally right now," Carr said. "He has great upside and changes the game with his unselfishness and defensive intensity."
Barnes compared himself to new Memphis coach Penny Hardaway and Philadelphia 76ers rookie Ben Simmons
"I'm very versatile on the floor," he said. "I can pass the ball really well. I can play defense. I bring intensity to the game, and my presence on the floor, it picks up the energy for the whole team.
"I can defend one through four, I can play one through four."
Duke assistant Jon Scheyer was also in attendance for Barnes' game to watch him and teammate Vernon Carey, who is ranked No. 1 in the 2019 Flo40.
"I know they're a great school, always have top talent, but I haven't really heard from them," he said.
Miami was three deep with head coach Jim Larranaga and two assistants to watch Nike Team Florida's first game here and has prioritized both Barnes and Carey.
"They are scouting me a lot lately," Carey said. "I like the head coach there; they got a nice campus. I like their school."
The Hurricanes have recently been cleared of all connections to the FBI investigation, and that is good because Barnes wants to avoid schools that were in trouble.
"I think it's big on which colleges I can look at," he said. "I don't want to go into a program that's getting mixed up or the coach is getting fired. I want to come in and be able to play really well."
---
Adam Zagoria is a basketball insider who runs ZAGSBLOG.com and contributes to The New York Times. Follow Adam on Twitter.