EYBL 17U Session I | 2018 Nike EYBL (Dallas)
Will Albany City Rocks' Guard Joe Girard Be A Two-Sport Star In College?
Will Albany City Rocks' Guard Joe Girard Be A Two-Sport Star In College?
Joe Girard is the all-time leading scorer in New York state history. He's also a star quarterback on the gridiron. Will he play both at the next level?
May 2, 2018
by Adam Zagoria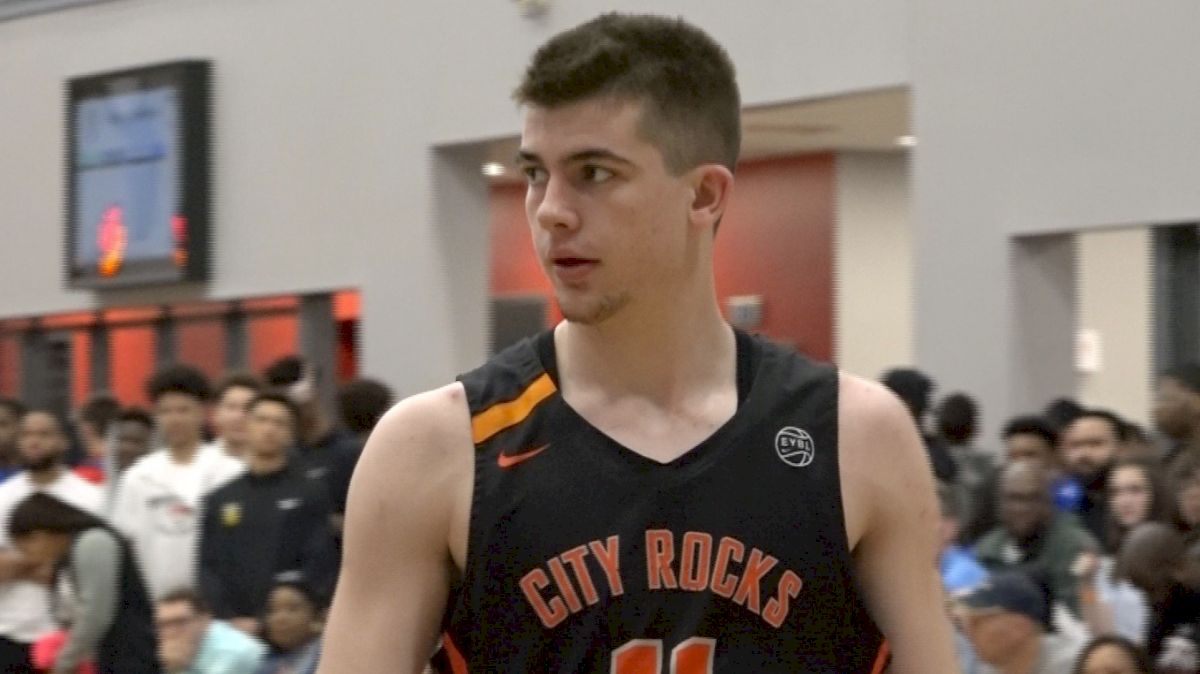 INDIANAPOLIS — As a point guard on the basketball court, Joe Girard is the all-time leading scorer in New York state history.
As a quarterback on the football field, Girard led Glens Falls (NY) High School to a Class B state title in 2016 and helped his team author a 24-game winning streak before it was snapped last November.
Now, as he goes through the recruiting process entering his senior season, the 6-foot-1 Girard has some decisions to make. Should he focus mainly on hoops at the college level? Should he go somewhere and concentrate on football? Or should he try to follow in the footsteps of guys like Jameis Winston and Deion Sanders who played multiple sports in college.
"It's definitely still in the air right now but if I commit for basketball I think [football] will definitely shut down," Girard said last weekend at the Nike EYBL Session II in Indianapolis where he and teammate Isaiah Stewart helped the Albany City Rocks go 3-1. "But since I haven't committed yet, I'm still listening to some football schools and stuff like that."
Girard, who set the New York state career scoring record this season and averaged 50 points per game, has attracted higher profile offers from Division I basketball programs, including from the likes of Duke, Syracuse, Michigan, Louisville and reigning NCAA champion Villanova. Coaches from those schools all tracked him in Indianapolis.
Joe Girard is rock steady at 18PPG this weekend at EYBL Session II✔️✔️ @JG3_____ @TheCityRocks pic.twitter.com/M84KpEPfZS

— FloHoops (@FloHoops) April 29, 2018
In football, UMass and Tulane have offered, while Indiana, Wake Forest, Syracuse, UConn, and Monmouth have shown interest.
"The Tulane and UMass offers want me to go play both [sports] at those schools," Girard said. "So if I were to commit to one of those schools, I would definitely try to play both."
Girard believes being a football player has helped him on the basketball court.
"A lot of times if you're a 6-foot-1 guard, you're seen as just a shooter," he said, "but I want to show that I'm athletic and tough and that I can be multi-dimensional on the court. I play quarterback so I have to see the whole field and that helps me with my vision in basketball. So there's a lot of stuff that helps me in both sports, so I think that's why I like to play both."
The action around PSA duo Cole Anthony & Ishmael Massoud, Trendon Watford and Joe Girard keeps getting hotter ➡️ Here are the Top 5 recruiting storylines heading into EYBL Session II Indy. https://t.co/doQZBYEtPL

— FloHoops (@FloHoops) April 26, 2018
Jimmy Hart, Girard's coach with the City Rocks, estimates there's a 25 percent chance Girard will try to play both sports in college but thinks, in the end, he will choose a high-major basketball program.
Hart points out Girard's football responsibilities would take him from the summer into December or January, when the basketball season has already begun.
"Most of these guys, if you're a football player, that means the other sport's usually recruiting you, like basketball, 'Hey, we need tough, athletic guys so you can come off the bench,'" Hart said. "Julius Peppers, so it's easier for them to transition late and they weren't depending on them.
"Joe's a quarterback so he can't play basketball full-time and then transition and say, 'OK, now I'm going to miss the whole preseason and then say I'm just going to be the starting quarterback,'" Hart added. "And if you go to USC or Notre Dame or something, they have five All-American quarterbacks and only one gets the snaps. So for him, I just see it as being something where he'll go as a basketball player, he'll probably monitor the football team and if there's an opportunity [to play], maybe he would. I don't know. But I think he's going to go for sure for basketball."
Girard essentially concurred with that analysis, saying if a school like Syracuse, for example, offered him in football, "I'd definitely try to do it. Maybe like a year or two to see how it works out in the beginning and if it works then I'll keep doing it. If not then I'll simmer down to one sport but I'm definitely entertaining all of it and listening to what they have to say."
---
Adam Zagoria is a basketball insider who runs ZAGSBLOG.com and contributes to The New York Times. Follow Adam on Twitter.