EYBL 17U Session III | 2018 Nike EYBL (Atlanta)
Nike EYBL Teams Band Together Against Gun Violence By Wearing Orange Patch
Nike EYBL Teams Band Together Against Gun Violence By Wearing Orange Patch
This weekend in Atlanta, Nike EYBL teams are standing together against gun violence.
May 9, 2018
by Adam Zagoria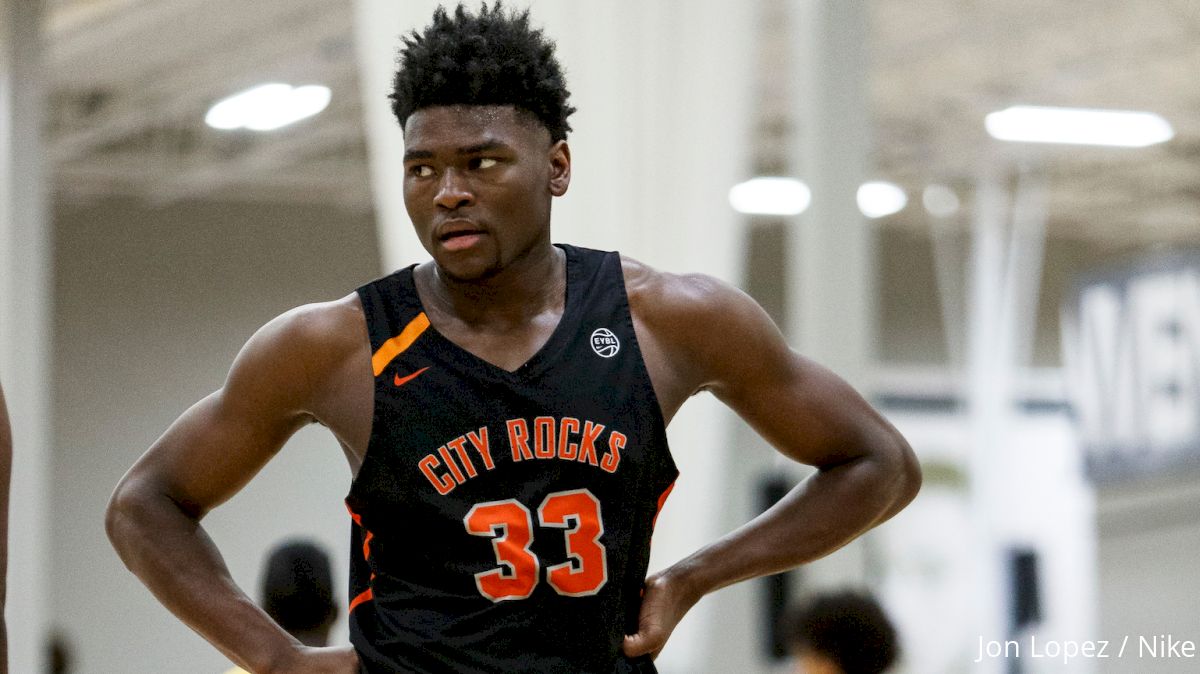 One night in August of 2015, when Isaiah Stewart was about to enter his freshman season at McQuaid Jesuit in Rochester, N.Y., there was a drive-by shooting after a basketball game at the Boys & Girls Club on Genesee Street in southwest Rochester.
Three young men—Jonah Barley, 17, Raekwon Manigault, 19 and Johnny Johnson, 25—were murdered and four others were wounded. The incident came to be known as the "Nightmare on Genesee Street."
Stewart's father, Dela, had not allowed his son, a promising young power forward now being courted by Michigan State, Duke, and Syracuse, among others, to attend the game that night, but Isaiah is all too familiar with gun violence.
Watch Nike EYBL action LIVE on FloHoops this weekend: 16U / 17U
"It happened right up the street from my house and violence in Rochester is pretty bad," the 6-foot-10 Stewart, who now attends national powerhouse La Lumiere School (IN), said in a phone interview this week. "There's a lot of gun shootings and I lost close people and friends to gun violence. As a child it was just something I grew up around."
Now, three years later, Stewart is part of a movement in Nike's Elite Youth Basketball League (EYBL) to bring awareness to gun violence. He and his Albany City Rocks teammates were one of 30 teams to wear orange patches on their jerseys during the second EYBL session in Indianapolis last month. All 40 EYBL 17U teams are expected to wear the orange patches—some 480 players—during this weekend's third EYBL session outside Atlanta. The 15U and 16U teams are optional. The RENs and some other teams are wearing them. The EYBL season culminates with the prestigious Peach Jam set for July 11-15 in North Augusta, S.C.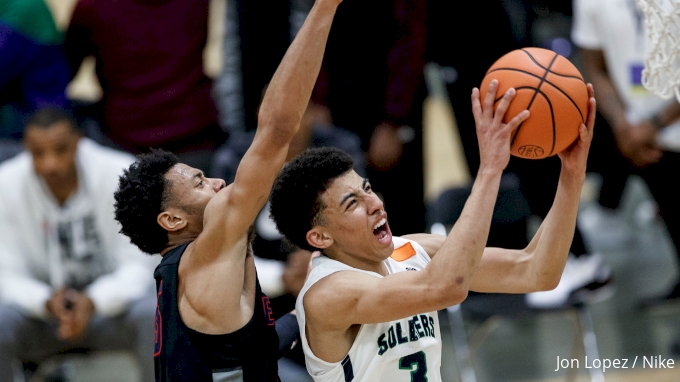 Jon Lopez / Nike

Miles Brown, a 6-foot point guard from the City Rocks and Rochester's Northstar Christian Academy who attended the basketball game the night of the "Nightmare on Genesee Street," said the message the orange patches conveys is a simple, yet powerful one.
"Just to put the guns down and just stop the violence from everywhere," Brown said. "It's really affecting everyone and everything. A lot of people are affected by gun violence and it needs to be stopped. "
According to GunViolenceArchive.org, as of May 9, there have been 20,276 gun violence incidents in the U.S. in 2018, with 5,035 deaths, including 889 teenagers and 215 children. An average of 96 Americans die each day due to gun violence, and hundreds more are injured, according to Everytown for Gun Safety. Everytown is largely financed by former New York City Mayor Michael Bloomberg and provides the orange patches to all the Nike EYBL teams, as well as various other athletic teams nationally.
The City Rocks are hardly the only team in the EYBL—or indeed in any summer basketball circuit—to be impacted by gun violence. The movement was started by the NY Rens in 2015 after one of their players, Tyrek Chambers, was shot in the stomach during a drive-by shooting in New York that summer. He spent a year in rehabilitation with a colostomy bag attached to his side.
That same year, Armoni Sexton, a promising 15-year-old basketball player with the NJ Playaz, was killed during a drive-by shooting outside of a liquor store in Paterson, N.J.
Andy Borman, the former Duke player now coaching the Rens, worked with his players in 2015 to launch the orange patches movement in the wake of the Chambers shooting. His 2015 team included Rawle Alkins (Arizona), Devonte Green (Indiana), Mustapha Heron (Auburn) and Tyrique Jones (Xavier). Both Alkins and Heron have since declared for the NBA Draft. Alkins, a Brooklyn native, will be at the NBA Draft combine next week.
"The initial thought [behind the movement] was, 'Wow, look at all these young kids who won't even have a chance to grow up and live life and chase their dreams,'" Borman said.
The Rens then went to Nike in 2015 and told them they were planning to wear the orange patches. From there, the movement spread to other teams, both outside the EYBL and within the EYBL, including the Long Island Lightning, whose director Jim Fox was interested in and inspired by the Rens.
In June 2016, players from the Rens, including Hamidou Diallo (Kentucky) and current junior big man Kofi Cockburn, were honored by President Obama at the White House on National Gun Violence Awareness Day for their campaign denouncing gun violence. (Diallo is one of five Kentucky players who will also be at the NBA Draft Combine next week.)
Diallo told USA Today growing up in a neighborhood with "regular" gun violence inspired him to want to raise awareness for younger kids.
"I've seen a lot and I just don't want young people get steered the wrong way," Diallo said. "So whatever I can do to help get the word out, I'm gonna do it."
RENs all decked out in @NikeEYB gear on the @WhiteHouse court!

Halftime Score:
RENs - 20
White House - 12 pic.twitter.com/UeSyvUKgnS

— Renaissance Hoops (@NYRhoops) June 2, 2016
This year Carlton DeBose of Nike, a Chicago native, got in touch with Borman and told him he supported the movement and wanted to spread it within the EYBL. Nike then sent a letter to all the EYBL teams advising them to wear the orange patches to support the movement. The Rens then sent patches to every EYBL team, which is then responsible for getting them stitched on their uniforms. Borman estimates that the Rens have sent out 20,000-25,000 patches so far. (Borman said wearing the patch is not mandatory, and he respects any team that chooses not to wear them.)
According to a statement from the Swoosh: "Nike supports efforts that help young people bring awareness to matters that help move the world forward. Started by EYBL member RENS in New York in 2015, and joining hundreds of teams nationwide, Elite Youth Basketball League members will wear an orange emblem in its 2018 season to raise awareness to end gun violence."
Jon Lopez / Nike

Looking ahead, June 1 is National Gun Violence Awareness Day, better known as "Wear Orange." That will take place the day after Game 1 of the NBA Finals.
In 2016, NBA stars LeBron James, Carmelo Anthony, Chris Paul, and Dwayne Wade began to take a stand against gun violence, specifically against racial profiling by police officers.
By June 1, Stewart, the Rochester native who dreams of one day following those players into the NBA, will have already spoken to his City Rocks teammates about the meaning of the orange patch.
"I'm pretty sure they know what it means, but I definitely do know what it means," he said. "I'm happy that the whole EYBL has it on their jerseys.
---
Adam Zagoria is a basketball insider who runs ZAGSBLOG.com and contributes to The New York Times. Follow Adam on Twitter.