EYBL 17U Session III | 2018 Nike EYBL (Atlanta)
Despite 'Quiet Period,' DI Coaches Still 'Watching' Recruits This Weekend
Despite 'Quiet Period,' DI Coaches Still 'Watching' Recruits This Weekend
This may be a "Quiet Period" according to the NCAA, but that doesn't mean Division I coaches are taking it easy in recruiting.
May 10, 2018
by Adam Zagoria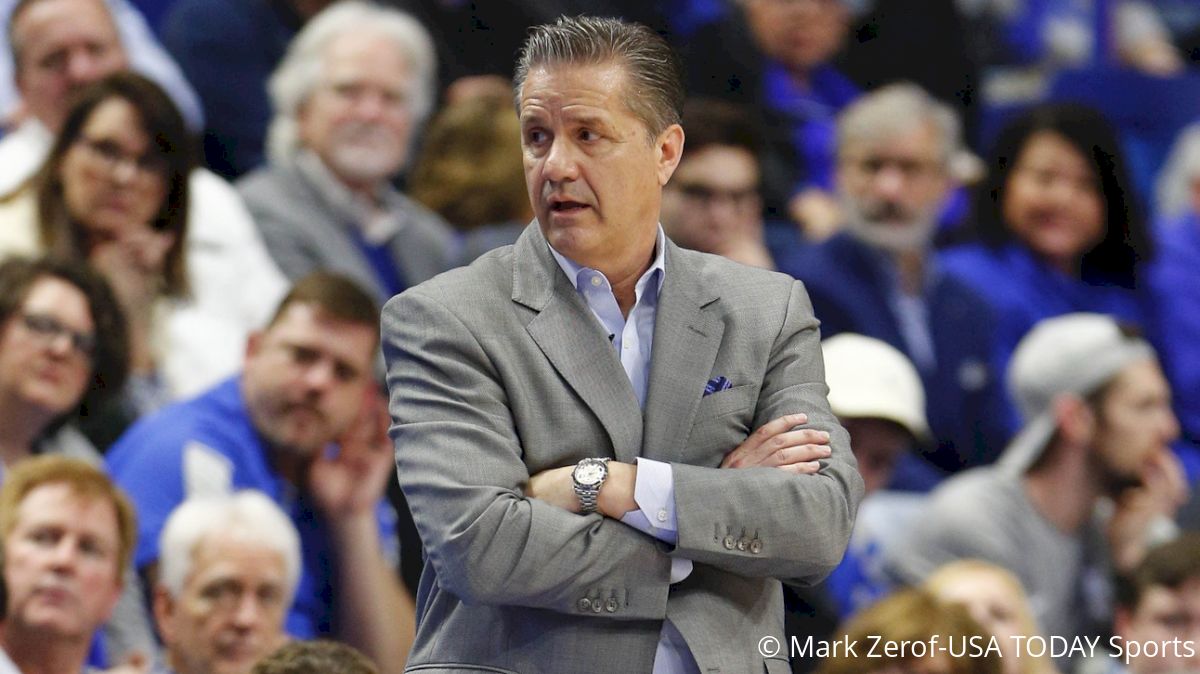 Jay Wright, Tom Izzo, and John Calipari won't be sitting courtside for the Nike EYBL Session 3 in Cartersville, GA, this weekend, but that doesn't mean college coaches won't be watching the games
This may be a "Quiet Period" on the NCAA Division I Men's Basketball Recruiting Calendar, but college coaches will still be watching—and keeping tabs on—the games. All the games from this session will be live-streamed on FloHoops.com, allowing college coaches to watch the games from the comfort of their offices—or their living rooms.
"You have to at the very least have a pulse of what's going on there," one high-major Division I coach said, adding that he planned to watch some games.
Miami 3 deep again for @vernoncarey22 and @ScottBarnes561. Patrick Ewing also here. pic.twitter.com/vKJOFCoeT9

— Adam Zagoria (@AdamZagoria) April 28, 2018
College coaches were out in force during the two "Evaluation" weekends in April—which coincided with the EYBL sessions in Irving, TX, and Westfield, IN. During the next two sessions—this weekend outside Atlanta and May 26-27 in Hampton, VA—college coaches cannot attend.
The next time college coaches will be able to evaluate players is during the three Evaluation periods in July: July 11-15, July 18-22, and July 25- 29. Peach Jam coincides with the first of those periods.
Still, recruiting is always fluid and it goes 24/7/365, so rest assured that the coaches are tuned in to what's happening this weekend—both through video feeds and by following scouts and recruiting experts who are allowed to attend the games.
"There's always eyes on these kids," NY Rens coach and former Duke player Andy Borman said. "Just because they're not physically there, doesn't mean that they're not there. They don't have to physically be there to evaluate a kid. The fact that these games are live-streamed. Instead of them catching a flight and booking a rental car and hotel room to watch kids play, they're doing the same exact thing from the comfort of their home or the comfort of their office."
In addition to video, coaches also rely during this period on national and regional scouts from 247Sports.com, Rivals.com, and other outlets to evaluate players.
"This is a time where the scouting services become very helpful," the D-1 assistant said.
Inside the gym, without the Wrights, Caliparis, and Izzos on hand, the environment doesn't quite have the same buzz. Scouts, family, friends and paying spectators wanting to get a glimpse of the up-and-coming players are still on hand, but the college coaches are not.
"Generally speaking for the kids, they settle down a little bit just because there's not as much physical presence," Borman said. "But they don't settle down completely because all the other people are still there. All the ESPN guys, all the Rivals guys, all the 247 guys, all the rankings guys are still there. USA Basketball will be there. All these Elite camp guys will still be there."
Watch EYBL Session III LIVE on FloHoops: 16U / 17U
All of those people, in turn, have an impact on rankings, college scholarship offers, and how the players are perceived by coaches.
Miles Brown, a class of 2019 point guard from Rochester who plays for the Albany City Rocks, says he doesn't plan on playing any differently this weekend. He knows college coaches will still have eyes on him, even if they're not physically in the gym.
"No, we're just taught to play the same way everywhere no matter who's there or who's watching because you never know, anybody could be watching," he said. "We try to play the same style of basketball every time we're on the court."
He added: "We always want to play well and play our best. We know the colleges are watching. We're just trying to win and get the job done."
---
Adam Zagoria is a basketball insider who runs ZAGSBLOG.com and contributes to The New York Times. Follow Adam on Twitter.