2018 Nike EYBL & E16 Boys Finals At Peach Jam
Kahlil Whitney's Game Is Heating Up, And So Is His Recruitment
Kahlil Whitney's Game Is Heating Up, And So Is His Recruitment
Kahlil Whitney is a busy man, destroying the Nike EYBL circuit and catching the attention of the nation's best Division coaches.
May 16, 2018
by Adam Zagoria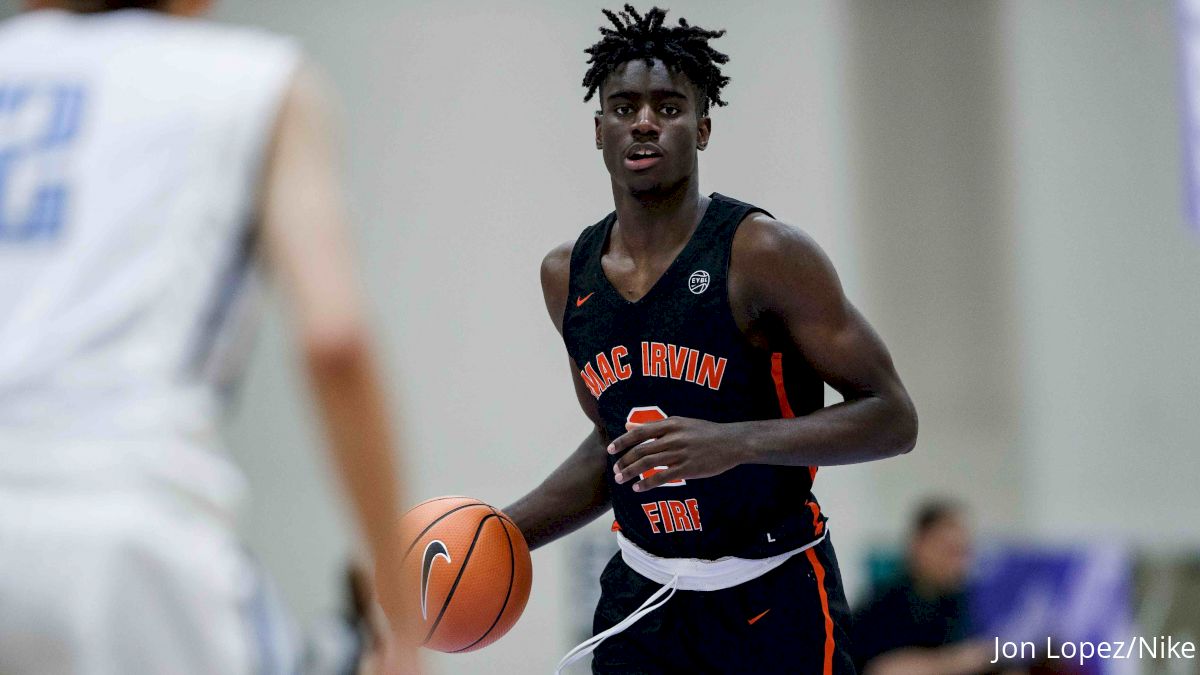 Kahlil Whitney grew up in Chicago but now attends high school at Roselle Catholic in New Jersey, the reigning Tournament of Champions winner in the Garden State.
The 6-foot-6, 200-pound small forward plays for the Chicago-based Mac Irvin Fire on the Nike EYBL circuit, and has been one of the hottest players this spring. He's averaging 22.0 points and 6.6 rebounds for Mac Irvin (5-7).
"We just gotta win two more games next session and we'll be in [to make Peach Jam]," Whitney said this week, looking ahead to the final EYBL session in Hampton, VA, May 26-27. Mac Irvin probably needs to go at least 3-1 to finish at 8-8 or better to feel safe about Peach Jam, which runs July 11-15.
His recruitment continues to heat up with Louisville, Syracuse, St. John's, Illinois, Miami, Georgetown, Seton Hall, Maryland and others in hot pursuit. Florida also extended an offer on Tuesday, and Virginia and Florida State followed shortly thereafter.
Join FloHoops PRO to catch EYBL Session IV in Hampton, VA!
He broke down several of his top schools:
Louisville
"I've been talking to those guys [head coach Chris Mack and assistant Luke Murray] almost every day. They're saying they want me to get to the next level. They specialize a lot in skill development. I'm gaining a great relationship with those coaches and I think it would be a great fit for me."
Syracuse
"Yeah, coach [Jim] Boeheim, I talk to him every now and then. He pretty much tells me that I fit Syracuse perfectly and they're going to recruit me hard."
Georgetown
"[Assistant] coach [Louis] Orr always keeps it 100 with me, he tells me the things I need to do. I talk to Patrick [Ewing] every now and then but coach Orr is really the main guy I talk to. He stays on top of me and makes sure I do the things I need to do to be successful."
Orr coached at Seton Hall, where Kelly Whitney, Kahlil's father, played.
St. John's
"I talk to [assistant] Matt [Abdelmassih] and [head coach] Chris [Mullin] a lot. They pretty much say the same thing Louisville is saying; they talk about development. I won't be in college very long so they want me to get ready for the next level and expand my game."
Illinois
"[The home visit with coach Brad Underwood and assistant Orlando Antigua] went well. They came in and told me the things I need to do. I have a great relationship with those guys, they've been there since day one."
Miami
"I talk to coach L [Jim Larranaga] and coach [Chris] Caputo. They came up to my school and we had a little meeting and we talked about what I need to do better. They're going to make me a priority in the 2019 class. They're telling me about skill development and how I need to play."
Seton Hall
"They pretty much tell me the same thing. My dad doesn't have an influence on where I go to college; he just wants the best fit for me."
Maryland
"Maryland recently has been in touch. They were just saying I fit their style of play and they want me to get up for a visit soon. I don't have any visits set."
Whitney plans to cut his list sometime later this summer, probably after the live periods in July.
"I'm going to cut my list at the end of the summer," he said.
Roselle Catholic coach Dave Boff thinks Whitney continues to progress as a player, which should help him and the Lions in 2018-19.
"It looks like he's really expanding his game on the EYBL," Boff said. "And we're going to need him to do the things he's doing on the circuit next year in high school so it's good to see."
Roselle Catholic will lose LSU-bound big man Naz Reid to graduation, so Whitney figures to be the team's alpha next season.
"Yeah, absolutely," Boff said. "I think that's what he's looking forward to next year and that's what we're going to be asking from him."
---
Adam Zagoria is a basketball insider who runs ZAGSBLOG.com and contributes to The New York Times. Follow Adam on Twitter.