Forget Luka Doncic: 5 European Prospects Who Could Get Drafted In 2019
Forget Luka Doncic: 5 European Prospects Who Could Get Drafted In 2019
Luka Doncic may be one of the stars of the 2018 NBA Draft, but we're already looking forward to these five prospects in 2019.
Jun 18, 2018
by Hunter Sharpless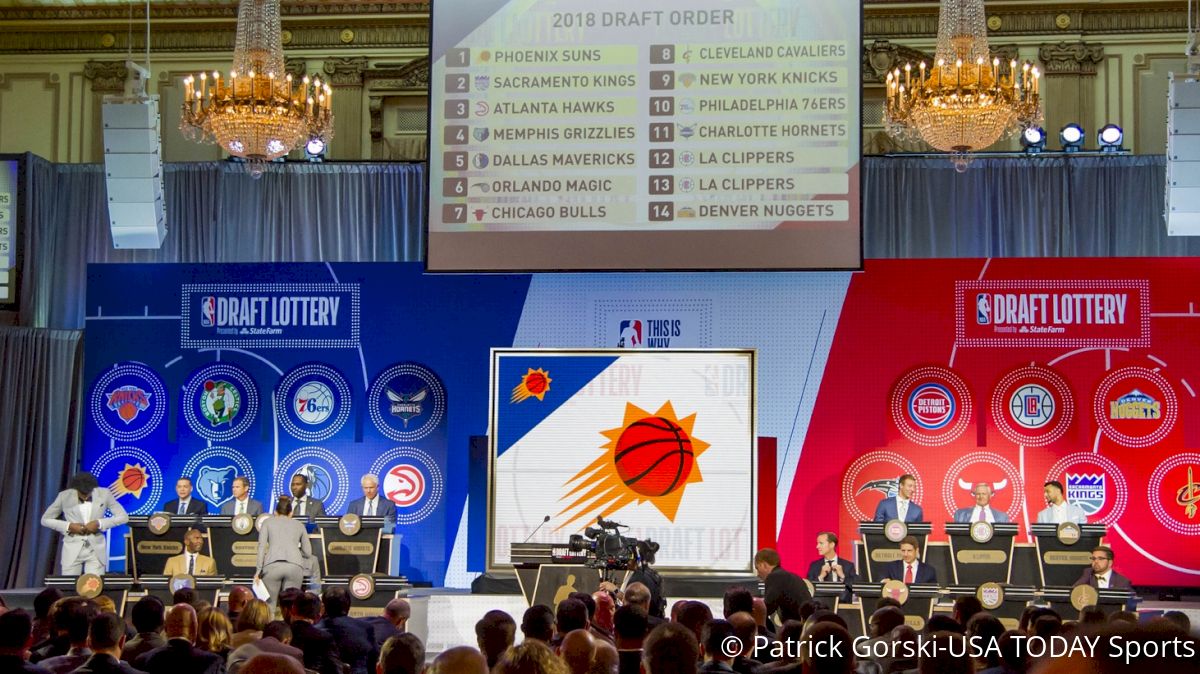 By Austin Green
---
Luka Doncic is the hottest name in international basketball right now, but he's not the only future first-round pick who's been balling in Europe.
This season Doncic became the youngest player ever to win EuroLeague MVP, and after leading his club Real Madrid to the 2018 title he has essentially guaranteed himself as a top-five pick in the NBA Draft on Thursday in New York.
While we should never expect a young player to repeat Doncic's EuroLeague success, there are some really talented players to watch in Europe as we look ahead to the 2019 NBA Draft.
Here are five names to remember throughout the 2018-19 season.
1. Luka Samanic | PF | Croatia
Samanic is a 6-foot-11 Croatian power forward who had high-major college offers. Instead, the potential 2019 lottery pick decided to transfer from Barcelona to Olimpija Ljubljana.
Samanic is a versatile big man who can shoot from the outside and go to work in the post. He's a good athlete who loves to finish fastbreaks — and he'll even throw down some windmill dunks during games.
The Croatian has been dominant at the youth level in Europe. At the 2018 Adidas Next Generation Tournament in L'Hospitalet (Spain), he averaged 23.3 points, 14.8 rebounds, three assists, and 2.8 blocks in four games.
His Barcelona team lost in the championship game to fellow youth powerhouse Joventut Badalona, but Samanic came up big with 27 points, 16 rebounds, and three blocks in 29 minutes.
Despite losing in the title game, he was named MVP.
Samanic has also been an MVP at the international level with Croatian national team.
At last summer's U18 European Championships (Division B), Samanic led Croatia to the title with 13.3 points, 7.3 rebounds, and 1.6 blocks per game despite being one year younger than most of his competition.
NBA scouts will be flocking to Slovenia next season to see how he is developing.
2. Sekou Doumbouya | SF / PF | France
Another potential lottery pick, Doumbouya is an explosive and powerful 6-9 forward who moved from Guinea to France at a young age.
I first saw him at the 2016 ANGT in Berlin, where he was very impressive despite being several years younger than most of the competition.
A few months later at the U18 European Championships, Doumbouya shined for a French squad that won the title and featured 2017 top-10 pick Frank Ntilikina.
Doumbouya averaged 17.8 points, 7 rebounds, 1.3 steals, and 1.2 blocks per game and made the all-tournament team. He was turnover-prone (4.2 per game), but he was a beast around the rim.
Doumbouya needs to improve his handle and refine his game offensively, but he has a decent shooting stroke. And with his length and athleticism, he could be a very good defender who guards multiple positions.
Doumbouya played for Poitiers in the French second division last season, and he will likely move up to a first division team for 2018-19.
3. Biram Faye | C | Senegal
Faye is an athletic, high-energy big man from Senegal who plays for EuroLeague newcomer Gran Canaria in Spain.
Like Samanic, he was dominant at the ANGT in L'Hospitalet. With his physical tools (6-9, 7-2 wingspan) and relentless motor he averaged 20.8 points, 14.3 rebounds, and 1.5 blocks per game.
Faye doesn't have a great offensive skill set right now, but he is smart, physical, and he hustles. He's happy to do the dirty work in the paint, he runs the floor well, he blocks shots, and he can defend smaller players on the perimeter.
I saw him at the NBA Global Camp in Treviso, Italy, in June, and he impressed NBA executives there with his activity on both ends of the court.
Faye is in a great development situation at Gran Canaria, where he practices against some of the best big men in Europe every day. If he improves his shooting ability and performs well against older competition, he should rise up draft boards.
4. Goga Bitadze | C | Serbia
Bitadze withdrew from the 2018 Draft, setting his sights on 2019 when he is more likely to be a first-round pick.
Bitadze is a 6-11 center with great skill in the paint. He is a talented low-post and mid-range scorer, and he was very productive in the competitive Adriatic League this season as an 18-year-old.
Bitadze averaged 11.8 points and 6.9 rebounds in 23 minutes per game for Mega Bemax, the team that has produced NBA big men Nikola Jokic and Ivica Zubac.
Bitadze isn't very quick, so it's tough to imagine him switching onto NBA guards and wings. However, he could carve out a role in the league, especially if he improves his three-point shot. He only made six of 27 attempts in the Adriatic League this season, but he has good form and could really improve his stock if he shoots with consistency next year.
5. Arturs Zagars | PG / SG | Latvia
In my opinion, Zagars is the coolest young player in Europe.
He doesn't have typical NBA length or athleticism, but he is a crafty, high-IQ player with a very polished skill set. I jokingly call him the Latvian Steph Curry because he's 6-3, has great ball-handling and passing ability, a beautiful outside shot, and he can finish in the paint.
I watched him at the 2018 ANGT in May and the NBA Global Camp in June, and he was great in both settings. He's really smart and competitive with a great feel for the game.
He can play point guard with his handle and ability to make reads in pick-and-rolls, or he can play off the ball and shoot while running off screens.
Zagars was great at the ANGT with Badalona, averaging 13.9 points and 6.7 assists while shooting 41.7 percent from three (20/48) in seven games. He also made his ACB debut with Badalona, and he should improve a lot with more high-level reps.
If he proves he can compete physically with the top pros in Spain, Zagars should fly up draft boards next season.
---
Austin Green is an international journalist and scout covering EuroLeague and NBA prospects in Europe and Australia. You can follow him on Twitter @LosCrossovers