2018 Nike EYBL & E16 Boys Finals At Peach Jam
Peach Jam Throwback: Cam Reddish's 44-Point Night
Peach Jam Throwback: Cam Reddish's 44-Point Night
Cam Reddish is bound for Duke, but this kid was an absolute terror on the Nike EYBL circuit a year ago. Relive his 44-point night at Peach Jam.
Jul 6, 2018
by Hunter Sharpless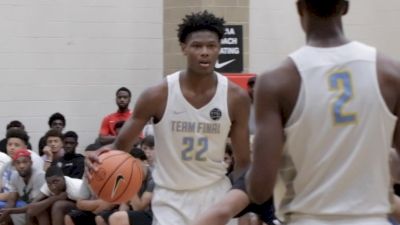 Cameron Reddish is about to join forces with R.J. Barrett and Zion Williamson at Duke, where the trio will give Mike Krzyzewski the most fearsome freshman class in all the country as the Blue Devils continue to embrace the one-and-done phenomenon. But Reddish — the very definition of versatility — isn't just sending foreshocks into the ACC; his name is already appearing on 2019 NBA Draft boards. In the lottery. Near the top.
Reddish exemplifies the modern NBA: a seemingly positionless player who creates as distributes as easily as he drops buckets. The release on his shot is effortless, like pretty much everything else in his game.
The video above gives just a glimpse of this kid's abilities. Reddish poured 44 points onto the competition at Peach Jam — and made it look easy.
Remember to tune in to FloHoops for this year's Peach Jam on July 11-15.