2018 Nike EYBL & E16 Boys Finals At Peach Jam
Vernon Carey Jr. Dominates Team Takeover, Scoops On Recruiting
Vernon Carey Jr. Dominates Team Takeover, Scoops On Recruiting
Vernon Carey Jr. helped hand Team Takeover their first loss in EYBL play. What else can the big man do?
Jul 12, 2018
by Adam Zagoria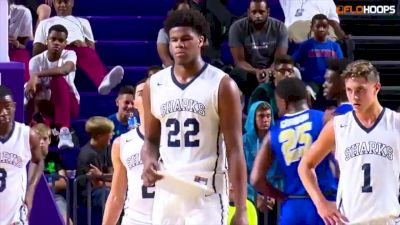 NORTH AUGUSTA, SC — Vernon Carey Jr. put on a dominant performance here Thursday morning in handing Team Takeover their first loss of the Nike EYBL season.
And he did it in front of a who's who of college coaches, including Kentucky's John Calipari, Miami's Jim Larranaga, North Carolina's Roy Williams, Duke's Jon Scheyer, and Michigan State's Dane Fife. Spartans head man Tom Izzo is slated to watch Carey on Thursday night.
"It felt alright," the 6-foot-11 Carey said after leading Nike Team Florida to a 71-60 win over previously unbeaten Takeover by pouring in 25 points on 10-of-14 shooting with eight rebounds. "Just coming out in the morning game, because we usually start slow in the morning game, and bringing it from the jump, it felt like it helped us."
Down goes Takeover 71-60. First loss of the @NikeEYB circuit pic.twitter.com/HQMjYPwltY

— Adam Zagoria (@AdamZagoria) July 12, 2018
Join FloHoops PRO to watch Peach Jam!
Nike Team Florida improved to 1-1 after Wednesday night's 70-69 loss to James Wiseman and Bluff City Legends in which Carey went for 23 points and 10 rebounds, but they now feel they can win it.
"I feel it gives a little confidence boost to our team," he said. "We can come out and just try to win our pool."
Carey is fresh off winning his second straight gold medal with USA Basketball, this one with the USA U17 team in the FIBA U17 World Championship in Argentina.
Got it. pic.twitter.com/vxe09wMawC

— FloHoops (@FloHoops) July 11, 2018
"It means a lot because not everybody can do that," he said.
There wasn't much time to rest after winning gold, either.
"I just came straight here but I feel like from past years, I got in better shape from the altitude and everything," said Carey, who won gold with the U16 team in Argentina a year ago.
As for his recruitment, Carey is focusing on the five schools on his list.
Kentucky was three deep for Carey on Thursday with Calipari, Kenny Payne, and Joel Justus. They also watched him Wednesday night against Wiseman, a top Kentucky target.
"Coach Cal texted me and said just keep on playing hard," Carey said. "He loves the way I play so that's pretty much what he was saying to me."
Asked if he could see himself playing with Wiseman in a Twin Towers-type arrangement, Carey said, "Yes, for sure."
Miami hasn't missed a game from Carey or teammate Scottie Barnes in four years, and Larranaga was the only head coach to make the trip to Argentina.
"Just them recruiting me since day one in ninth grade, they've been on me," he said.
Carey reiterated that he will take official visits to Kentucky for Big Blue Madness and Duke for Countdown to Craziness in October.
As for the Kentucky visit, he's looking to find out "the way Coach Cal coaches his team and the players they have around the program," he said.
Duke is also heavily in the hunt.
"Duke was texting me this past whole week about Argentina and Coach K wants me to get on campus as soon as possible," he said.
Carey saw Duke big man Marvin Bagley III go No. 2 in the NBA Draft and knows that Duke "gets their bigs better over time. That's what I'm looking at in a program."
He will probably take officials to Miami and North Carolina in November. He has already visited Michigan State.
"North Carolina, Roy said he's going to try to be at every game this weekend so their recruiting pitch is really interesting to me," he said.
As for Michigan State, he said, "Coach Izzo says, 'Just keep up playing hard and he said one of his assistants will be at every one of my games.
He hopes to decide "before my birthday....in February."
Carey, meantime, watches modern NBA big men like Anthony Davis and DeMarcus Cousins and says his workouts now includes "half-guard, half big stuff" so that he can adapt when he becomes a pro.
Still, he's not in a hurry to get to the NBA despite potential changes in the one-and-done rule that likely won't happen until 2021 or '22. He still wants to spend at least a year in college.
"I would probably give it a thought but I will probably go to college for one year, if I had the choice," he said, "just for the experience."
---
Adam Zagoria is a Basketball Insider who runs ZAGSBLOG.com and contributes to The New York Times. Follow Adam on Twitter.