PSA Cardinals Guard James Bouknight Storms Back After Meniscus Tear
PSA Cardinals Guard James Bouknight Storms Back After Meniscus Tear
When James Bouknight went down with a torn left meniscus in January at the Hoophall Classic, he wasn't sure when he would be able to return to the court.
Jul 26, 2018
by Adam Zagoria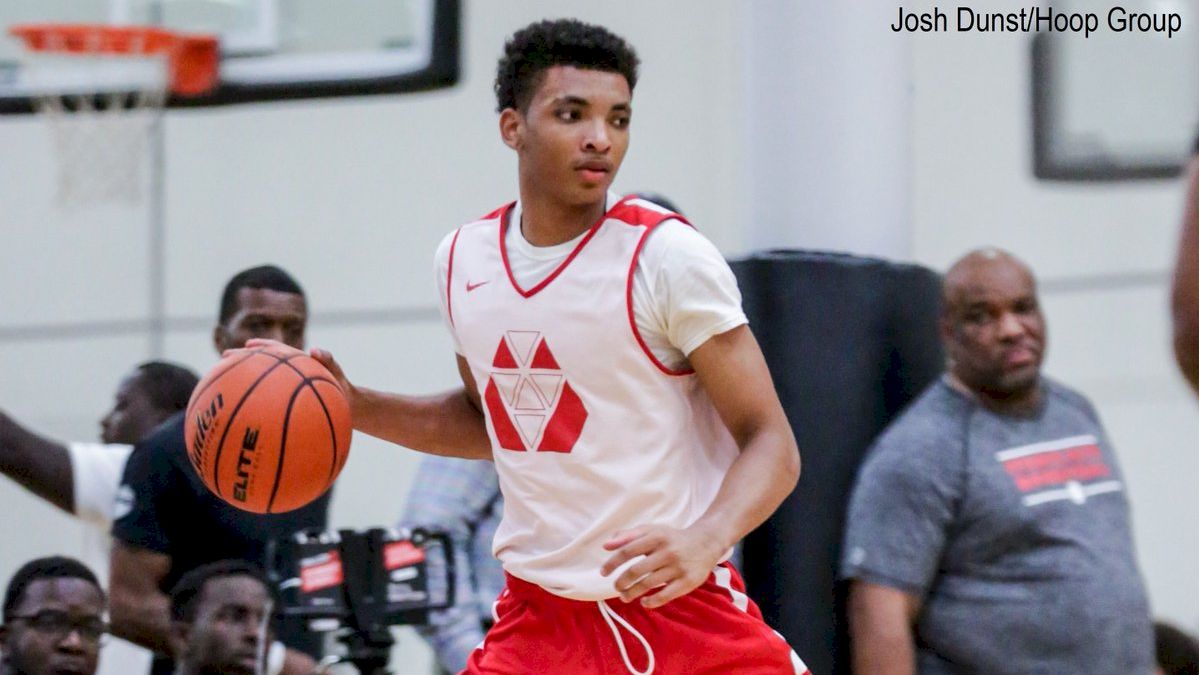 When James Bouknight went down with a torn left meniscus in January at the Hoophall Classic, he wasn't sure when he would be able to return to the court.
The 6-foot-5, 195-pound shooting guard ended up missing the rest of the high school season at the MacDuffie School (MA) and all four sessions of the Nike EYBL season with the PSA Cardinals.
"It was definitely frustrating to have to sit on the side, knowing that there was nothing I could do to help the team win," he said Wednesday night by phone from Las Vegas where the Cardinals are playing in the Fab 48 and drawing huge crowds of coaches.
Bouknight persevered, though, and after undergoing surgery on February 26, he began doing exercises "to get my leg stronger."
"And I started walking maybe two weeks after," he said.
He said he never doubted if he would return at full health, and worked hard on his therapy.
"The people all around me and the coaches made sure that I stayed on top of it to make sure I could come back and play," he said.
He was cleared to return to basketball the day before the Peach Jam, July 10, but played only limited minutes as the PSA Cardinals went 2-3 and failed to make the quarterfinals.
By this past Saturday, though, he was feeling it again and poured in 33 points on 13-of-17 shooting, including 7-of-10 from beyond the arc, in a showcase game against Philly Pride. Temple's Fran Dunphy and UConn's Dan Hurley were among the coaches sitting courtside.
He now estimates that he's at about 90 percent.
"I was just playing, I was just having fun, not trying to force anything," he said. "I was just playing ball."
? James Bouknight highlights from 33 point performance at Summer Jam Fest #HGJamfest@jam3s210 @PSACardinals @MacDuffieHoops pic.twitter.com/XwU6EeDs9q

— Hoop Group (@TheHoopGroup) July 21, 2018
Bouknight has recently added offers from Illinois, Indiana, Virginia Tech, Seton Hall, and Wichita State after the PSA Cardinals/NY Jayhawks Combine last Sunday. Michigan, Virginia, Miami, and Oregon also contacted him last weekend and said they planned to watch him in Vegas.
He has visited UMass, VCU, Temple, and UConn, but remains wide open in his recruitment and should continue to see offers come in going forward.
As for the UConn visit, he said, "I like UConn a lot, but I still haven't decided to make any decisions yet. I'm just keeping my recruitment wide open."
On VCU: "VCU was good, I had fun there. The facilities and coach [Mike] Rhoades."
On Temple: "[They said] that I would come there and play right away as a freshman."
On UMass: "Same thing."
Whoever gets Bouknight will be getting a Kris Dunn-type, says his high school coach.
"James' skill set is as high as the sky," MacDuffie coach Jacques Rivera said."His recent play throughout the live period is a prime example of showcasing his unlimited potential that will equal production at the college level.
"Unlike some in his class that will forever be label as having potential, James is showing his potential will turn into production. James can score at all three levels, but his biggest talent that people don't recognize is his ability to rebound from the guard position. Look back at Providence College when they had Kris Dunn. He was the second- or third-best rebounder which allowed them to be very good."
Added PSA Cardinals director Terrance "Munch" Williams: "James is a natural scorer, obviously an elite ball-handler. Somebody who can score on all three levels and has elite size from the shooting guard position. Obviously, he's also showing guys that he can play the other [defensive] side of the court as he starts to round back into shape. You'll see him making blocks, getting steals, jumping in the passing lane.
"I know before he got injured, he was on the trajectory to be one of the top 60 guys in the country. He's starting to show people that that ranking was real and he's going to be a bonafide high-major player."
---
Adam Zagoria is a Basketball Insider who runs ZAGSBLOG.com and contributes to The New York Times. Follow Adam on Twitter.