10 EuroLeague Stars Who Could Jump To The NBA In 2018-2019
10 EuroLeague Stars Who Could Jump To The NBA In 2018-2019
The start of EuroLeague is just around the corner. To rev up, check out these 10 guys who could make the leap from Europe to the NBA next year.
Aug 24, 2018
by Hunter Sharpless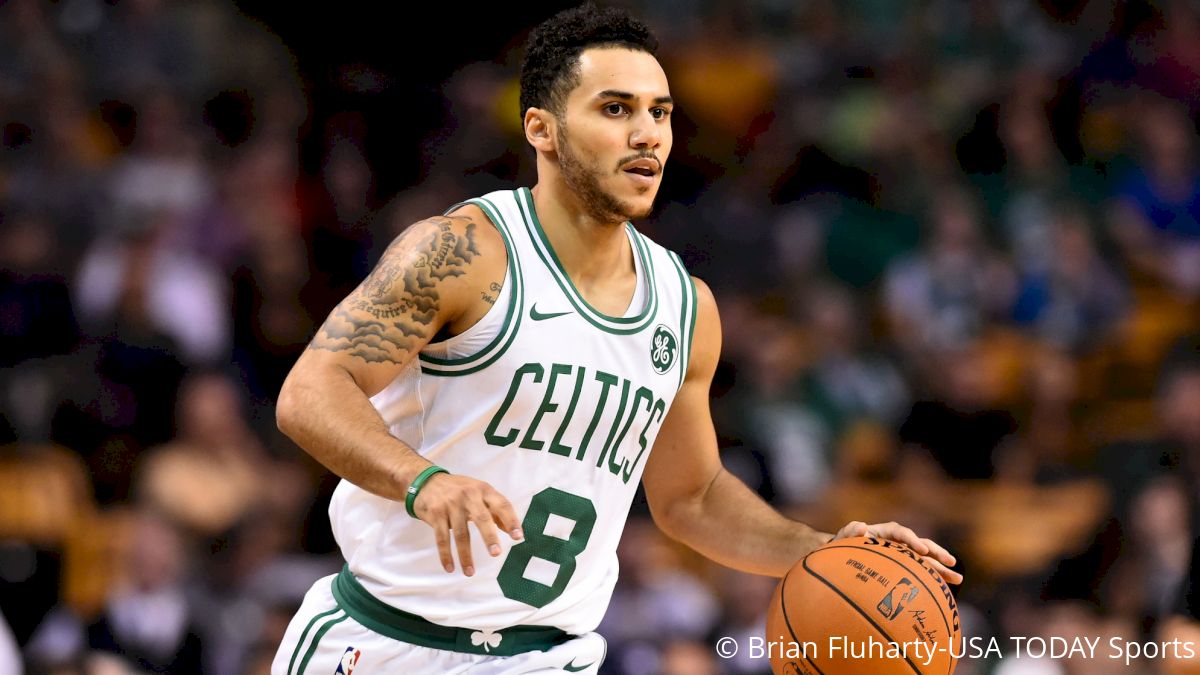 By Austin Green
---
EuroLeague is the best basketball outside of North America, and the smart NBA teams know it.
Every summer, good NBA teams tap into the EuroLeague pipeline, searching for experienced, talented, and hungry role players who are ready to contribute.
In 2017-18, Aron Baynes, Daniel Theis, and Shane Larkin — all former EuroLeague players — were key pieces to the Boston Celtics' Eastern Conference Finals run.
Out west, former EuroLeaguer PJ Tucker helped the Rockets get the one seed by locking up the other team's best players. The Utah Jazz, Houston's second-round opponent in the playoffs, featured a couple Barcelona alumni (Ricky Rubio, Joe Ingles), as well as former Gran Canaria wing Royce O'Neale and 2017 EuroLeague Final Four MVP Ekpe Udoh (Fenerbahce).
While superstar Anthony Davis carried New Orleans to the second round of the playoffs, former Bamberg star Darius Miller played 24 minutes per game for the Pelicans and hit 41.1 percent of his threes.
In fact, in the last five years, Turkish powerhouse Fenerbahce alone has sent six players to the NBA: Bojan Bogdanovic, Nemanja Bjelica, Bogdan Bogdanovic, Udoh, and this summer Brad Wanamaker (Celtics) and James Nunnally (Timberwolves).
There's no question that EuroLeague is full of guys who are good enough to play in the NBA. Let's take a look at who could make the jump next summer.
1. Darrun Hilliard | SG/SF | Kirolbet Baskonia
Hilliard is a smooth 6-foot-6 wing who played 14 games with the San Antonio Spurs last season. If he has a big year with Baskonia, he could be a EuroLeague one-and-done.
He's a versatile player who should fit perfectly with Baskonia's style. He can handle the ball on the perimeter, shoot, pass, post up smaller players, and guard multiple positions.
Hilliard is also in a great situation at Baskonia. Head coach Pedro Martinez is one of the best in Europe, and Baskonia are a legitimate Final Four threat this season. He'll have plenty of help around him, while also playing in a featured role.
After a strong four-year career at Villanova, Hilliard was the 38th overall pick in the 2015 Draft (Detroit Pistons). Last season he was on a two-way contract with the Spurs, and he helped lead their G-League team to the title by averaging 21.2 points per game.
Hilliard also won the 2017 FIBA Americup gold medal with a Team USA squad of G-League players. He was named to the all-tournament team.
2. Tarik Black | PF/C | Maccabi Tel Aviv
Man, this dude is gonna be fun.
Tarik Black should be a monster for Maccabi, and, like Hilliard, he could head back to the NBA next season. Black, who turns 27 in November, is a super athletic 6-9 big man who can apparently dunk from anywhere.
He played 220 games in the NBA with the Lakers and Rockets. He brings a lot of energy on both ends of the court and he's known as a high-character guy. Frankly, it's a surprise he's in Europe this early in his career, but Maccabi is a good fit for him.
Maccabi head coach Neven Spahija was an assistant with the Atlanta Hawks from 2014-17, so he has seen Black plenty of times. Fans in Tel Aviv will get a ton of highlights from Black, veteran Alex Tyus, and exciting new guard Scottie Wilbekin.
3. Shane Larkin | PG | Anadolu Efes
Shane Larkin might be the best point guard in Europe this season. Not only that, he has already proven he can jump from EuroLeague to the NBA.
After a great season with Baskonia in 2016-17, Larkin signed with the Boston Celtics and was an important piece in their playoff run. In Boston's first 10 playoff games, Larkin had 20 total assists and just six turnovers in 15 minutes per game.
The year before, Larkin was a star for Baskonia.
He averaged 13.1 points, 5.7 assists, 2.7 rebounds, and 1.5 steals per game to lead Baskonia to the seventh seed. They were swept by CSKA Moscow in the playoffs, but they lost the three games by just 12 points combined.
Leading last-place Efes back to the playoffs is a tall task, but Larkin is good enough to make it happen. I wouldn't be surprised if he has a great year with Efes and lands back on an NBA roster next year.
4. Luca Vildoza | PG | Kirolbet Baskonia
Vildoza shined as a rookie last season with Baskonia. The swaggy Argentinean point guard played 13 minutes per game, and he improved a lot as the season progressed.
Vildoza hit a dagger three vs Maccabi to help Baskonia clinch a playoff spot, and he scored a season-high 12 points in Game 1 of their playoff series vs Fenerbahce. Baskonia lost that series 3-1, but it was great experience for their core.
The 6-4 Vildoza just turned 23 in August. In 2017-18, he averaged 4.5 points, two assists, 1.3 rebounds, and 1.5 turnovers per game. He shot 41.2 percent on threes (21/51) and showed great scoring potential.
With a bigger role this season, Vildoza could have a breakout year. However, point guard is the best and deepest position in EuroLeague.
Baskonia need Vildoza to grow up quickly. We'll see how the young man adjusts.
5. Tornike "Toko" Shengelia | PF | Kirolbet Baskonia
Shengelia was first-team All-EuroLeague last season, and he's my pick for MVP in 2018-19.
He signed a lucrative four-year extension with Baskonia in August, but he has an NBA buyout clause for each summer. And with Baskonia's home city of Vitoria, Spain, hosting the 2019 EuroLeague Final Four, I'm expecting Shengelia to dominate this year.
He was a beast for Baskonia last season, carrying them to the playoffs while putting up 13.7 points, 6.1 rebounds, and 2.2 assists per game. He was league MVP in March, a critical time in Baskonia's playoff run.
Shengelia was the 54th overall pick in the 2012 NBA Draft. He went to the NBA too soon and only played 45 games in two seasons with the Brooklyn Nets and Chicago Bulls.
Shengelia is now in his prime (he turns 27 in October) and he could definitely be an NBA role player. If he stays in Europe, he might be the best power forward for the next three to four seasons.
6. Nikola Milutinov | C | Olympiacos
The San Antonio Spurs drafted Milutinov with the 26th pick in 2015, and three years later he's one of the best centers in Europe.
Milutinov is a mobile 7-footer who can finish with authority, pass, and has a nice array of post moves. He's more agile than he looks, and he does a pretty good job defending smaller players on the perimeter.
Although the NBA is trending away from old-school centers, the Spurs could definitely use a skilled big like Milutinov. He turns 24 at the end of the December, and he will work closely with new Olympiacos coach David Blatt this season
I wouldn't be surprised if Milutinov has an All-EuroLeague season and joins the Spurs next summer.
7. Will Clyburn | SF | CSKA Moscow
Clyburn is exactly the type of athletic 6-7 wing that NBA teams are looking for.
Like almost everyone on CSKA, he can score 20 on any given night and defend multiple positions. He had the best block of the Final Four with that LeBron-like chasedown above, and he'll be a key part of CSKA's championship plans this season.
Clyburn is a versatile scorer who attacks off the dribble and punishes teams in transition. Last season he also improved his biggest weakness, with his three-point percentage jumping from 28.9 percent (24/83) in 2016-17 to 38.6 percent (32/83).
Clyburn is 28 and in the midst of his prime, so next summer could be his best shot to make the NBA. First, he'll need to deliver for CSKA.
8. Nando de Colo | SG | CSKA Moscow
Like Toko Shengelia, De Colo is a EuroLeague MVP-caliber player. Also like Shengelia, De Colo went to the NBA before he was ready.
He played 98 NBA games with the Spurs and Raptors between 2012-14. After that, he signed with CSKA and added a EuroLeague trophy, regular season MVP, and Final Four MVP to his resume.
De Colo has been the most consistently great player in Europe over the past four years, earning All-EuroLeague second-team in 2015 and All-EL first-team in 2016, 2017, and 2018.
De Colo is 31 now, and he would likely struggle again with the size and the athleticism of the NBA. But he's a crafty and efficient scorer, and he'd be better than a lot of current NBA bench guards.
9. Arturas Gudaitis | C | Milano
Gudaitis was originally a second-round pick of the Philadelphia 76ers in 2015, but now the Cleveland Cavaliers have his NBA rights.
Gudaitis broke out last year, using his size and energy to dominate opposing frontcourts. He finished the season ranked second in field goal percentage, second in total rebounds, fourth in total blocks, and fourth in made free throws.
Milano didn't have a good year overall, but they've loaded up on talent this season. With former NBA guards Mike James and Nemanja Nedovic, Milano are looking to compete for a playoff spot.
If Gudaitis has another big year, he could help them reach the postseason before heading to the states next summer.
10. Anzejs Pasecniks | C | Herbalife Gran Canaria
Pasecniks is a mobile 7-2 Latvian center who will make his EuroLeague debut this season.
The 76ers drafted him 25th overall in 2017, and they're hoping he can have a good year in the best league outside of the NBA.
Pasecniks has played in the ACB and EuroCup with Gran Canaria. He is a good alley-oop target and he has the potential to shoot from the outside. Unfortunately, his three-point numbers dipped last season (4/20 between the ACB and EuroCup).
If Pasecniks bounces back this year against top-tier competition, he could make the move to Philly next summer.
Honorable Mentions
These players didn't make the list because of their contract situation (like Pangos and Llull) or I'm not quite sold yet on them being NBA-level players. Either way, they are all really good and should be a ton of fun to watch this season.
Kevin Pangos (Barca), Sergio Llull (Real Madrid), Nick Calathes (Panathinaikos), Alexey Shved (Khimki) Sasha Vezenkov (Olympiacos), Vincent Poirier (Baskonia), Anthony Gill (Khimki), Malcolm Thomas (Khimki) Aaron White (Zalgiris), Kaleb Tarczewski (Milano), Nigel Williams-Goss (Olympiacos), Janis Timma (Olympiacos), Artem Pustovyi (Barca), Nicolo Melli (Fenerbahce), Jan Vesely (Fenerbahce), Casey Prather (Khimki), Alec Peters (CSKA)
---
Austin Green is an international journalist and scout covering EuroLeague and NBA prospects in Europe and Australia. You can follow him on Twitter @LosCrossovers