Jim Boeheim, NBA Scouts Say Darius Bazley Should've Played At Syracuse
Jim Boeheim, NBA Scouts Say Darius Bazley Should've Played At Syracuse
Darius Bazley is a McDonald's All-American and a projected first rounder, but Syracuse coach Jim Boeheim says he should've played college ball.
Aug 28, 2018
by Adam Zagoria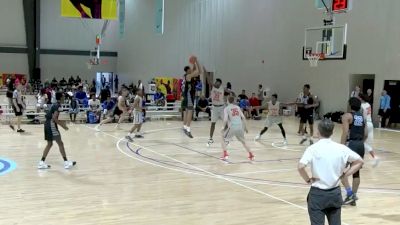 NEW YORK — Syracuse coach Jim Boeheim believes Darius Bazley would have helped his NBA stock rise more by spending the upcoming season playing for the Orange in the ultra-competitive Atlantic Coast Conference instead of opting not to play organized ball at all.
He isn't alone. Several NBA scouts said the same thing.
"That always helps," Boeheim said Monday by phone. "You see any freshman that comes in, like we had Malachi [Richardson] and Tyler Ennis. When they have a good freshman year and their college team wins; that's a big advantage when you get an opportunity to move into the NBA.
"Now they'll have nothing to look at except the McDonald's Game and the limited games he played. I think he's got tremendous upside, but I think it will cost him. I think he could've moved into the first round with a good college year. I don't know if he can be a first-round pick now. They've got nothing to go by."
The 6-foot-9, 195-pound Bazley, 18, initially committed to Syracuse before announcing in March that he would instead hire an agent and spend a year in the NBA G League preparing for an NBA career. Then on Monday, he announced he wouldn't do that, either, and would instead spend the year training for the 2019 NBA Draft. According to the latest ESPN mock draft from Jonathan Givony, Bazley is projected as a late-first-round pick.
"Talking about it over with my group, we felt confidently that the G League wasn't going to be needed and now I can use this time to work on my craft," Bazley told The Athletic. "It's mainly me talking to [agent] Rich [Paul], he knows so much, and whenever he speaks my ears perk up. When Miles [Bridges] was in Cleveland for his pre-draft workouts, whenever he got a chance to work out in front of NBA teams, I was working out in the gym, too. So that played a part in it, me playing well in those workouts for us to say there's no upside in the G League. If you play well, it's expected. If you don't play well, you're not NBA-ready. That's what they'll say. For me, working out and preparing is the best route."
Still, Boeheim and several NBA scouts disagree on whether it's the best route.
"I was very disappointed he didn't go to Syracuse," one NBA scout said. "Going from high school to the G League, you're playing with men. Those guys are tough customers, the minor league guys. In a lot of cases they're tougher.
"That kid is very talented. He's highly-rated but I was looking forward to the proof in the pudding. Let him go play in college. Play in the ACC with Syracuse. Play on the big stage and now he's playing on no stage. He's going to have no games. I think it's going to hurt him some. He'll still be a first-round draft choice."
Bazley is essentially attempting to follow in the footsteps of Knicks rookie Mitchell Robinson, who sat out last season after initially signing with Western Kentucky.
Once a projected first-round pick, the 7-foot Robinson went No. 36 overall to the Knicks. Robinson excelled in Summer League and the Knicks are hoping he turns from hidden gem to NBA star down the road.
"Mitchell got drafted in the second round and [Bazley] is not 7-feet tall," a second NBA scout said. "A big mistake!!!"
Said the first NBA scout: "Mitchell Robinson physically was overwhelming. His physical tools are at the very top. This kid [Bazley] is very gifted physically also but [Robinson's] a little farther down the line than this kid."
As for Boeheim, he would've loved to have had Bazley at Syracuse on a team that will also feature projected first-round pick Tyus Battle and other talented players. A year on a successful college team could have really helped his stock, the coach says.
"I think his potential is huge, I always have," Boeheim said. "When we first got him he wasn't rated very high but then he jumped quickly into the Top 10 or 15. I think he's got a world of potential but he's one of those kids, I think he just needed college. I think a lot of guys do."
---
Adam Zagoria is a Basketball Insider who runs ZAGSBLOG.com and contributes to The New York Times. Follow Adam on Twitter.