2019 Wing Scottie Lewis Is Down To Kentucky, Florida
2019 Wing Scottie Lewis Is Down To Kentucky, Florida
Scottie Lewis is one of the most coveted guards in the class of 2019, and he's narrowed his recruitment down to two schools.
Sep 18, 2018
by Adam Zagoria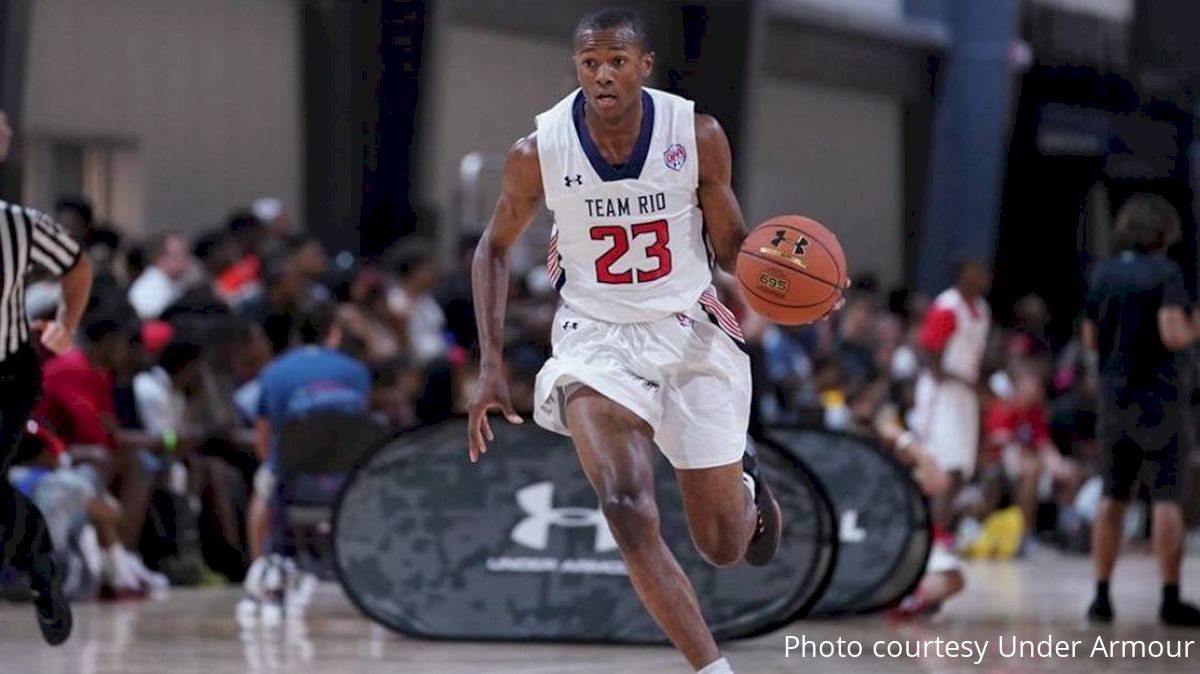 TINTON FALLS, N.J. — Scottie Lewis, the 6-foot-5 wing from the Ranney (N.J.) School and the Team Rio AAU program, is focusing on two SEC schools at this point — Florida and Kentucky — but has no timetable for a decision.
"It's down to two schools right now," he said Tuesday at an open gym. "So that's pretty much it. SEC."
Lewis had previously considered other schools like Villanova, St. John's, and Stanford, but will now choose between a pair of SEC schools.
"I'm just taking my time, trying to figure out what me and my family think is the best fit," Lewis said.
Two of his teammates have already committed, with Bryan Antoine choosing Villanova and Alex Klatsky picking Florida as a preferred walk-on.
Lewis is coming off his second and final official visit to Kentucky last weekend. He previously visited Florida.
"They know I'm a big-platform kind of guy and they have the biggest platform in basketball, as far as getting players to the NBA," he said of Kentucky. "The constant attention that they get, I would be on the highest platform to do what I do and just stay Scottie Lewis and they don't really want to change that."
Kentucky already has commitments from Roselle Catholic wing Kahlil Whitney, who was set to have a home visit Tuesday night with Kentucky coach John Calipari, and guards Dontaie Allen and Tyrese Maxey.
Lewis says he's on a group text with Whitney and Maxey and they have talked about what kind of backcourt they could form next year.
"They're all guys I've played with pretty much my whole life," Lewis said. "Guys that I can compare to myself as far as the mentality, junkyard dogs who want to do everything. So you take that backcourt and we talked about how special it could be. Just surrounding myself with the same type of people who have the same motivation as me and want to win games."
Lewis got a chance to play pickup at Kentucky, too.
"I've played with those guys, Keldon [Johnson], [Immanuel] Quickley, Quade [Green], I've known them for so long, and Nick Richards," he said. "Just to be back on the floor with them and kind of scrimmage with them. Bam [Adebayo] came back and played pickup. I got to see Reid [Travis] and all those guys, it's just guys that have been my mentors for so long. At first, I was actually nervous to play with the team. Then I did pretty well. I definitely held my own. It was a huge eye-opener, confidence booster to play with those guys. Just kind of pick up information by talking to coach. I learned all four of their plays just by watching from the sideline."
Meantime, Florida's Mike White and Darris Nichols were at Ranney on Tuesday for Lewis and Klatsky.
"The family message," Lewis said. "They recruited me the longest for five years. I've known those guys ever since I was 15 years old. Just telling me who I'll be playing with and what I can bring to the table.
"One thing I like about coach Mike is he doens't make any promises. He tells me what he can do for me, and I know he can do those things for me. He realizes it's up to me and our communication on the floor if I'm going to reach that next level. He doesn't promise anything."
Klatsky and Lewis went on their official visit to Florida together, and Klatsky told Lewis he was going to choose the Gators.
"Me and Alex have been best friends for years, so if I got the chance to go to college and play with one of my high schools teammates," I would love to do that.
Said Klatsky: "There's nothing I'd like more than to play with Scottie in college."
As for a timetable, he doesn't have one.
"Just whenever me and my family sit down and talk about it and create that list of pros and cons, and figure out where we think is the best for myself to get to that next level," he said. "And we're going to make that decision together and we're going to try to make [the announcement] creative and fun."
---
Adam Zagoria is a Basketball Insider who runs ZAGSBLOG.com and contributes to The New York Times. Follow Adam on Twitter.