10 Riveting College Basketball Questions, Featuring Kansas, Duke & Kentucky
10 Riveting College Basketball Questions, Featuring Kansas, Duke & Kentucky
Kansas, Duke, superstars, bribery — college basketball has everything you could ever want, and more. Here are 10 crucial questions as the season begins.
Nov 1, 2018
by Adam Zagoria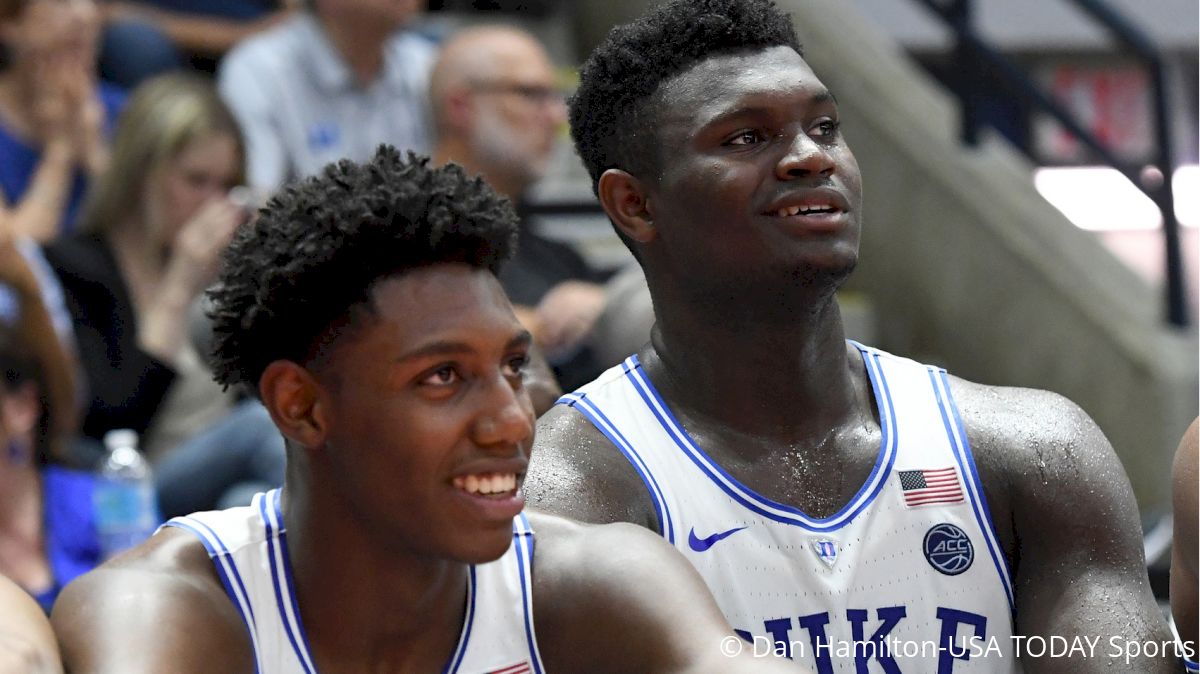 With the 2018-19 college basketball season about to tip-off next week, here are 10 burning questions entering the season:
1) Can Kansas shake off the distractions and win the NCAA championship?
Kansas coach Bill Self and his program have been in the news a lot recently, and not always for good reasons. Kansas figured prominently in the recent Adidas bribery trial, and the school then opted to sit forward Silvio de Sousa in the wake of testimony at the trial that his guardian received payments from former Adidas consultant T.J. Gassnola. The Jayhawks are also ranked No. 1 in both the preseason AP and Coaches' polls because they're loaded. Dedric Lawson went off for 31 points and 15 rebounds in his KU debut.
With questions sure to follow the program throughout the season, can the Jayhawks shake off the distractions and win the program's first title since 2008?
"Coach Self told us to go out there and have fun and I definitely had fun tonight."

Despite wanting to tighten up his personal performances, there's no question that @DSmoove1_2many had a good time tonight #KUbball pic.twitter.com/Zmz0alZhJF

— Kansas Basketball (@KUHoops) October 26, 2018
2. Does Kentucky have the formula to win John Calipari's second title?
Because of Calipari's fondness for one-and-done players, Kentucky often has a roster that is too young to win six games in March and April — when it really counts. Yes, Kentucky has been to four Final Fours under Calipari, but the Wildcats only have the one title in 2012 to show for it. This year's team, however, appears to have a perfect balance of older players like grad transfer Reid Travis and sophomores Quade Green, Nick Richards, and P.J. Washington, along with talented freshmen like Ashton Hagans, Tyler Herro, Keldon Johnson, Immanuel Quickley, and E.J. Montgomery.
Is this the year Calipari gets his second NCAA title?
It's going to be fun watching this group grow before our eyes this season. #DreamBIG

? https://t.co/MkrosJyT8o pic.twitter.com/0eiKjgCiGi

— Kentucky Basketball (@KentuckyMBB) October 27, 2018
3. Can Duke capture a crown relying on a "Fab Five"?
Duke looks like it has the No. 1 pick in the NBA Draft in Canadian sensation R.J. Barrett and two other projected top-five or -10 picks in Zion Williamson and Cam Reddish. Among their "Fab Five" freshmen, the Blue Devils also feature Tre Jones and Joey Baker. But can a team relying on so much youth actually contend for — or win — an NCAA championship?
Only such modeled two teams in the one-and-done era have captured NCAA championships: Kentucky in 2012 and Duke in 2015. In both cases, the teams had a group of older players to provide leadership and stability. Duke named junior forwards Javin DeLaurier and Jack White its captains, and they will have to play key roles alongside the freshmen if Coach K is to win his sixth NCAA crown.
4. Does Villanova have enough to contend for a third title in four years?
Entering last year's NCAA Tournament, everyone knew Mikal Bridges and Jalen Brunson were headed to the NBA Draft, but not even "GQ" Jay Wright expected he would also lose both Donte DiVincenzo and Omari Spellman to the pros.
Yet after winning their second title in three years, the Wildcats did indeed lose four players to the NBA — including Final Four MOP DiVincenzo, who came off the bench. This year's Villanova team will rely on grad transfer Joe Cremo (Albany) along with several key returners like redshirt seniors Phil Booth and Eric Paschall, plus younger guys who will have to play key roles like sophomores Dhamir Cosby-Roundtree, Collin Gillespie, and Jermaine Samuels. Villanova also has a loaded freshman class led by Jahvon Quinerly, Brandon Slater, and Cole Swider.
5. How much will we learn from Tuesday's Champions Classic?
On Tuesday in Indianapolis, the college basketball season will kick off in a big way when No. 10 Michigan State and No. 1 Kansas tip at 7 PM ET, followed by No. 4 Duke and No. 2 Kentucky at 9:30 PM. If Kansas wins its debut in decisive fashion, it will make a strong statement about the Jayhawks' intentions this year. If Kentucky or Duke wins decisively, the fans of the winning team will feel good about their chances to contend for a title, while the losing fan base may start to worry.
Either way, it should be fun and all 30 NBA teams will likely be represented since five of the top 10 projected 2019 draft picks, per ESPN's Jonathan Givony, will be competing.
6. Is this the year Chris Mullin and St. John's break out and make a run?
Through three seasons coaching at his alma mater, Mullin is 38-60 overall and 12-42 in the Big East. Those numbers are not what St. John's fans expected when the greatest player in program history took over the reins before the 2015-16 season.
Yet entering Year 4, Mullin finally has a loaded and experienced team that should do some damage. Featuring a backcourt of Shamorie Ponds and Mustapha Heron, St. John's was picked fourth in the Big East poll and CBSSports.com has them ranked as the No. 20 team in the nation. It's NCAA Tournament or bust this year for the Red Storm.
"Of course," Mullin said last week of seeking to make the Big Dance. "But the focus is on our daily habits. Nothing happens without that."
Mullin and Ewing enjoying a moment. Just like old times. pic.twitter.com/LUS6keU6pG

— Adam Zagoria (@AdamZagoria) October 25, 2018
7. How many times will Zion Williamson make the SportsCenter Top 10?
At 6-foot-7, 285 pounds, Williamson is built like an NFL defensive end, yet Coach K says he's incredibly graceful for a man his size.
"He's a gifted athlete," Coach K said. "We've never had anyone exactly like him, which is OK. He's a gifted athlete, a great kid."
Williamson has 1.8 million Instagram followers and 153,000 Twitter followers, largely because of his impressive dunking repertoire. SportsCenter has already featured him several times during the preseason — one ESPN tweet already compared Williamson's aerial acrobatics to the great Michael Jordan — and you have to wonder how often his flushes will be showcased once the regular season begins.
What do Zion Williamson and Michael Jordan have in common?

This dunk. (via @DukeMBB, @michaelgrange) pic.twitter.com/Yl4O6nYAx1

— ESPN (@espn) August 14, 2018
8. Will Rui Hachimura become the first Japanese player drafted, and will he be a lottery pick?
Gonzaga's Hachimura is looking to become the first Japanese player drafted into the NBA, and he and his teammates should be fun to watch this year. They are the preseason No. 3 team in the AP Poll because Mark Few has another experienced, veteran team back to dominate the West Coast Conference. The 6-foot-8 Hachimura, born in Toyama, Japan, averaged 11.6 points and 4.7 rebounds last season. Those numbers could go up this year, and that will likely help Hachimura's draft stock. He's currently projected at No. 14 by ESPN. If the Zags make a run in March, expect this story to grow bigger.
9. Who is the team everybody's sleeping on?
If you want to sound smart with your friends at the local watering hole heading toward March, talk up the Nevada Wolf Pack and coach Eric Musselman. Nevada is ranked No. 7 in the AP Poll and has all the makings of team that could go deep in March. They are loaded with experience as seniors Jordan Caroline and Cody and Caleb Martin are all back after testing the NBA Draft waters. Nevada added 6-11 McDonald's All-American Jordan Brown out of Roseville, CA, who chose the Pack over Arizona and Cal. Musselman is one of the best coaches in the nation and has an NBA pedigree.
Jordan Brown prediction: Nevada pic.twitter.com/6069SFx5f8

— Adam Zagoria (@AdamZagoria) May 10, 2018
10. How much will the Adidas trial and the other college basketball trials loom over the season?
The basketball world was given a major reality check last week when the three defendants in the Adidas trial — Jim Gatto, Christian Dawkins, and Merl Code — were found guilty in a New York federal court on seven total counts of wire fraud and conspiracy to commit wire fraud. Sentencing is set for March 5.
Meanwhile, two other trials involving assistant coaches arrested in September 2017 are set to take place in New York. One is set for February, during the college season, and one in April, about two weeks after the Final Four in Minneapolis. Those coaches involved — and the college basketball world in general — are on notice now that more than just NCAA violations are at stake. Federal crimes, not to mention prison time, are as well. That should be sobering news as schools like N.C. State, Louisville, and Kansas were caught in the crosshairs and could face future NCAA sanctions.
---
Adam Zagoria is a Basketball Insider who runs ZAGSBLOG.com and contributes to The New York Times. Follow Adam on Twitter.