2018-19 EuroLeague & EuroCup Season Calendar
The Top 10 2019 NBA Draft Prospects In EuroLeague & EuroCup
The Top 10 2019 NBA Draft Prospects In EuroLeague & EuroCup
Europe may not have a Luka Doncic in this year's draft class, but don't let that fool you: EuroLeague and EuroCup are loaded with NBA talent.
Nov 6, 2018
by Austin Green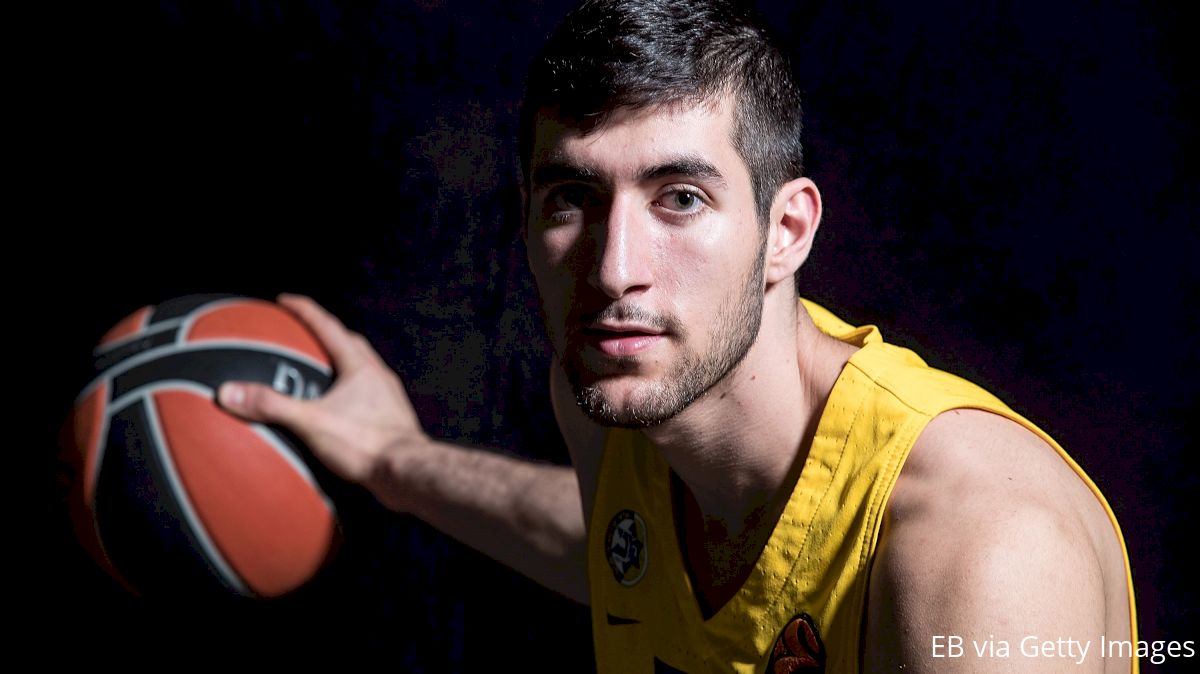 First things first: There is no Luka Doncic in the 2019 international draft class.
Doncic is the best European teenager ever, and it's unrealistic to expect anyone to replicate his production overseas or in his rookie NBA season. Doncic wasn't just the best draft prospect in Europe last year — he was the best player period, and that simply doesn't happen.
That said, there are some good NBA prospects battling seasoned pros in EuroLeague and EuroCup, including a potential top-five pick.
Before we get to the list, a couple quick notes:
International prospects can enter the NBA Draft for the first time in the calendar year in which they turn 19 years old (so players born in 2000 are now eligible for the 2019 draft). The 2000 generation is pretty good, but the 2001 generation (2020 draft-eligible) is loaded with future first-round picks. I included a few of those kids at the bottom of this list so you can be a hipster and tell your friends you knew about Theo Maledon before 99 percent of NBA fans.
Players who don't enter the draft right away remain eligible through their age 22 year — so players born in 1997 have one more chance to be drafted, while anyone born in 1996 or earlier can now only come to the NBA as an undrafted free agent, like Boston's Daniel Theis or Dallas' Maxi Kleber.
And lastly, some of the best NBA prospects don't play in EuroLeague or EuroCup, which are the top two leagues in Europe. For example, Croatian forward Luka Samanic is a projected 2019 first-round pick, but he's not on this list because he doesn't play at the highest level overseas. Ditto for the kids from prospect factories Mega Bemax (Serbia) and Brose Bamberg (Germany)
OK, let's jump in.
1) Sekou Doumbouya - 6-foot-9 PF | Limoges CSP (EuroCup)
Age - 17 (Dec. 23, 2000)
Stats (4 games) - 7 PTS, 2 REB, 0.5 AST, 0.8 TO, 1 STL, 0.8 BLK, 81.8% 2FG, 33.3% 3FG, 33.3% FT in 16:08 minutes per game
Doumbouya, who moved from Guinea to France at a young age, is the best international prospect in the upcoming draft. Barring an injury — knock on wood — he'll be a lottery pick in 2019, and he could go as high as the top five.
Doumbouya fits the mold of a modern NBA power forward. He's a long, fluid athlete with a good-looking outside shot and the ability to shut down multiple positions defensively. He needs some polish, and his energy level is inconsistent, but when he's locked in, Doumbouya can be a monster.
At the 2016 FIBA U18 European Championships, Doumbouya dominated against competition two years older than him. He averaged 17.8 points, 7 rebounds, 1.3 steals, and 1.2 blocks per game while helping lead France to the gold medal. He made the all-tournament team, starring alongside 2017 top-10 pick Frank Ntilikina. Definitely check him out this season.
2) Deividas Sirvydis - 6-8 SF | Rytas Vilnius (EuroCup)
Age - 18 (June 10, 2000)
Stats (4 games) - 9.8 PTS, 3.3 REB, 1.8 AST, 0.3 TO, 0.3 STL, 0 BLK, 60% 2FG, 53.8% 3FG, 75% FT in 20:45 minutes per game
If you like smooth-shooting lefties, you're gonna love Sirvydis. He has a gorgeous jump shot, and he moves well off the ball to get open. He can also shoot off the dribble, and he's a good pick-and-roll playmaker for a wing.
He won MVP and led Rytas to the title at the 2018 Adidas Next Generation Tournament, which is the top club competition for U18 Europeans. He's also been schooling the pros, dropping 17 points in his first EuroCup game this season and scoring 10-plus in three of his four games.
Sirvydis doesn't have good length or athleticism, which limits his ceiling. But the NBA puts a premium on shooting and playmaking these days, and Sirvydis is excellent at both. Combine that with his high basketball IQ, competitive spirit and 6-8 frame, and Sirvydis is a first-round talent in my opinion.
3) Amine Noua - 6-9 PF | ASVEL (EuroCup)
Age - 21 (Feb. 7 1997)
Stats (4 games) - 12.5 PTS, 4.5 REB, 1 AST, 0.5 TO, 0.8 STL, 1.3 BLK, 53.6% 2FG, 46.2% 3FG, 66.7% FT in 26:49 minutes per game
Noua was one of the most productive youngsters in Europe last year, and he was killing it this season before an ankle injury sidelined him for about a month. He's an aggressive athlete who likes to fly in from the weak side to swat shots (see 1:30 in the game highlights above). Offensively, he's a good finisher around the rim and he's developing a consistent three-point shot. Noua's age will scare off some teams who'd rather try to develop a 19-year-old, but he'll be a good pickup for someone in the second round.
4) Yovel Zoosman - 6-6 SF | Maccabi Tel Aviv (EuroLeague)
Age - 20 (May 12, 1998)
Stats (5 games) - 2.4 PTS, 1.2 REB, 1 AST, 1 TO, 0.8 STL 0.4 BLK, 71.4% 2FG, 0% 3FG, 100% FT in 12:30 minutes per game
Zoosman won MVP at the 2018 FIBA U20 Euros while leading Israel to their first gold medal ever. His numbers at the EuroLeague level don't jump off the page, but he's a solid all-around wing. He has a good physical frame, he's a smart two-way player and he's a fighter. He needs to improve his outside shot, but if he can start to hit threes with consistency, I like Zoosman as an early- to mid-second-round pick.
5) Vanja Marinkovic - 6-5 SG | Partizan Belgrade (EuroCup)
Age - 21 (Jan. 9, 1997)
Stats (5 games) - 15.6 PTS, 3.2 AST, 2 REB, 2 TO, 0.8 STL, 0 BLK, 48.6% 2FG, 37% 3FG, 70% FT in 32:08 minutes per game
Like Noua, Marinkovic will be 22.5 years old on draft day, which isn't ideal. But he's a flamethrower behind the arc, he's improving his all-around game, and he's already one of the best two-guards at the EuroCup level. He currently ranks sixth in scoring in the competition, which is really impressive for a 21-year-old. I'll be surprised if he doesn't get drafted in June.
6) Aleksa Radanov - 6-8 F | Crvena Zvezda (EuroCup)
Age - 20 (Feb. 1, 1998)
Stats (5 games) - 2 PTS, 0.6 REB, 0.2 AST, 0.4 TO, 0.2 STL, 0 BLK, 33.3% 2FG, 100% 3FG, 40% FT in 4:59 minutes per game
7) Tadas Sedekerskis 6-9 SF | Baskonia (EuroLeague)
Age - 20 (Jan. 17, 1998)
Stats - N/A (injury, set to return in December or January)
8) Marko Pecarski - 6-10 C | Partizan Belgrade (EuroCup)
Age - 18 (Feb. 12, 2000)
Stats (3 games) - 2 PTS, 1.3 REB, 0 AST, 0.3 TO, 0 STL, 0.3 BLK, 100% 2FG, N/A 3FG, 0% FT in 8:03 minutes per game
9) Santiago Yusta - 6-6 SF | Real Madrid (EuroLeague)
Age - 21 (April 28, 1997)
Stats - N/A (hasn't played in EL yet this season)
10) Laurynas Birutis - 7-1 C | Zalgiris Kaunas (EuroLeague)
Age - 21 (Aug. 27, 1997)
Stats (5 games) - 2.8 PTS, 0.6 REB, 0 AST, 0.8 TO, 0 STL, 0.4 BLK, 62.5% 2FG, N/A 3FG, 50% FT in 7:28 minutes per game
Bonus: Top 2020 Draft Prospects In EuroLeague/EuroCup
As I mentioned in the intro, the 2001 international generation is stacked. These are the three best EuroLeague and EuroCup prospects for the 2020 Draft.
Deni Avdija - 6-8 SF | Maccabi Tel Aviv (EuroLeague)
Age - 17 (Jan. 3, 2001)
Stats - N/A (hasn't played yet in EL)
Theo Maledon - 6-5 PG | ASVEL (EuroCup)
Age - 17 (June 12, 2001)
Stats (5 games) - 3.8 PTS, 1 AST, 0.6 REB, 1.2 TO, 0.6 STL, 0 BLK, 50% 2FG, 40% 3FG, 60% FT in 11:01 minutes per game
Franz Wagner 6-7 F | ALBA Berlin (EuroCup)
Age - 17 (Aug. 27, 2001)
Stats (5 games) - 2.2 PTS, 1.4 REB, 0.2 AST, 0.2 TO, 0 STL, 0 BLK, 50% 2FG, 33.3% 3FG, 100% FT in 6:44 minutes per game
---
Austin Green is an international journalist and scout covering EuroLeague and NBA prospects in Europe and Australia. You can follow him on Twitter @LosCrossovers.