2018 City of Palms Basketball Classic | Boys Basketball
Majority Of Class Of 2019 Top-10 Recruits Planning To Sign In Spring
Majority Of Class Of 2019 Top-10 Recruits Planning To Sign In Spring
Some of the top hoopers in the nation — including James Wiseman, Cole Anthony, and others — are prolonging their recruiting process.
Nov 13, 2018
by Adam Zagoria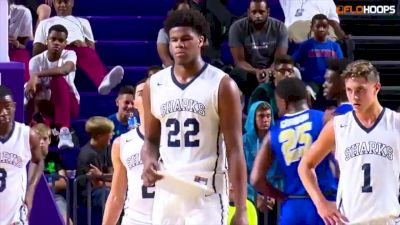 The NCAA early signing period begins Wednesday and runs through Nov. 21, but it appears that the majority of the top prospects in the class of 2019 will sign late.
Seven of the top 10 prospects — and 11 of the top 25 — in the 2019 ESPN 100 are expected to sign during the late period which runs April 17-May 15.
There are several advantages to signing during the late period. Just ask legendary Oak Hill Academy (VA) coach Steve Smith, who has two senior stars planning to do in New York natives Cole Anthony and Kofi Cockburn.
"The main advantage is they get to watch the teams play, see where they fit in the system, and also see where the best opportunity to play is," Smith said.
Here's a look at the top prospects and where they stand in their recruitment. Many of these players will be showcased at the City of Palms Classic (Dec. 17-21) and the Chick-fil-A Classic (Dec. 26-29), which will be streamed on FloHoops.
No. 1 James Wiseman | C, Memphis (TN) East
The 7-foot Wiseman officially lists a top five of Memphis, Kentucky, Florida State, Vanderbilt, and Kansas and has yet to set any type of announcement date. As I wrote on FloHoops.com earlier this week, Memphis appears to be in strong shape for Wiseman, with Kentucky the perceived other top contender. Assuming he goes through the next week without signing, he could commit at any time but wouldn't be able to sign until the spring.
It's that time of year again.

The time where @BigTicket_JW puts on show. After show.

...After show. pic.twitter.com/KfEDMbVsKo

— Clayton Collier (@Local24Clayton) November 11, 2018
No. 2 Cole Anthony | PG, Oak Hill Academy (VA)
The 6-3 Anthony has long said he planned to commit in the spring, and we are headed in that direction. The son of former NBA point guard Greg Anthony, Cole has taken official visits to Notre Dame, North Carolina, and Oregon and also lists Georgetown, Miami, and Wake Forest among his final six.
Cole snatched the ankles, Cam sank the trey. This dynamic duo is FILTHY. @The_ColeAnthony @24_camthomas pic.twitter.com/1yyTiJu7UC

— SLAM HS Hoops (@SLAM_HS) November 3, 2018
No. 3 Vernon Carey | C, NSU University School (FL)
As I reported this week over on ZAGSBLOG, the 6-10 Carey plans to commit "in the next few weeks" but to sign "late," his father Vern Carey Sr. said. Carey is done with his visits after taking an official to Michigan State this past weekend. He's also taken official visits to Kentucky (Oct. 12), Duke (Oct. 19), Miami (Oct. 26), and North Carolina (Nov. 2).
MSU visit was fun this weekend ?? pic.twitter.com/DdoLCiaUd0

— Vernon Carey Jr. (@vernoncarey22) November 11, 2018
No. 4 Isaiah Stewart | C, La Lumiere (IN)
The 6-9 Stewart has kept his recruitment on the down low of late, but sources said he will take an official visit to Duke the weekend of Nov. 24-25 after recently postponing a visit there. That, of course, comes after the early signing period ends. Stewart has already taken officials to Syracuse, Michigan State, Washington, and Kentucky. He also lists Indiana and Villanova.
"The commitment could come any time," said one source close to the recruitment.
NIKE EYBL 2018:

Isaiah Stewart ?

?: @FloHoops

@Dreamville_33 @TheCityRocks pic.twitter.com/qs0RP69H8b

— HS Basketball BR (@HSBasketballBR) May 12, 2018
No. 5 Jaden McDaniels | PF, Federal Way (WA)
The uber-talented forward from the Pacific Northwest has now taken officials to San Diego State, Washington, Texas, and Kentucky. Kentucky needs frontcourt help in a big way since it figures to lose Reid Travis and maybe P.J. Washington and Nick Richards to the NBA. They remain involved for Wiseman, Carey, Stewart, and McDaniels, and would love to land at least two of them.
For what it's worth, of four "Crystal Ball" picks, two are set for San Diego State and two for Texas.
6'10 With a wiggle off the bounce JADEN MCDANIELS DIFFERENT #HOTBREAD pic.twitter.com/hngPyLk5K7

— Cartiea French-Toney (@MrYeahIKnow) November 10, 2018
No. 6 Matthew Hurt | PF, Rochester (MN) John Marshall
The 6-9 Hurt has really been quiet on his recruitment and has yet to take an official visit. Duke, Indiana, Kansas, Kentucky, Memphis, Minnesota, North Carolina and now Villanova are in the mix for Hurt, who said he planned to take officials around basketball games.
"I'm trying to get my official visits in for games," he told Rivals last month. "Like on a Saturday when I can come down and see the real atmosphere and environment for a game. I want to see how they prep a team before a game and stuff like that because I'll consider a lot of that in my decision."
Matthew Hurt highlights from Team USA Minicamp! @HurtMatthew pic.twitter.com/BIy5O42hAj

— Courtside Films (@CourtsideFilms) October 8, 2018
No. 10 Precious Achiuwa | PF, Montverde (FL) Academy
After transferring to Montverde from St. Benedict's Prep (N.J.), Achiuwa has continued to keep a low profile on his recruitment. His mentor, Oz Cross, said "he honestly doesn't have a list" and plans to wait until "January/February to figure it out."
North Carolina, Kansas, and St. John's were among the schools looking at him hard this past summer.
You can catch Achiuwa live right here on FloHoops, as we will be streaming Montverde's home games.
No. 16 Trayce Jackson-Davis | PF, Center Grove (IN)
The 6-10, 228-pound forward is down to Indiana, Michigan State, and UCLA, and confirmed Monday he won't sign in the fall.
"I plan on signing late," he said. Home-state Indiana has long been the favorite.
No. 19 C.J. Walker | PF, Sanford (FL) Oak Ridge
As reported on ZAGSBLOG, the 6-8 power forward is leaning toward committing and signing during the late period. Walker recently named Arizona, Florida, LSU, Miami, and Oregon as his final five.
Dreams 2 Reality pic.twitter.com/qWaxbmCx4O

— Cj Walker (@Cjwalker_14) August 19, 2018
No. 23 Trendon Watford | PF, Mountain Brook (AL)
The 6-8 Watford confirmed Tuesday he plans to sign late. He recently visited LSU and Memphis and plans to visit Indiana for the Louisville game on Dec. 8, and Alabama for the Kentucky game Jan. 5.
"I'll probably decide, if not March, then probably February, end of season, like that," he told ZAGSBLOG. "So I won't be having to deal with during my whole high school season."
No. 25 Cassius Stanley | SG, Sierra Canyon (CA)
The 6-5 Stanley is down to Kansas, UCLA, and Oregon and has visited all three. His father, Jerome, told ZAGSBLOG his son will commit on his own timeline.
"I don't expect a prolonged period," Jerome said. "I don't know if our decision will correspond with the November signing period. I can you tell it will not be a prolonged, extended thing."
---
Adam Zagoria is a Basketball Insider who runs ZAGSBLOG.com and contributes to The New York Times. Follow Adam on Twitter.