2018 Paradise Jam Women's
South Florida Must Rely On Depth & Experience After Loss Of Kitija Laksa
South Florida Must Rely On Depth & Experience After Loss Of Kitija Laksa
South Florida boasts players from all around the world, and with the recent loss of star winger Kitija Laksa they'll need all the depth they can get.
Nov 21, 2018
by Kyle Kensing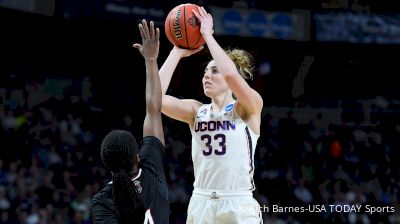 Few rosters in college basketball can match the unique makeup of the USF Bulls.
From Florida to Denmark, Portugal to Tennessee, coach Jose Fernandez and his staff criss-cross the globe to build a lineup. In bringing together players from seven different nations, they have discovered a universal language: winning.
USF arrives at the 2018 U.S. Virgin Islands Paradise Jam a recent player on the American scene. The Bulls never reached the NCAA tournament before 2006, but now have a streak of four consecutive appearances, and five in six seasons.
Watch the 2018 Paradise Jam LIVE on FloHoops!
After a start to 2018-19 that included double-digit-point wins over last year's Big Ten champion Ohio State and annual Big 12 Conference contender Oklahoma, USF has reason to expect big things in the campaign to come.
The cornerstone for the Bulls' bright outlook speaks to the recruiting formula Fernandez has employed. He told FloHoops.com that the program is shaped by "finding players who are going to be the right fit" while evaluating international competition, and the team's distribution of production illustrates that.
USF's leading scorer ahead of the Paradise Jam is senior guard Laura Ferreira, from Lisboa, Portugal. She is putting up 20.5 points per game, thanks in part to torrid 54.2 percent shooting from behind the three-point line.
Ferreira has more than doubled her production from the 2017-18 through this early portion of 2018-19, helping to fill the void USF must address with All-American star wing and Latvian product Kitija Laksa lost to a season-ending injury.
Laksa's absence certainly leaves production that must be made up – after averaging 21.1 points in 2017-18, she was one of the nation's top returning scorers coming into the campaign — but it's also a time for others to emerge.
"To be honest, there's no experimentation [necessary for the lineup]," Fernandez said. "Guys on the bench know they have to step up now."
Among the Bulls emerging so far: 6-foot-3 freshman center Beatriz Jordao of Pombal, Portugal. Jordao is averaging 12.3 points on 76.7 percent shooting, and her 8.3 rebounds per game rank second on the team. Only junior Alyssa Rader of Thornton, Colorado, has done more glasswork this season. She's averaging 10.5 rebounds per outing.
Jordao's immediate contributions demonstrate the impact USF's recruiting philosophy has in bringing on players able to pitch in as freshmen. Nashville native Sydni Harvey has started all four games and put up 12.5 points per game. Her 16 assists are second only to fellow freshman and Murano, Italy's own Elisa Pinzan.
Facing a Paradise Jam field that pits USF against regular SEC contender Kentucky on Night 1, and a UCLA team coming off an Elite Eight run on Night 3, should give the young Bulls a telling evaluation of where they're at now.
"Any time you can get young kids the type of experience we're having, it's beneficial," Fernandez said. "They've been thrown into the fire, so to speak."
Don't forget to catch the 2018 Paradise Jam live right here on FloHoops.
---
Kyle Kensing is a freelance sports journalist in southern California. Follow him on Twitter @kensing45.