2018 Paradise Jam Women's
UConn Announces Intentions & Kentucky Arrives At 2018 Paradise Jam
UConn Announces Intentions & Kentucky Arrives At 2018 Paradise Jam
UConn sent a crystal-clear message at the 2018 Paradise Jam: Last year's Final Four exit won't be acceptable this year.
Nov 26, 2018
by Kyle Kensing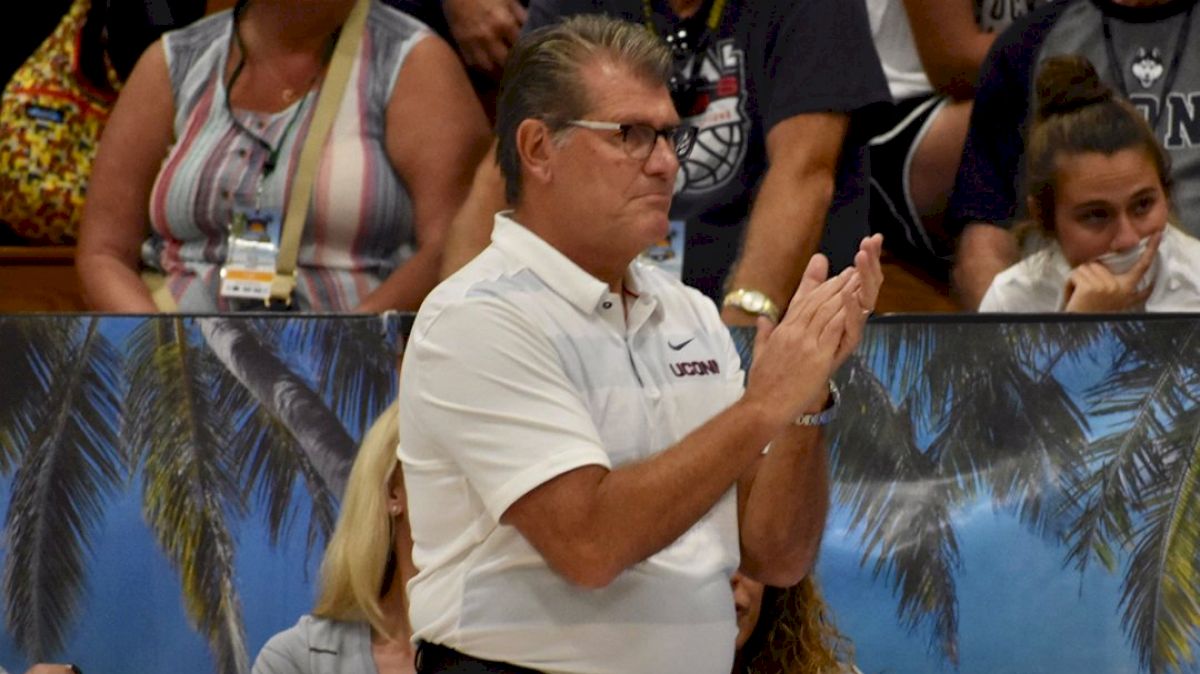 UConn arrived at the U.S. Virgin Islands Paradise Jam having not lost a regular-season game since 2014. Add three more wins to the streak.
The Huskies capped a 3-0 performance in the Reef division with an 86-40 rout of Purdue. Napheesa Collier sealed Most Valuable Player with 19 points, 10 rebounds, three assists, and two steals — her second double-double of the tournament, and the kind of balanced performance that has become the All-American's calling card.
Collier opened the Paradise Jam with 18 points, 10 rebounds, and four assists in a 90-50 blowout of Ole Miss. She missed producing a double-double over all three games by just one rebound, going for 17-and-9 in the Huskies' stiffest challenge of the weekend, a 65-55 win over St. John's.
Katie Lou Samuelson, who led UConn in scoring all three games and averaged 21 points per for the tournament, also landed on the All-Reef Division Team.
UConn's dominant Paradise Jam propels coach Geno Auriemma's team into a high-profile stretch to come. The Huskies return to the mainland with games against No. 16-ranked DePaul and a Final Four rematch with a Notre Dame bunch that entered the 2018-19 season ranked No. 1.
If UConn used the Paradise Jam to assert what the college basketball world already knows — that it's an exceedingly difficult to beat Goliath — then Kentucky parlayed its three games to announce its return on the national landscape.
The Wildcats ran the table in the Island division behind the breakout MVP play of Rhyne Howard. The freshman scored 25 points in an 85-75 win over North Carolina in the tournament finale and averaged 17.3 per on the weekend.
Along with fellow All-Island honoree Taylor Murray — whose Paradise Jam concluded with a 23-point, 10-assist effort against North Carolina — Howard keyed an elite caliber of perimeter play that will be central to Kentucky's push back to the NCAA tournament. The Wildcats missed the field a season ago, but wins over 2018 tournament teams USF and UCLA place impressive points on Kentucky's early-season resume.
Kentucky opened the tournament routing USF 85-63 and then outlasted UCLA in overtime 75-74. Howard's put-back lay-in as time expired forced the extra frame, during which a Howard free throw with three seconds to go made the difference.
Kennedy Burke highlighted an All-Tournament effort against Kentucky with 18 points, seven rebounds, three assists, two blocks, and two steals. Burke also tallied 16 points, five rebounds, and five steals in a 60-56 loss to USF.
USF's narrow win relegated UCLA to an 0-3 finish for the weekend — a testament to the strength of the Paradise Jam's collective field, and the Island division in particular. The final-day matchup was a battle to avoid a winless tournament after surprising North Carolina rolled off 83-49 and 71-69 wins over the Bruins and Bulls.
Stephanie Watts emerged as the Tar Heels' breakout star, averaging 21.7 points per game en route to All-Island recognition. USF guard Sydni Harvey rounded out the All-Tournament selections. She scored 19 points against UCLA, 16 against Kentucky, and 17 against North Carolina.
In the Reef division, Purdue, Ole Miss, and St. John's each produced an All-Tournament selection to join UConn's All-America duo. Tiana English of St. John's earned her way into recognition with a performance highlighted by 13 points, six rebounds, and six assists in the Red Storm's competitive showing against UConn.
English came one assist shy of recording a double-double in St. John's 68-62 win over Purdue. She was also one of four Red Storm players to score 14 points in the victory. Boilermaker Ae'Rianna Harris did record a double-double in the loss with 17 points and 10 rebounds, landing her spot on the All-Reef Division Team.
Harris also produced 11 points and seven rebounds in a 70-59 win over Ole Miss. Crystal Allen scored 13 points for the Rebels in the loss; she hit for double-figures in all three games to score an All-Tournament nod.
ISLAND DIVISION
Kentucky (Champion), 3-0
W, 85-63 vs. USF
W, 75-74 vs. UCLA
W, 85-75 vs. North Carolina
North Carolina, 2-1
W, 83-49 vs. UCLA
W, 71-69 vs. USF
L, 85-75 vs. Kentucky
USF, 1-2
L, 85-63 vs. Kentucky
L, 71-69 vs. North Carolina
W, 60-56 vs. UCLA
UCLA, 0-3
L, 83-49 vs. North Carolina
L, 75-74 vs. Kentucky
L, 60-56 vs. USF
REEF DIVISION
UConn (Champion), 3-0
W, 90-50 vs. Ole Miss
W, 65-55 vs. St. John's
W, 86-40 vs. Purdue
St. John's, 2-1
W, 68-62 vs. Purdue
L, 65-55 vs. UConn
W, 64-59 vs. Ole Miss
Purdue, 1-2
L, 68-62 vs. St. John's
W, 70-59 vs. Ole Miss
L, 86-40 vs. UConn
Ole Miss, 0-3
L, 90-50 vs. UConn
L, 70-59 vs. Purdue
L, 64-59 vs. St. John's
---
Kyle Kensing is a freelance sports journalist in southern California. Follow him on Twitter @kensing45.