There has been an offensive explosion in the NBA this year. Nearly every time I tune into an NBA game, I'm no longer shocked to see scores in the 140s or players dropping 50, or 54, or 60! OK, maybe it was surprising to see Derrick Rose score 50 points in 2018, but do 50-point nights truly not mean as much as they used to? Is this offensive explosion a result of the new rule changes this season, or the continuation of a long analytics-influenced trend toward pace and space?
We here at FloHoops decided to take a look at some of the league-wide trends over the past 10 seasons in order to see just how much this season is an outlier, as well as what are some of the mechanisms through which scoring has increased so drastically.
First, we will look at the trends of average league-wide points per game by season, offensive rating, and pace to see if the numbers back up the eye-test.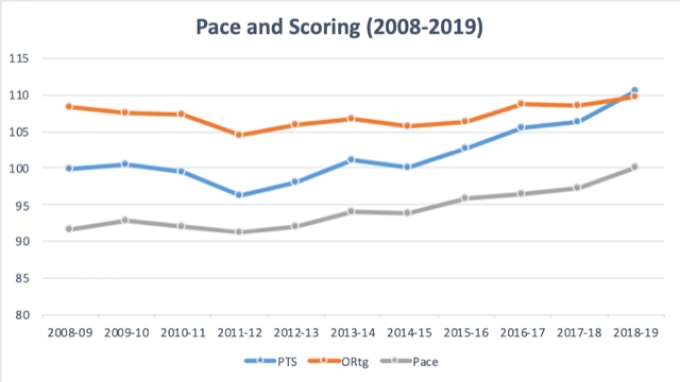 As you can see, teams have been averaging significantly more points per game this season, rising from 106.3 in 2017-18 to 110.6 in 2018-19. While points per game have been increasing pretty steadily over the last five seasons, this season's increase is significantly larger than any single-season jump in the past. Since the league averaged 100 points per game in 2014-15, scoring has been increasing by — on average — 1.6 points per game per season.
What is interesting to note, however, is that offensive rating — or the amount of points produced per 100 possessions — has not been increasing at anywhere close to the same rate. At 109.7 this season, ORtg is at a 10-year high, but this is only a one-point increase from last season, which is not far off from the average increase in offensive rating per season over the past five years.
Instead, the rise of pace seems to be more closely correlated with the increase in points per game. So far this season, NBA teams have been averaging just over 100 possessions per 48 minutes, a nearly three-possession increase from last season, and a seven-possession increase from the average of the past 10 seasons. While some of this leap can certainly be attributed to the new shot-clock and possession rules, there does appear to be an upward trend in pace over the past five years.
Some of this can be attributed to specific choices in playing style: teams running more or placing more of an emphasis on the fastbreak. But the increase in pace may also be a natural result of increasing three-point attempts: While they may lead to more points per possession, there are more rebounds available from more three-point attempts that can lead to more transition opportunities off missed shots. But is pace alone responsible for this? With teams looking to incorporate analytics and find the most efficient shots, have teams simply gotten better on offense?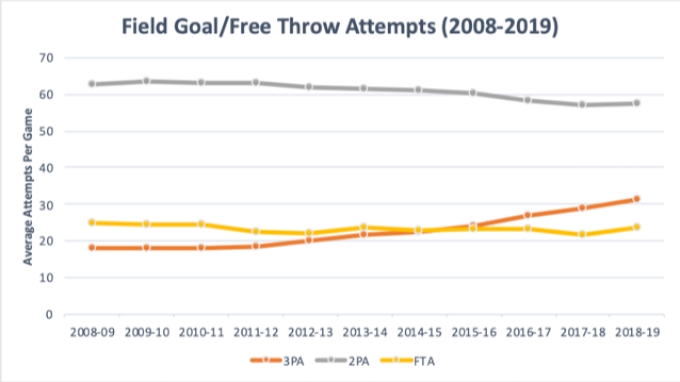 The numbers do seem to back up the theory that teams are taking fewer two-point attempts in favor of increased three-point attempts. But while three-point attempts have climbed in the 2018-19 season from 29.0 in 2017-18 to 31.3, two-point attempts have actually increased this season as well — from 57.1 to 57.5. The increases in three-point attempts are not stemming exclusively from replacing two-point attempts, but instead have also been caused by the increase in possessions, and thus total field goal attempts. But is this change in types of field goal attempts actually leading to more efficient offense?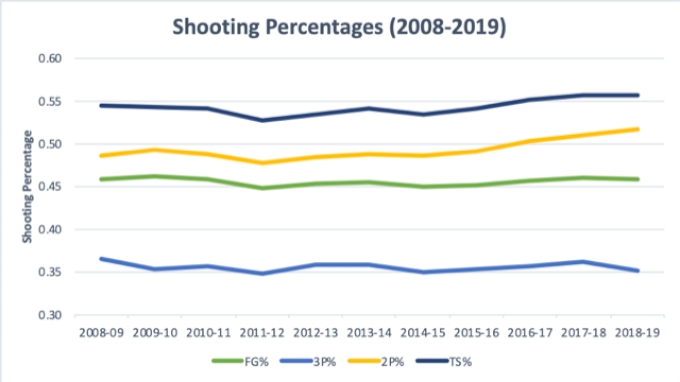 At first glance, the answer would appear to be no. While three-point attempts are at an all-time high, league-wide three-point shooting percentage has hovered around the same 36 percent for the past 10 seasons, and is actually down to 35 percent this season from 36 percent last season.
The same goes for True Shooting Percentage, a measure of shooting efficiency that takes into account two-point percentage, three-point percentage, and free throw percentage. While true shooting percentage has shown an upward trend over the past 10 seasons, the increase has been only about one percent, and is the same this season as last season. The interesting trendline to note here is the surprising increase in two-point percentage, which has gone up by about four percentage points over the past five seasons. While some of this can be explained by the decrease in "long-twos" in favor of the more efficient three-point shot, a secondary effect of spacing the floor with more shooters is more space in the paint. And while two-point attempts have been decreasing on aggregate, the number of layups/dunks per game has actually increased this season.
In sum, the numbers do seem to back up that this year has been a mini-explosion on offense in the NBA. Players and coaches alike point to the lack of emphasis on defense and the impossibility of guarding five shooters on the court. And while teams certainly are taking more threes and fewer twos, the larger impact of this analytics revolution and recent rules changes appears to be on the pace of the games, rather than just increasing the efficiency of an offense.
---
Fri Lavey is a writer and consultant who studied economics and statistics at Harvard University. He has previously worked as a data analyst for the NBA, the MLB, and the Philadelphia 76ers.