OLY vs EFS | 2018-19 Euroleague
The Euro Step: Fenerbahce Alone On Top & Other EuroLeague Round 11 Notes
The Euro Step: Fenerbahce Alone On Top & Other EuroLeague Round 11 Notes
Fenerbahce is looking like a title-winning team, Baskonia have rebounded after a woeful start, and Gustavo Ayon tore up Round 11.
Dec 13, 2018
by Austin Green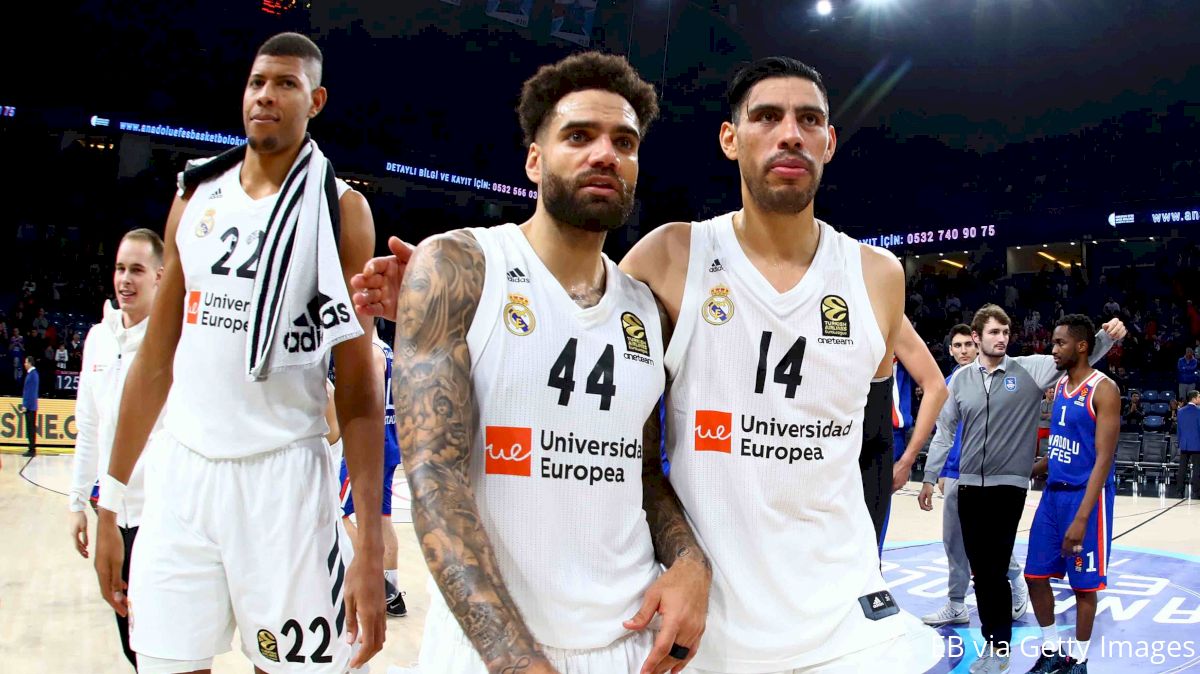 Fenerbahce is so damn good it's ridiculous. This team would stomp the Chicago Bulls, then run some suicides afterward just for fun.
At 10-1, Fenerbahce sits alone atop the EuroLeague standings and looks like the title favorite. The team leads the league in 2-point percentage (59.1) and 3-point percentage (45.8). On defense, it only allows 75.6 points per game to opponents, a number that leads the league.
This team could win it all.
Fener's domination shouldn't be a surprise. Zeljko Obradovic is the most accomplished European coach ever, and his team has returned basically everyone after losing to Luka Doncic and Real Madrid in last year's final.
What is surprising is the development of Jan Vesely. At age 28, Vesely has dramatically improved his free-throw shooting and passing, which has elevated Fener's offense.
Vesely was always a lethal pick-and-roll finisher, but there was an easy solution to stopping him: Hack him. That hasn't worked with the new Vesely, who ranks fourth in EuroLeague in both made free throws (46) and free-throw percentage (86.7)
Teams have to actually play defense on him now, and with his improved passing, that's been a nightmare. Vesely had a team-high seven assists in Fener's Round 11 win at Panathinaikos, most of which led to threes.
It's really cool to see Jan Vesely's improvement at age 28. He's shooting 86.8% on FTs (46/53), way up from his #EuroLeague career avg of 58.5%

His previous high in AST per game was 1.6. This year: 3.3. He picked PAO apart by finding shooters/cutters on short rolls/from the post pic.twitter.com/EeG9hHTmNd

— Austin Green (@LosCrossovers) December 10, 2018
PAO was 31-4 in its last 35 regular season home games entering this one. And it was pretty close overall — Fener only led by two points with 6.5 minutes left. But thanks to Vesely's new skills and a roster loaded with shooters and toughness, Fener closed the game on an 18-4 run.
It was a statement win, the kind that championship teams make on the road, but the real tests are coming soon. Fener host CSKA Moscow (9-2) on Dec. 18 and Real Madrid (9-2) on Dec. 28.
Baskonia Are Back! (I Hope)
For the sake of my early-season predictions, I hope this comeback is true.
I had high hopes for Baskonia entering the season. Toko Shengelia is the best power forward in Europe, and management surrounded him with a really fun supporting cast. With the 2019 Final Four in the team's home city of Vitoria, I picked Baskonia to be one of the last four teams standing.
Then the team stumbled to a 2-6 start, fired its coach and I looked like a fool.
Luckily for me and my fellow Baskonia fans, the team picked up a huge win at home, beating CSKA 76-73 in a game where neither team led by more than six points. It was an inspiring win that proved just how good this team can be when it plays hard.
Shengelia went toe-to-toe with two-time Best Defender Kyle Hines and came out on top. Vincent Poirier (18 points, eight rebounds) dominated inside. Matt Janning hit some clutch shots, and Shavon Shields brought great energy, collecting five offensive rebounds and fighting for every loose ball.
Baskonia's outlook is much brighter now, as it has a 4-7 record and is one game behind eighth-place Zalgiris. With a soft schedule on the horizon, I'm expecting Baskonia to win at least three of its next four and move back into the playoff picture where it belongs.
Side-note: God bless Shavon Shields for trying to foul a guy with his butt. Beautiful stuff.
I love Shavon Shields. I love his competitive spirit, the way he aggressively attacks the offensive glass (5 offensive rebounds vs. CSKA) and I love how, if you beat him off the dribble, he will try to foul you with his ass ? pic.twitter.com/IOxb4JZ3d3

— Austin Green (@LosCrossovers) December 10, 2018
Upsets & Comebacks Define Round 11
Four teams — Zalgiris, Buducnost, Gran Canaria and Baskonia — beat opponents that were ahead of them in the standings.
Darussafaka and Efes almost joined that list, but they both fumbled away double-digit leads in the fourth quarter. Defending champs Real Madrid showed its mental toughness, dominating Efes 24-8 in the final period. And Darussafaka, Efes' neighbor in Istanbul, gave up a 16-point lead to visiting Maccabi Tel Aviv.
A HUGE comeback win for @MaccabitlvBC on Thursday night! ?#StatsStories | @BurgerKingTR pic.twitter.com/NLqz09Pi1U

— EuroLeague (@EuroLeague) December 9, 2018
Round 11 MVP: Gustavo Ayon, Real Madrid
Gustavo the Great.
Ayon has missed four games this season, but he showed just how valuable he is when he's healthy. He dominated in the second half against Efes, leading the Real Madrid comeback while dropping 20 points and 11 rebounds on 10-of-11 shooting.
Ayon is an offensive savant. He cooks defenders in the post, and he's a great passer. In this game, he looked a little more springy than usual, flying to the rim for three big dunks in the fourth quarter.
It was Ayon's second weekly MVP award of the year. With the way he's playing, I wouldn't be surprised if he adds a few more by the end of the season.
Top 3 Games To Watch In Round 12
1. Olympiacos (6-5) vs. Efes (8-3) - Thursday, Dec. 13 at 11:45 a.m. ET
Why you should watch: These teams are in fourth and fifth place, but both had winning streaks snapped last week. They'll be hungry to avoid two losses in a row, and this is a potential statement game for both teams. Efes is the surprise of the season and wants to prove it really is a top-tier team, while Olympiacos is under pressure to stay above .500. The intensity in this game will be extremely high.
2. Fenerbahce (10-1) vs. Milano (6-5) - Thursday, Dec. 13, 1:30 pm ET
Why you should watch: Red-hot Fenerbahce hosts one of Europe's most exciting teams. The explosive Mike James will try to lead Milano to a much-needed win, as the Italian side stumbles into Istanbul on a three-game losing streak. This one is gonna be a bloodbath in the paint as Fener's Jan Vesely and Joffrey Lauvergne battle with Arturas Gudaitis and Kaleb Tarczewski.
3. Real Madrid (9-2) vs. Barcelona (6-5) - Thursday, Dec. 13, 3 p.m. ET
Why you should watch: It's El Clásico! When Spain's two most storied clubs square off, you never want to miss it. Sergio Llull is the headliner, but there are great players on both sides. Point guards Facundo Campazzo (Madrid) and Thomas Huertel (Barca) are two of the fanciest passers in the world and they're always cooking up highlights. Ante Tomic versus Gustavo Ayon and Edy Tavares will be a good matchup in the paint, and Barca enters this game with some desperation after losing two straight.
---
Austin Green is an international journalist and scout covering EuroLeague and NBA prospects in Europe and Australia. You can follow him on Twitter @LosCrossovers.