2018 City of Palms Basketball Classic | Boys Basketball
Trendon Watford Shows Out At City of Palms, Talks Recruiting Timeline
Trendon Watford Shows Out At City of Palms, Talks Recruiting Timeline
Trendon Watford started the 2019 City of Palms Basketball Classic with a bang — and gave a recruiting scoop, too.
Dec 17, 2018
by Adam Zagoria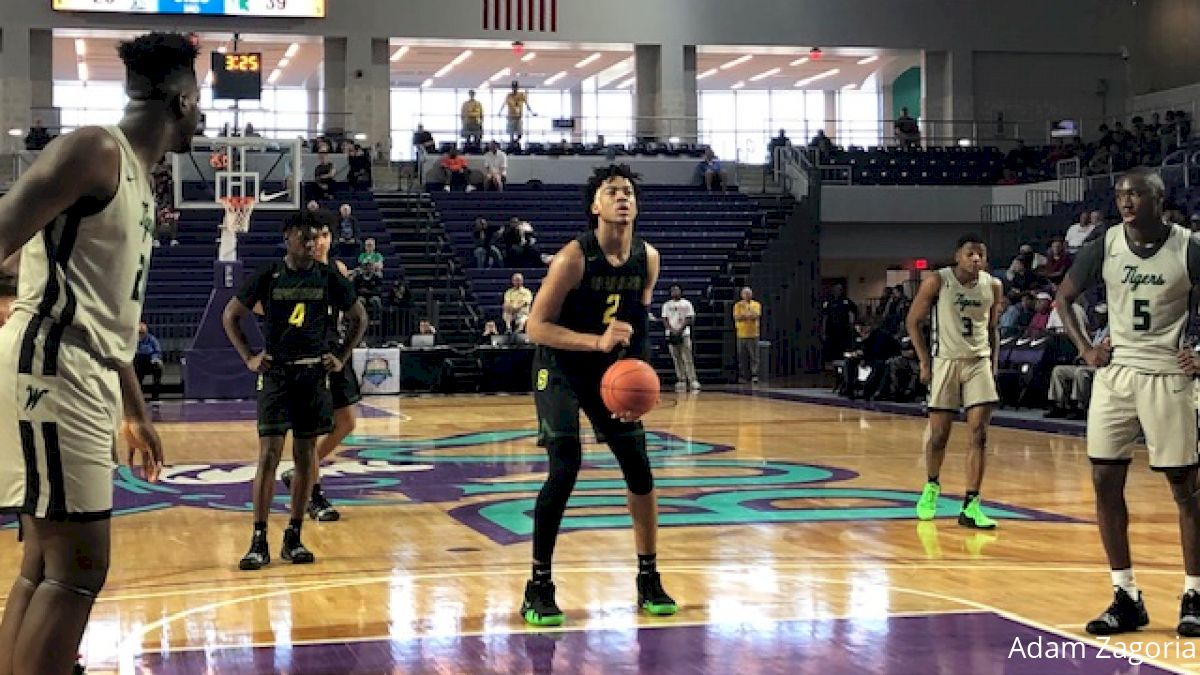 FORT MYERS, Fla. — After losing in the consolation bracket a year ago at the City of Palms Classic, Trendon Watford is back with bigger goals in mind.
The 6-foot-9 Watford took a step in the right direction on Monday afternoon when he poured in 31 points and made 4-of-6 from deep as Mountain Brook (AL) handled Woodrow Wilson (D.C.), 66-51, in the first round of the City of Palms at Suncoast Credit Union Arena. Mountain Brook improved to 13-1 with the win.
Watch the City of Palms Classic LIVE on FloHoops!
"I thought I played pretty good," said Watford, who added 8 rebounds and 2 assists. "I could've gotten more rebounds but it's a good team win and we got the first one under our belt."
.@Trendon_2 out here showing his range and already has three 3-pointers and 13 points as Mountain Brook leads Woodrow Wilson 21-8@FloHoops pic.twitter.com/eK1ncCFu5r

— Adam Zagoria (@AdamZagoria) December 17, 2018
On the recruiting front, Watford has trimmed his list to four schools -- Alabama, Indiana, LSU and Memphis -- but he says he's in no hurry to make a decision.
"If not early-March, then mid-March, closer to around the all-star game time," he said of a timeline. "Obviously, at the end of the summer I sat down with my parents and I just wanted to be able to watch these schools closely. Obviously, it's a big decision, so that's what I'm going to do."
He's taken officials to LSU and Memphis and plans to visit Alabama for the Kentucky game on Jan. 5.
"It's the hometown [team] and they've been recruiting me ever since I was in eighth grade," Watford said of Alabama. "I got a strong relationship with Coach Avery Johnson."
Of potentially staying in Alabama, he added, "Obviously, I'm going to make the decision that's best for me. With that being said, if it is Alabama, if it's not, I'm going to make the best decision for me."
Trendon Watford has 25! 4th quarter left to play.

— FloHoops (@FloHoops) December 17, 2018
He may visit Indiana Feb. 26 for the Wisconsin game.
"I might be able to catch the Wisconsin game when they play Wisconsin at home," he said.
"Obviously, my brother [Christian] played there so it's a big legacy there," he said. "I like Coach Archie Miller and he just got a top recruit, Trayce Jackson-Davis. [Jackson-Davis] texts me every day."
Memphis has also put together a strong recruiting class headlined by No. 1 prospect James Wiseman, and wing D.J. Jeffries who was set to play here later Monday.
"I have a strong relationship with coach Mike Miller," he said. "It's a new coaching staff over there with Coach [Penny] Hardaway and Coach Miller and Sam Mitchell. I like what they're doing over there and obviously they got a top recruit in James Wiseman, who I played with this summer. He probably just texted me right now. He texts me every day, telling me he needs me."
Watford said Hardaway, a former NBA All-Star, has "played at the next level, so he knows what it takes."
"He feels like with me, we have some similarities in our game," Watford said. "With him being a player-coach, he can teach me a lot."
How good could they all be together at Memphis?
"I feel we'd be pretty good," Watford said. "He's a helluva player, so just us playing together. His versatility, my versatility, I feel like we'd be pretty good."
As for LSU, Watford said they "have a good chance of winning the SEC" this year thanks to a recruiting class that includes Naz Reid, Javonte Smart, and Emmitt Williams.
"I enjoyed my official visit and I'm going to keep watching," he said.
---
Adam Zagoria is a Basketball Insider who runs ZAGSBLOG.com and contributes to The New York Times. Follow Adam on Twitter.