2018 City of Palms Basketball Classic | Boys Basketball
Cole Anthony Looking For City Of Palms Title, Updates Recruitment
Cole Anthony Looking For City Of Palms Title, Updates Recruitment
After a move to Oak Hill, Cole Anthony is as dangerous as ever. He spoke with FloHoops to talk goals and recruiting.
Dec 18, 2018
by Adam Zagoria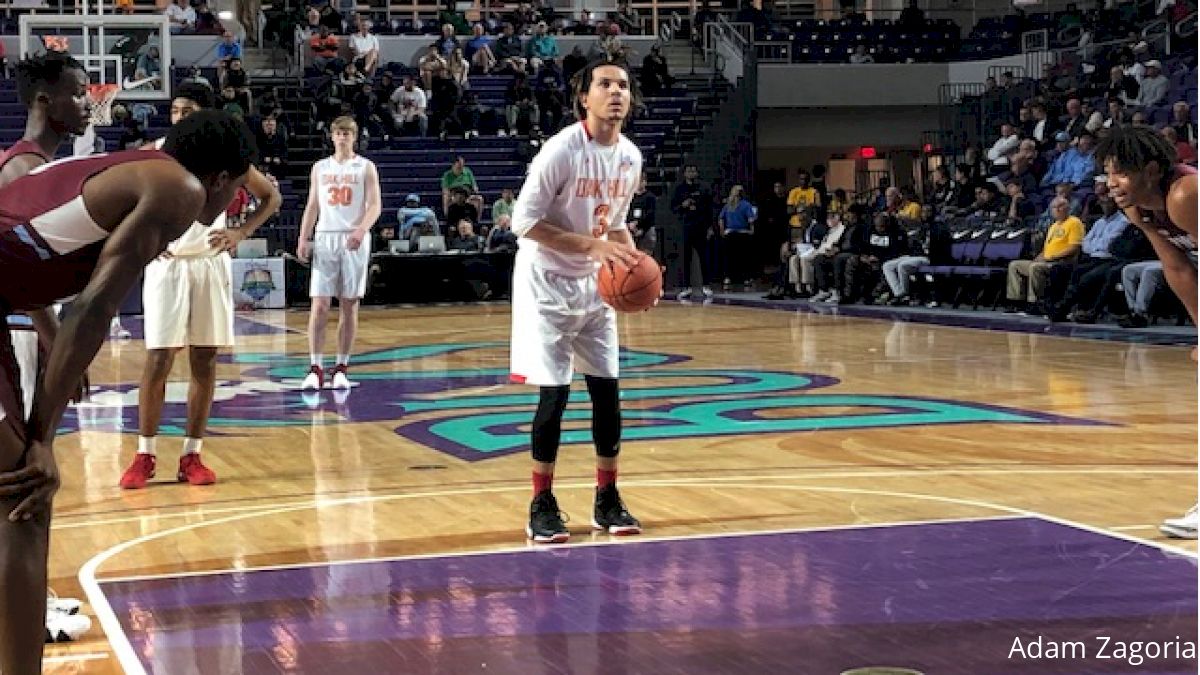 FORT MYERS, Fla. — One year ago, Cole Anthony came to the prestigious City of Palms Classic with his New York City team, Archbishop Molloy.
But after a summer that saw the 6-foot-3 point guard transfer to Oak Hill Academy (VA), Anthony is now back at the tournament with one of the biggest brands in high school basketball.
"I think it's a lot different for me," Anthony said after going for 25 points, 12 rebounds, and 9 assists as Oak Hill handled Riverview (FL), 92-73, at Suncoast Credit Union Arena. "I just came here because of Coach [Steve] Smith's reputation and to play for a coach like that."
Smith has won more than 1,000 games, produced 32 McDonald's All-Americans and 30 NBA Draft picks.
Speaking of coaches, North Carolina assistant Brad Frederick was courtside for the game, and Tar Heels head coach Roy Williams may make an appearance on Wednesday when Oak Hill faces DJ Jeffries and Olive Branch in the quarterfinals.
Watch the City of Palms Classic LIVE on FloHoops!
The son of former NBA point guard Greg Anthony, Cole has narrowed his list to North Carolina, Wake Forest, Oregon, Georgetown, Miami, and Notre Dame. He has taken officials to North Carolina, Oregon, Notre Dame, and most recently to Georgetown. He is planning an official to Wake Forest "soon."
North Carolina is considered the clubhouse favorite with one source saying they would be "shocked" if Anthony didn't end up a Tar Heel.
Anthony says he appreciates the love North Carolina has shown both on his official and during several unofficial visits to campus. He was there for UNC's win over UNCW on Dec. 5.
"I mean, it's cool," he said. "At this point I guess you could call it babysitting, but it's nice. I'm happy whenever I see a college coach here."
He said of North Carolina: "They've been coming at me hard. They're not the only ones. Oregon, Notre Dame, Wake Forest, Miami, and Georgetown have all been coming equally as hard. I can't tip my hat off to any one school."
He added: "They're all obviously good situations, so I have no bias right now. I have no particular favorite. It's been an awesome experience."
Anthony said he plans to deal with his recruitment after the season ends. The NCAA late signing period runs April 17-May 15.
Anthony and fellow New Yorker Kofi Cockburn both left New York City this past summer for Oak Hill, a pair of decisions that sent shock waves through the Big Apple landscape. (Before leaving, Anthony posed for the cover of Slam wearing a throwback Greg Anthony Knicks jersey. The cover called him the "Prince of the City."
IT'S GONNA BE A COLE SUMMER ?

NYC high school sensation Cole Anthony covers the next issue of SLAM: https://t.co/mAMk667gKh pic.twitter.com/Ctt9KpbA5b

— SLAM (@SLAMonline) July 12, 2018
Smith said he used to get players from the Big Apple in the 1980s and '90s, but the pipeline then dried up as the players began to go to New England prep schools instead.
Then Anthony and Cockburn arrived, more or less as a package.
"This year I just happened to get two," Smith said. "They knew each other. As soon as Cole said he was coming, Kofi was like, 'I want to come with Cole,' and Cole and Kofi were talking all the time. They orchestrated it more than I did probably."
It's the New York connection as @The_ColeAnthony dishes to @kxng_alpha @FloHoops pic.twitter.com/7QlFrCty0l

— Adam Zagoria (@AdamZagoria) December 18, 2018
As for the transition from the Big Apple to tiny Mouth of Wilson, Va., Anthony said the adjustment has been good for him.
"Obviously it is in the middle of nowhere, there's not much to do," he said. "I think it's been good for me, there's no distractions. I've really been able to focus on my school work and my basketball and also bonding with my teammates. Making sure I'm close with my team. the closer we are, the better we're going to be."
He added: "Obviously, it's a year sacrifice. It's not like I'm here for the rest of my life. I just gotta come in here and work."
Smith said Anthony keeps busy by playing "his video games."
"That dude's got PlayStation galore, his room is set up like I don't know. It's beyond me." Smith said.
Oak Hill has produced a Who's Who of NBA players over the years, including Carmelo Anthony, Kevin Durant, and Rajon Rondo.
Smith has helped put nine point guards play in the NBA, but said Anthony is "different" from guys like Rondo, Steve Blake, Brandon Jennings, and Corey Alexander.
"He was averaging seven shots the first 10 games," Smith said. "He's taken a few more shots the (last) couple of games. He needs to score. I know what he's doing, he's trying to keep everybody happy so that they all get their shots, but then he's got to take over some because he can beat his guy off the dribble all night long.
"But he's also got to get shots for Cam [Thomas] and Kofi and Christian [Brown]. He's trying to distribute the ball, but his average will go up, especially in big games."
One of Anthony's goals is to win the GEICO High School National Championship which will take place in the spring at Christ the King in Queens, Cockburn's former school. Oak Hill has won nine national championships, most recently in 2016. When they play in it this year, it will mark a homecoming for Anthony and Cockburn.
"I think we're on the track right now," Anthony said.
---
Adam Zagoria is a Basketball Insider who runs ZAGSBLOG.com and contributes to The New York Times. Follow Adam on Twitter.