2018 City of Palms Basketball Classic | Boys Basketball
Big Man Kofi Cockburn Talks Transition To Oak Hill, Top 5 Schools
Big Man Kofi Cockburn Talks Transition To Oak Hill, Top 5 Schools
Kofi Cockburn left his old school for Oak Hill and has thrived in his new situation. Cockburn caught up with FloHoops at the City of Palms.
Dec 18, 2018
by Adam Zagoria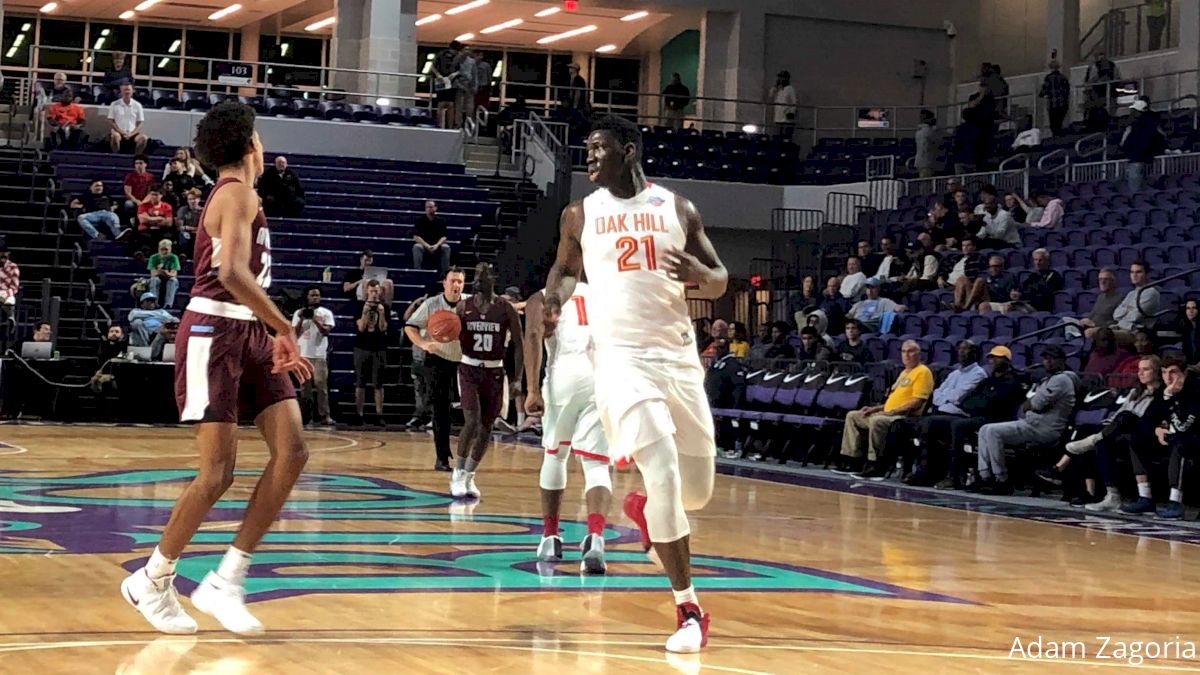 FORT MYERS, Fla. — Kofi Cockburn could be spending his senior season of high school living in New York City and starring for regional power Christ the King.
Instead, he's living in tiny Mouth of Wilson, Va., and playing for national power Oak Hill Academy.
"Kofi says, 'I like it here, it's quiet and I just do my work and work on my game,'" Oak Hill coach Steve Smith said. "So he's fine."
"It's going to prepare me for college, get me focused," Cockburn said.
The 6-foot-11, 290-pound Cockburn transferred to Oak Hill this past summer along with fellow New York City star Cole Anthony. Now the two of them are both looking to help lead the Warriors to another national championship — which would No. 10 for Smith. They are also both uncommitted and looking to choose schools in the spring.
Watch the City of Palms Classic LIVE on FloHoops!
"Kofi's come here and made a sacrifice," the 6-3 Anthony said. "If he stayed at Christ the King, he'd probably be averaging like 25 [points] and 15 [rebounds]. His stats are going to dip a little bit because here everyone is going to be doing everything he can do.
"He's been awesome. He's been a really high-energy dude and has worked his ass off in practice every single day. But he's been my best friend so I'm just happy he's here with me."
On the recruiting front, Cockburn has trimmed his list to a final five schools: Illinois, Kansas, Pittsburgh, St. John's, and UConn. Pitt assistant Milan Brown was on hand Monday night when Cockburn went for 15 points and 4 rebounds in a 92-73 win over Riverview (FL). UConn's Kenya Hunter is expected to watch him Wednesday when Oak Hill meets DJ Jeffries and Olive Branch.
Kofi Cockburn is down to 5 Schools! @kxng_alpha pic.twitter.com/gupjvP4V2e

— TIPTON EDITS ? (@TiptonEdits) December 16, 2018
Cockburn has taken an official to UConn already and will visit Illinois Dec. 28-30. He is working on setting up visits to the other three. He broke down all five schools.
UConn: "Their message to me is me coming in and being a starter. They want me to come in and lead the team basically and help win a national championship. They have a great environment, it's close to my home."
St. John's: "Basically the same thing. It's in my city, New York, close to my mom and stuff. Just really a good spot to look at."
Kansas: "I like the way they produce their big men. I like the way they get them better. I'm trying to be a pro basically and I like the way they help their big men get to the next level."
Illinois: "Coach [Orlando] Antigua is from New York, he's very familiar with my guys. He's a really cool guy, he's a good coach. And we built a relationship over the years that I feel I would be comfortable."
Pittsburgh: "You know Pittsburgh, the environment is great. The fans are great. They want me to come in and start."
2019 big man @kxng_alpha breaks down @UConnMBB and @StJohnsBBall at @CityOfPalmsBKB pic.twitter.com/JoE1u8HMWx

— Adam Zagoria (@AdamZagoria) December 18, 2018
Wherever he goes, Cockburn wants to find the right fit.
"I just want to go to a school where I'm going to be comfortable, be pushed and get better," he said. "And win a national championship."
Cockburn is more of a traditional low-post big man than your modern NBA 7-footer who plays on the perimeter. All of his points on Monday came on dunks and layups but he's working on shooting the mid-range jumper.
"Kofi is our guy inside, a guy that's an enforcer on both ends of the court," Smith said. "He got in foul trouble tonight, and got a little frustrated with that. But he played really well considering the minutes he got.
"He moves his feet well for a big guy."
Ironically, Cockburn will return to Christ the King for the Geico High School National Championship April 4-6, where he will work with Anthony to try to win a title for his new school at his old one.
---
Adam Zagoria is a Basketball Insider who runs ZAGSBLOG.com and contributes to The New York Times. Follow Adam on Twitter.