2018 City of Palms Basketball Classic | Boys Basketball
IMG Academy's Josh Green Poised To Be Next Australian Lottery Pick
IMG Academy's Josh Green Poised To Be Next Australian Lottery Pick
IMG Academy's Josh Green is the next big Aussie thing, and the stud is off to a searing start at the 2018 City of Palms Basketball Classic.
Dec 18, 2018
by Adam Zagoria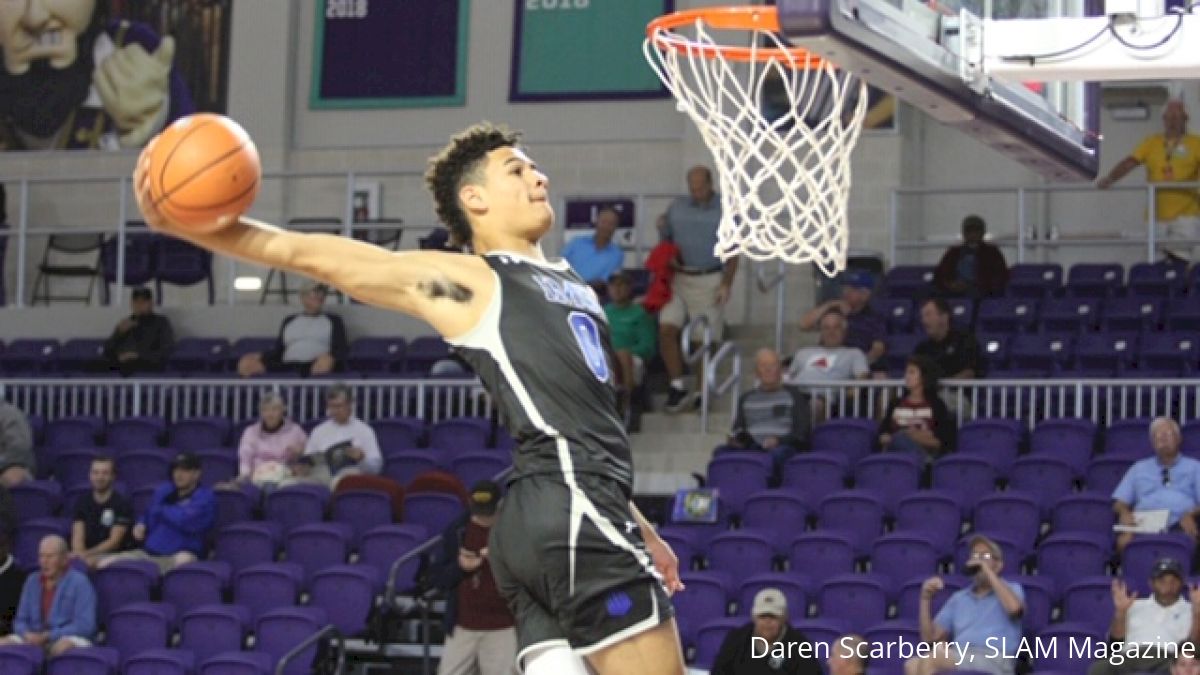 FORT MYERS, Fla. — Australian prep star Josh Green visited with his buddy Ben Simmons last month and took in a Philadelphia 76ers-Miami Heat game in Miami.
The 6-foot-6, 206-pound Green came away impressed with the lifestyle his friend was leading.
"It was good to see that level of competition and the way he plays," Green said after putting up 22 points, 7 assists and 4 steals as IMG Academy handled Gray Collegiate, 82-68, in the City of Palms Classic at Suncoast Credit Union Arena. Among his 22 points were two off a monster tomahawk dunk that is already all over social media.
"It just motivated me a lot," Green added of seeing the 6-10 Simmons with the Sixers. "I want to live the life he's living, it's a good life. Just being able to do what you love for a living. I think it would be an amazing opportunity."
Watch the City of Palms Classic LIVE on FloHoops!
Australia had a record nine players on opening-night NBA rosters, second only to Canada's 11. Green appears to be on track to become the next Australian lottery pick in the NBA Draft. ESPN.com projects him as the No. 9 pick in 2020, which would be after his freshman season at Arizona. Nico Mannion, Green's AAU teammate with West Coast Elite and fellow Arizona commit, is the projected No. 17 pick in 2020, which would give Sean Miller's club two projected one-and-dones in or near the lottery.
In October, Green chose the Wildcats over North Carolina, Villanova, Kansas, USC, and UNLV.
"Josh is one of the most versatile guards I've coached in my time on the sidelines," IMG Academy coach Sean McAloon told ZAGSBLOG. "People put him in a box as just an athletic attacking guard. He is much more than that, as he shoots the ball well from deep and is an unbelievable passer. His instincts and upside are tremendous, couple that with his work ethic and the sky is the limit."
Josh Green caught a BIG ONE ? @josh_green6 @IMGAcademy @CityOfPalmsBKB pic.twitter.com/vKxzIUb8WP

— Overtime (@overtime) December 18, 2018
Green wants to continue to develop his body -- and his shot -- over the next year before heading to college.
"I put on a lot more muscle and I've just continued to work on my shot a lot more," he said.
Meantime, Green is finishing up his final exams at IMG. He had two on Monday and has two more on Wednesday. After that, the team will come back to City of Palms and face Trendon Watford and Mountain Brook (AL) in a 9 p.m quarterfinal Thursday.
"It's a good amount [of finals] but it's good getting that out of the way," he said.
Green is playing on a loaded team that also features North Carolina-bound big man Armando Bacot and Villanova-bound forward Jeremiah Robinson-Earl, plus several younger stars like junior point guard Noah Farrakhan.
"Our whole starting lineup is practically five-stars, so it's good," Green said. "I think it's preparing us for college. When we get to college we might not be all five-stars, but they're all going to be good players. So I think it's good to play with them and to get up and down with them at practice.
One five-star who will join him next season is Mannion, the 6-3 red-headed point guard who reclassified to attend Arizona next season.
"I can't wait to get on the court next year with Nico again and do some damage," Green said.
Mannion committed first in September, and Green said they communicated throughout.
"I just made the best decision for me," Green said. "I thought Arizona was the best fit for me to come in and make an impact right away."
Green and Mannion headline the No. 1 recruiting class in the nation one year after Arizona saw some defections in the wake of the FBI investigation into bribery in college basketball which included the arrest of former Arizona assistant Book Richardson.
"I feel like we can be pretty good," Green said. "With the guys there now and me and Nico coming in, I think we're going to be in a really good situation. I'm really looking forward to playing with Nico, Terry [Armstrong], Zeke [Nnaji] and [Christian] Koloko. I think it's really good."
Even if this may be somewhat of a down year at Arizona, Green has lofty goals for his freshman — and possibly only — season at the Pac-12 school.
"Next year I think the Pac-12 is going to be really strong," he said. "You got C.J. Walker and Chandler Lawson at Oregon. And USC [has a strong class]. So I think the Pac-12 is going to be really tough, but I feel like we have a good chance of winning the Pac-12 and making it to the [NCAA] Tournament."
Before then, Green wants to lead IMG to a successful season, and possibly the GEICO High School National Championship.
After that and his college career, Green could well be the next Australian lottery pick after Simmons went No. 1 and Thon Maker No. 10 in 2016.
"I think it would be an amazing opportunity," Green said.
---
Adam Zagoria is a Basketball Insider who runs ZAGSBLOG.com and contributes to The New York Times. Follow Adam on Twitter.