2018 City of Palms Basketball Classic | Boys Basketball
Undecided Oak Hill SF Christian Brown Displays Athleticism At City Of Palms
Undecided Oak Hill SF Christian Brown Displays Athleticism At City Of Palms
Kofi Cockburn, Cole Anthony, and Trendon Watford may be getting the attention, but Oak Hill's Christian Brown is a human highlight reel.
Dec 19, 2018
by Adam Zagoria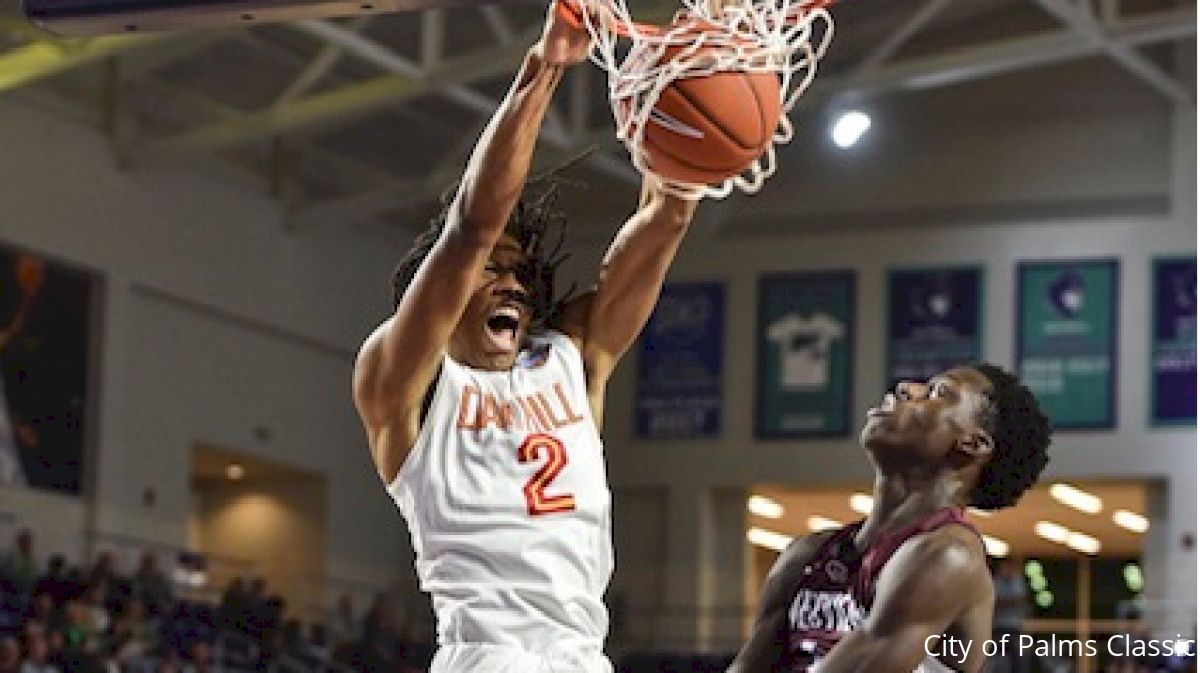 FORT MYERS, Fla. — With all the attention focused on Cole Anthony, Kofi Cockburn, and Cam Thomas, it may be easy to overlook the contributions of Christian Brown on a loaded Oak Hill Academy (VA) team.
But the 6-foot-6 small forward is as explosive and exciting a player as the Warriors have this season. He went for 13 points, 4 rebounds, 2 assists and 2 steals, including several highlight-reel dunks, Monday night when Oak Hill beat Riverside, 92-73, in the City of Palms Classic. And he figures to play a big role Wednesday night when Oak Hill faces Memphis commit D.J. Jeffries and Olive Branch in the quarterfinals.
"I'm a highlight reel, that's what people say," Brown said.
Like Anthony and Cockburn, Brown is an uncommitted senior. He's ranked the No. 15 small forward in the Class of 2019 by 247Sports.com, and lists Clemson, Illinois, Georgia and Pittsburgh among those recruiting him, but said UNLV is now out. He has taken officials to Clemson, Georgia, and UNLV, with two remaining.
BETTER WATCH OUT FOR CHRISTIAN BROWN ? @cb_kid @CityOfPalmsBKB pic.twitter.com/Hy5GlHGO5A

— Overtime (@overtime) December 18, 2018
Clemson assistant Steve Smith and Pittsburgh assistant Milan Brown were on hand Monday night, and Illinois head coach Brad Underwood and assistant Orlando Antigua are expected Wednesday night for both Brown and Cockburn.
"Oh, yes sir, Clemson was here," Brown said of the school he visited in August. "He talked to me before he came. I've been to their campus many times. [Their message is] I could flourish there. They're a tradition team. Just get it and go, that's my kind of play style."
Clemson is about two hours from his home in South Carolina, but he isn't ready to commit anywhere yet.
"Just seeing what the right fit is," he said. "I don't want to jump into anything too quick. I just want to see what's right for me."
As for Illinois, he hasn't visited yet but hopes to.
"Coach is telling me it's a good campus, but I haven't been up there," he said. "Kofi's getting recruited there."
Cockburn is down to a final five of Illinois, St. John's, UConn, Kansas, and Pitt.
Pittsburgh's Milan Brown saw both Christian Brown and Cockburn on Monday.
"My former teammate Trey [McGowans], he goes there," Brown said. "There's a lot of people I know that go to Pitt. It's just a good school, run-and-good school. The coaches talk about how the campus is."
Brown also took an official to Georgia on Oct. 5.
"Coach Tom Crean, he talks to me and I've been there for an official," he said.
Brown said he's not sure where he will take his final two official visits.
"I'm trying to figure out where I'm going to go for my last two," he said.
He plans to decide sometime during the spring.
---
Adam Zagoria is a Basketball Insider who runs ZAGSBLOG.com and contributes to The New York Times. Follow Adam on Twitter.