2018-19 EuroLeague & EuroCup Season Calendar
Jan Vesely Dominates The Almost-Halfway EuroLeague Awards
Jan Vesely Dominates The Almost-Halfway EuroLeague Awards
Jan Vesely of Fenerbache has been doing a bit of everything in monstrous fashion, but who else has made noise in the first half of the season?
Dec 21, 2018
by Fri Lavey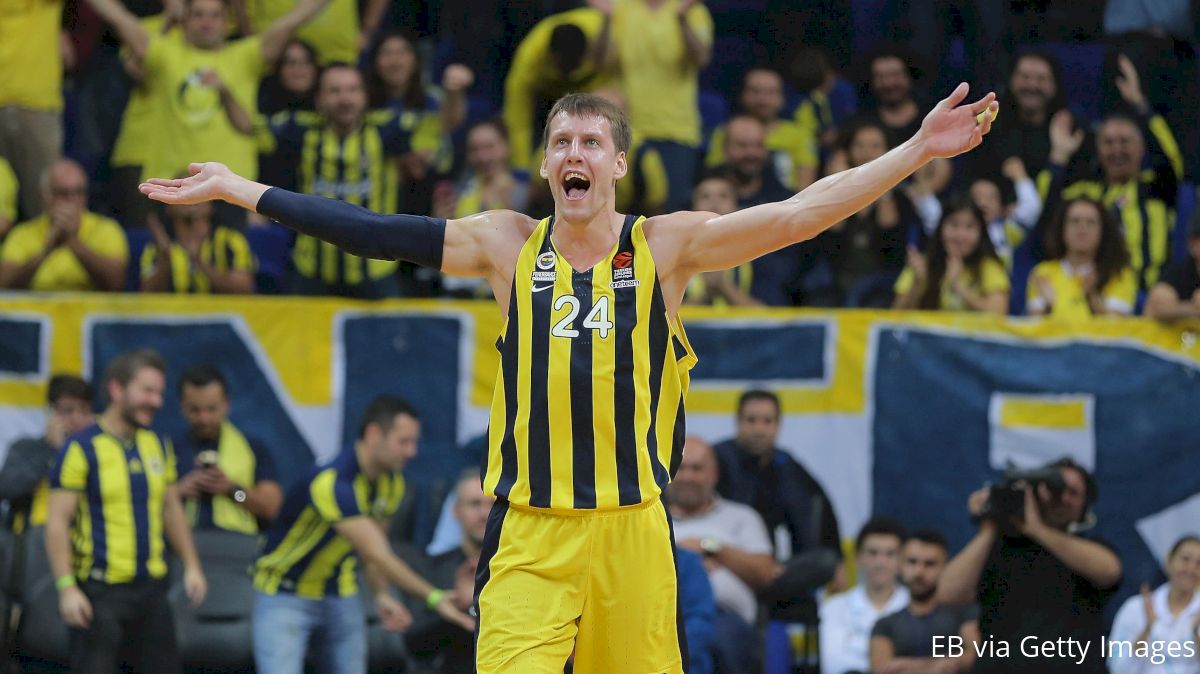 Now that we are nearly halfway through the 2018-19 EuroLeague season, the time has come to demonstrate our appreciation for the players and teams that have stood out so far.
Flohoops presents our mid-season awards, honoring the offensive, defensive and most valuable players in the EuroLeague this season.
This list is not meant to be predictive, as there are still plenty of games to come, but instead provide a statistical backing for whom our picks would be for these awards if the season ended today.
Offensive Player Of The Year
Winner: Jan Vesely, Fenerbache
Stats: 14.7 PPG, 3.0 APG, 5.5 RPG, 64.8 FG%, 0.0 3P%, 25 PER, 1.6 OWS
Jan Vesely has been doing it all this year for Fenerbache, leading the 12-1 squad in points, rebounds and free throw attempts per game. Efficiency is the name of the game for Vesely. With 14.7 points per game, he is fifth in the league in scoring despite using less than 24% of his team's possessions, and he has managed to maintain a .728 TS% (fourth highest in the league) on his 7.6 field goal attempts per game. The team has been scoring at an incredible rate of 135.4 points per 100 possessions while he is on the floor, which is good for fifth best in the league. Vesley has led Fenerbache to first place atop the EuroLeague standings with his balanced and efficient offensive attack, earning him rights to the 2018-19 First Half Offensive Player of the Year.
Honorable Mention
Cory Higgins, CSKA Moscow
Stats: 16.4 PPG, 2.2 APG, 2.2 RPG, 54.2 FG%, 54.5 3P%, 22.2 PER, 1.4 OWS
Cory Higgins has been shooting the lights out this season for CSKA Moscow. While leading the team in scoring, he has attempted 3.4 threes per game, and has been making 54.5% of them. That's good for the sixth-highest 3-point percentage in the league, and Higgins is a much greater focal point of the offense than any of the players ahead of him. With 1.4 offensive win shares, tied for third in the league, his ability to stretch the floor and consistently get to the line has been a big reason for CSKA Moscow's 10-3 start.
Alexey Shved, Khimki
Stats: 25.2 PPG, 7.4 APG, 3.0 RPG, 42.3 FG%, 40.2 3P%, 25 PER, 0.8 OWS
Alexey Shved has been everything this year for Khimki. He is leading the league in points per game and usage rate, second in the league in assists per game, and third in the league in PER. Unfortunately for Shved, whose total stats shine, all his high usage comes at the expense of efficiency (his .423 FG% is 98th in the league). For all his great per-game box score numbers, he has also missed quite a bit of time this season, and even when he does play, Khimki are still only 3-5.
Defensive Player Of The Year
Winner: Edy Tavares, Real Madrid
Stats: 6.3 RPG, 2.1 BPG, 0.2 SPG, 100.4 DRtg, 0.8 DWS
With big names like Sergio Llul, Rudy Fernandez and Anthony Randolph taking care of most of the scoring on Real Madrid, Edy Tavares has been able to concentrate his efforts on rebounding and locking down the paint this season, and boy have those efforts paid off. Despite a limited number of metrics, Tavares still manages to stand out in the box scores defensively, leading the league in blocks per game with 2.1, and being fifth in the league in rebounds per game with 6.3. He's gobbling up 26.5% of all defensive rebounds when he is on the floor (second best in the league) and swatting 10.1% of all opponent field goal attempts when is on the floor (best in the league). The advanced analytics back him up as well, as Tavares is leading the league in Defensive Win Shares and Defensive Rating. Opponents score just 100.4 points per 100 possessions with him on the floor. No other player in the EuroLeague has a DRtg less than 105.
Honorable Mention
Nikola Milutinov, Olympiacos
Stats: 7.8 RPG, 1.0 BPG, 0.7 SPG, 106.8 DRtg, 0.7 DWS
While Olympiacos has reached an 8-5 record based on a very balanced attack from its top 8 players, Milutinov stands out as a statistical darling. With 7.8 RPG, he leads the league in total rebounds per game, grabbing 21.1% of all available rebounds when he is on the floor. He is fifth in the league in DRtg, with opponents scoring 106.8 points per 100 possessions when he is on the floor, and he has defended the paint well, collecting 1.0 blocks per game.
Nick Calathes, Panthinaikos
Stats: 3.4 RPG, 0.1 BPG, 1.8 SPG, 107.5 DRtg, 0.8 DWS
While his offense has been missing at times, Nick Calathes has been one of the best defensive guards in the EuroLeague this season. He has led the league in steals per game and is tied for first in defensive win shares with Edy Tavares, despite being nine inches shorter.
MVP
Winner: Jan Vesely, Fenerbache
Stats: 14.7 PPG, 3.0 APG, 5.5 RPG, 64.8 FG%, 0.0 3P%, 0.5 BPG, 1.2 SPG, 25 PER, 2.2 WS
What has been most amazing about 2018-19 Euroleague First-Half Offensive Player of the Year Jan Vesely is that his 14.7 PPG, incredible offensive efficiency, and league-leading 1.6 OWS only tell half the story. He has also been a centerpiece of Fenerbache's defense! He has been grabbing 5.5 boards per game, 0.5 blocks and 1.2 steals per game. He has truly done it all this year, ranking in the top 25 in nearly every major statistical category — points, rebounds, assists, steals, blocks, offensive rating, defensive rating, TS% and PER — all while being the centerpiece of the league's best team this year. Congratulations Jan Vesely!
Honorable Mention
Arturas Gudaitis, Emporio Armani Milano
Stats: 12.6 PPG, 0.5 APG, 7.4 RPG, 64.3 FG%, 0.0 3P%, 0.9 BPG, 1.1 SPG, 27.2 PER, 2.1 WS
While his name has yet to come up in either the offensive or defensive player of the year conversation, I would be remiss if I went this entire column without acknowledging the incredible season that Arturas Gudaitis has had so far. Many of his numbers are right up there with Vesely's in terms of output. He leads the league in PER, is second in win shares, first in offensive rating, third in TS%, eighth in blocks per game and third in rebounds per game. He has truly been dominant as a big man this season, but unfortunately has been relegated to a secondary role, as Mike James has been the focal point of Milano's attack this season. While his efficiency and advanced numbers are great, they also haven't translated into many wins for Emporio Armani Milano, which stands at just 6-6 on the season. Perhaps it is time for head coach Simone Pianigiani to give a couple of Mike James' astronomical 17.6 FGA/game (of which he is making just 37.4%) to Gudaitis in the second half of the season.
---
Fri Lavey is a writer and consultant who studied economics and statistics at Harvard University. He has previously worked as a data analyst for the NBA, the MLB, and the Philadelphia 76ers.