2018 City of Palms Basketball Classic | Boys Basketball
Terps Commit Donta Scott Leads Imhotep Into COP Semis, Talks College Goals
Terps Commit Donta Scott Leads Imhotep Into COP Semis, Talks College Goals
Maryland commit Donta Scott is having a ball at the City of Palms Basketball Classic, leading his squad to the semifinals.
Dec 21, 2018
by Adam Zagoria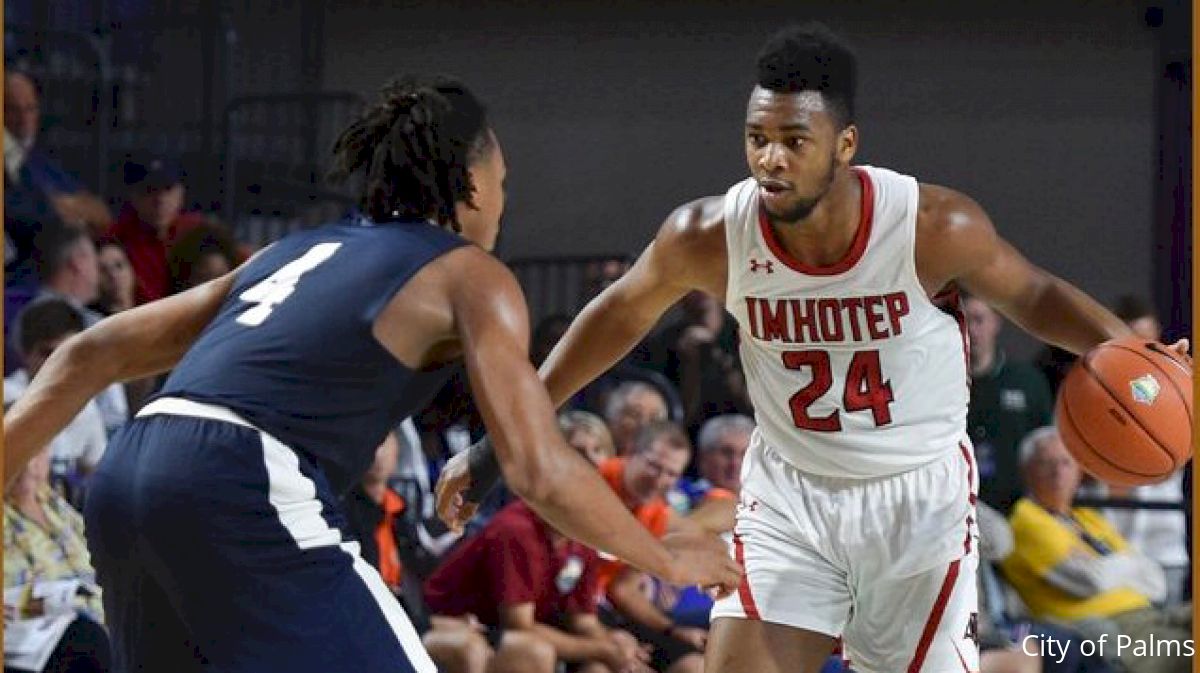 FORT MYERS, Fla. — Donta Scott has been bothered by a knee problem at the City of Palms Classic, but that hasn't stopped him from leading his Imhotep Charter (PA) team into the semifinals.
On Thursday night, the 6-foot-7, 223-pound Scott went for 23 points on 8-of-14 shooting with 7 rebounds and 2 blocks to lead the Philadelphia school to a 57-54 quarterfinal win over Duke-bound Vernon Carey Jr., uncommitted junior Scottie Barnes and University School (FL).
On Friday night, Imhotep will meet top seed Oak Hill Academy (VA) in one semifinal, while McEachern (GA) will face Mountain Brook (AL) in the other. The championship game is on Saturday.
Donta Scott SAID ❌❌❌ #CityofPalms pic.twitter.com/WYZOkBPWaT

— CityofPalmsClassic (@CityOfPalmsBKB) December 21, 2018
Scott is battling a painful knee issue called oscaslatis, or Osgood-Schlatter disease. According to MayoClinic.com, the "disease can cause a painful, bony bump on the shinbone just below the knee. It usually occurs in children and adolescents experiencing growth spurts during puberty."
"I've been fighting through [the knee pain] but I know my team needs me so I gotta step on a higher platform and just give it my all," Scott said earlier this week.
Said Imhotep coach Andre Noble: "He's fighting through a little injury right now, but he's just fighting through it. But he's generally a pretty explosive athlete."
Scott said he plans to drop some fat and add muscle before going to college, and also that his doctor said he could still grow another couple of inches and get to 6-9 or 6-10.
Scott chose Maryland in October over St. Joes, Penn State, Temple, Seton Hall, South Carolina, and La Salle.
"They're telling me they don't have a role for me," Scott said of the Terps. "I can really play anything because I'm a very versatile player. I love playing defense, blocking shot and getting my team involved, and just winning games."
The #CityofPalms Semifinals are set. Who will bring home the ??

Oak Hill Academy ? Imhotep | Friday, 7:15 PM
McEachern ? Mountain Brook | Friday 9:00 PM@OHACoachSmith @McEachernSports @mtnbrookhoops pic.twitter.com/h7yYEN8wnS

— CityofPalmsClassic (@CityOfPalmsBKB) December 21, 2018
A versatile wing, he can guard all five positions in high school and should be able to guard multiple positions in college. On offense, he can take smaller defenders off the dribble and also step out to the perimeter and take advantage with his height. Against University, he shot 3-of-5 from deep.
"We usually have him guard anyone on the court," Noble said. "We don't care if it's the five, the one, he does it. He's just a versatile guy that can guard multiple guys on the court, play multiple positions on the court."
Noble says Scott will have to continue to take care of his body going forward at Maryland.
"He's a warrior, he fights for us every day," he said. "Whatever we ask him to do, he's a very coachable kid."
Maryland assistant Kevin Broadus was on hand for part of the tournament to watch both Scott and 2019 committed twins Makhi and Makhel Mitchell. Maryland's recruiting class is ranked No. 26 by 247Sports.com. The Terps are also hosting uncommitted IMG Academy (FL) shooting guard Lester Quinones on an official this weekend.
"I know whoever we get, they're going to come with everything they got and put it all in there," Scott said.
In the meantime, Scott has more immediate goals in mind, like trying to upset Oak Hill and reach the City of Palms championship game.
"My goal this year," he said, "is to keep winning games. We don't like losing, so we just want to win."
---
Adam Zagoria is a Basketball Insider who runs ZAGSBLOG.com and contributes to The New York Times. Follow Adam on Twitter.