2018-19 EuroLeague & EuroCup Season Calendar
The Euro Step: Milutinov Is A Monster & Other EuroLeague Round 16 Notes
The Euro Step: Milutinov Is A Monster & Other EuroLeague Round 16 Notes
If Nikola Milutinov's New Year's resolution is to destroy everything in his path, he's off to a great start.
Jan 8, 2019
by Austin Green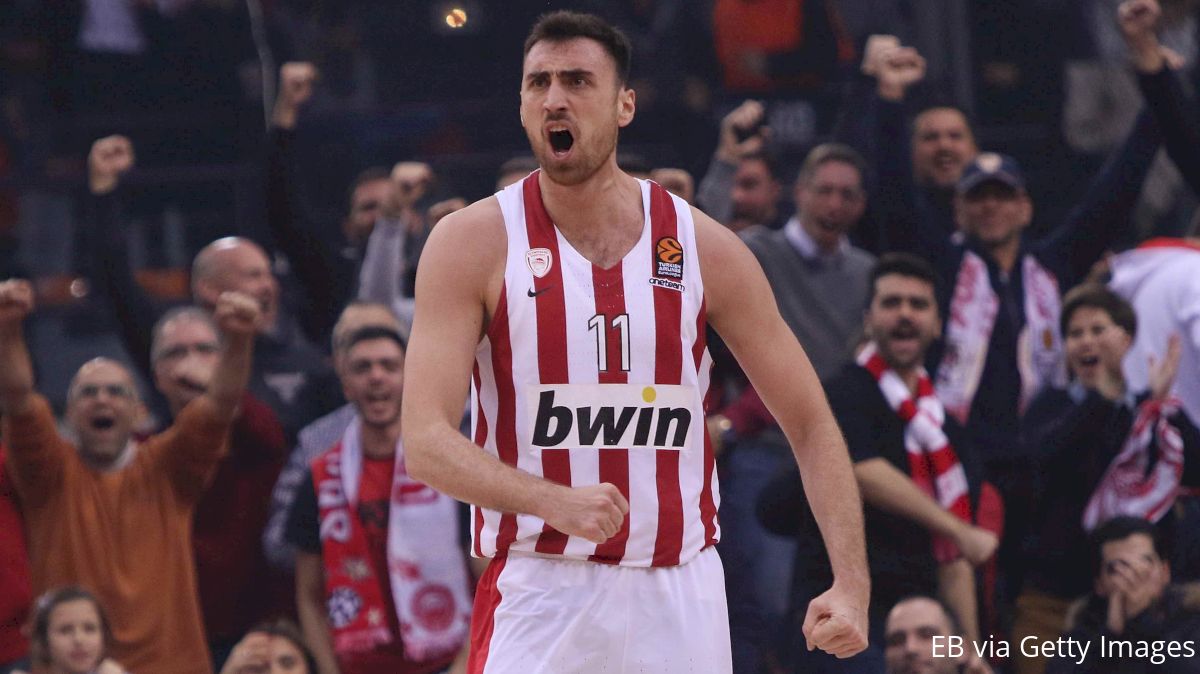 If Nikola Milutinov's New Year's resolution is to destroy everything in his path, he's off to a great start.
The massive Serbian center dominated the Greek Derby, going for 18 points and a club record 18 rebounds as Olympiacos beat Panathinaikos 79-65.
Against a switch-heavy Rick Pitino defense, Milutinov feasted on mismatches. PAO point guard Nick Calathes is good at many things — guarding 7-footers in the paint is not one of them.
Milutinov gobbled up almost every rebound. He dunked on anyone unfortunate enough to rotate his way. He made forwards look like guards and guards look like 12-year-olds.
It was a physically imposing performance, and it landed him his third Round MVP honor so far this season.
Just a few days after his 24th birthday, Milutinov showed why he's one of the top big men in Europe. The San Antonio Spurs drafted him 26th overall in 2015, and if he keeps producing like this, I'll be surprised if the Spurs don't sign him this summer.
Goga Bitdaze Shines, But Milan Makes It Rain
Speaking of young big men who might go to the NBA soon, potential 2019 first-round pick Goga Bitadze has been great in his first two EuroLeague games.
Scouts were excited when Bitadze signed with Buducnost in December because they wanted to see him against top-tier competition. The early returns have been impressive. After posting 17 points and seven rebounds in his debut, Bitadze was even better last week against Milan.
A STAR of the future?

⚫ 23 Points
⚫ 8 Rebounds
⚫ 2 Assists

It was another powerful performance from Goga Bitadze in Round 16. pic.twitter.com/ZH49O4iA3O

— EuroLeague (@EuroLeague) January 5, 2019
We'll have more on the 19-year-old later this week.
Unfortunately for Buducnost, Bitdaze's strong game wasn't nearly enough to stop a historically hot Milan team.
Milan scored 21 points in the first five minutes, and barely slowed down from there. The team set club records for points in the first quarter (36), first half (56) and game (111).
Milan is inconsistent and doesn't defend well, which is why it's 8-8. But with the way this team can catch fire, no top four team will want to see it in a playoff series.
Mike James can go for 30 on any given night, Milan has a ton of shooters on the wings, and its big guys are so damn tough. If we drafted Euroleague players you'd most want on your side in a fight, Arturas Gudaitis and Kaleb Tarczewski would both be top five picks.
Remember bloody Gudaitis?
Arturas Gudaitis > Michael Myers #EuroLeagueHalloween pic.twitter.com/PnJ6Ji3CNz

— Austin Green (@LosCrossovers) October 29, 2018
Not to be out-done, Tarczewski played through a thumb injury that he was scheduled to have surgery on the next day. This play is ridiculous — he tries to tip in a rebound in with his injured hand, then after some chaos, scoops up the ball and doesn't hesitate to cram it home with that same hand.
Tarczewski is scheduled to be out for about six weeks now that he's actually had surgery. Milan signed Alen Omic as a stand-in, but expect Gudaitis to do most of the heavy lifting as Milan tries to stay in the playoff picture.
Gudaitis leads EuroLeague this season in total rebounds, offensive rebounds, free throws made and free throws attempted. He's also fourth in blocks, sixth in field goal percentage, seventh in points and 16th in steals.
Will Clyburn & Daniel Hackett Save CSKA
CSKA has been unusually vulnerable in recent weeks. After starting the season 8-0, the team is 4-4 in its last eight games.
They almost lost another last week, going down 63-57 on the road at Zalgiris. That's when Will Clyburn took over. The long 6-7 forward scored 14 points in the final seven minutes, using his athleticism and aggression to overwhelm Zalgiris.
Clyburn had some highlight reel plays, poking the ball away from Aaron White for a breakaway dunk, then throwing down a reverse and-one over White a few minutes later. He also had a couple nice assists off the dribble, feeding Daniel Hackett for clutch buckets.
Clyburn and Hackett both finished with 19 to help CSKA avoid its fourth-straight road loss.
Double Week = Double Fun
This week is a EuroLeague double, with games on Tuesday through Friday. These are the best games to check out from Round 17 (Tuesday-Wednesday) and Round 18 (Thursday-Friday)
Zalgiris (7-9) vs. Efes (10-6) | Tuesday, Jan. 8 (1:30 p.m. ET)
Why you should watch: Zalgiris blew a great opportunity against CSKA and will be desperate to avoid consecutive home losses. It's only one game out of the 8-seed, but Zalgiris really needs a win before it travels on the road to play first-place Fenerbahce (15-1) later in the week. On the other end, Efes is a joy to watch. Vasilije Micic and Rodrigue Beaubois have been electric this season, and Bryant Dunston versus Brandon Davies is going to be a great matchup in the paint.
Panathinaikos (7-9) vs. Bayern Munich (8-8) | Wednesday, Jan. 9 (2 p.m. ET)
Why you should watch: This game is really important for both teams' playoff hopes. Bayern is in the No. 8 spot, behind Milan (which has the same record) and one game ahead of Zalgiris, Baskonia and Panathinaikos. It's going to be a wild environment in Athens, where the always rowdy Greek fans will be in full force for this one.
Milan (8-8) vs. Barca (9-7) | Wednesday, Jan. 9 (2:45 p.m. ET)
Why you should watch: Both teams are in the playoff picture right now with Barca sixth and Milan seventh. It's a great opportunity to secure their spots, so the intensity will be high. There's also a really fun matchup at point guard with Mike James going up against Thomas Heurtel and Kevin Pangos.
Real Madrid (13-3) vs. Olympiacos (10-6) | Thursday, Jan. 10 (3 p.m. ET)
Why you should watch: Two Final Four favorites go head-to-head, and there are awesome matchups all over the court. Nikola Milutinov against Edy Tavares and Gustavo Ayon is going to be amazing. Ditto for the battle between legends Vassilis Spanoulis and Sergio Llull in the backcourt, as well as Georgios Printezis versus Anthony Randolph at power forward. Olympiacos won the first meeting between these two teams this season 88-83, so the defending champions will be out for revenge.
---
Austin Green is an international journalist and scout covering EuroLeague and NBA prospects in Europe and Australia. You can follow him on Twitter @LosCrossovers.