2019 Spalding Hoophall Classic
Keion Brooks Focusing On 4 Schools, Getting Down To 'Nitty-Gritty'
Keion Brooks Focusing On 4 Schools, Getting Down To 'Nitty-Gritty'
Keion Brooks, the 6-foot-8 wing for La Lumiere School, says he's focusing on four schools and getting down to the "nitty-gritty" in his recruitment.
Jan 22, 2019
by Adam Zagoria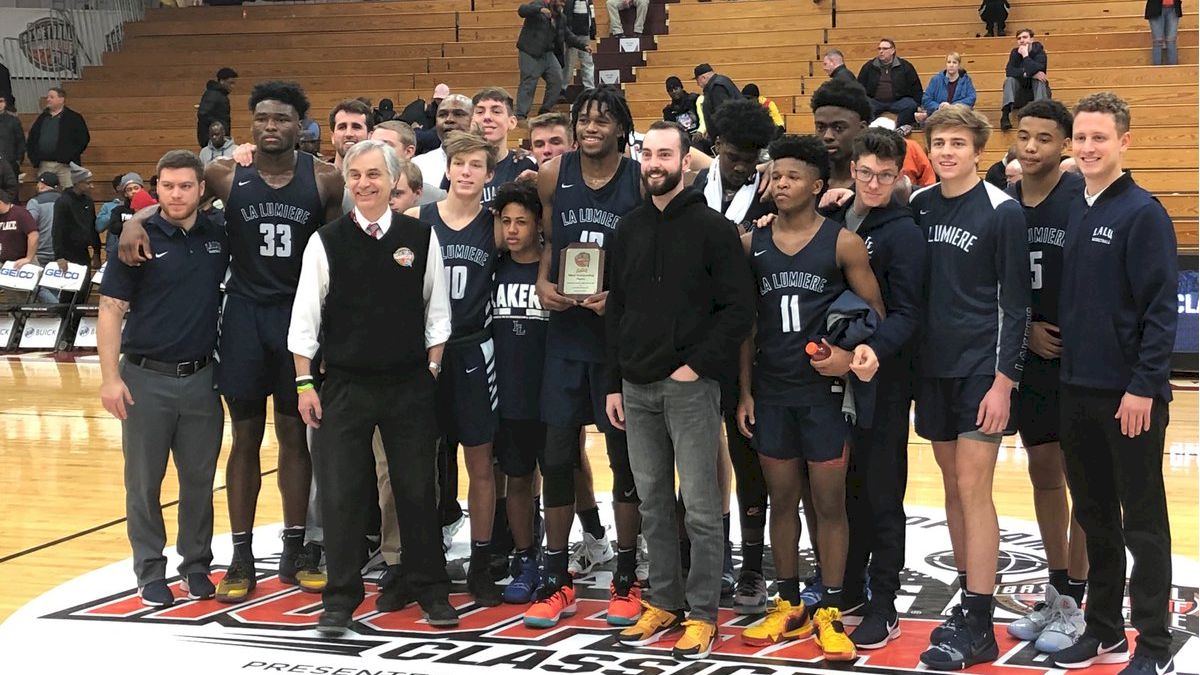 SPRINGFIELD, Mass. — Keion Brooks, the 6-foot-8 wing for La Lumiere School in La Porte, Indiana, says he's focusing on four schools and getting down to the "nitty-gritty" in his recruitment.
Brooks is now considering Indiana, Kentucky, Michigan State and North Carolina, and said UCLA is effectively out of the mix after the coaching change.
"Yeah, I guess you could say that," Brooks said Monday at the Hoophall Classic after going for 25 points and eight rebounds en route to MVP honors as La Lumiere handled DeMatha, 73-50. "I built a great relationship with [former UCLA] Coach [Steve] Alford and his staff and now with their little shake-up it's going to be difficult right now to build any relationship [with a new coach]."
.@KeionB_12 said yesterday he's effectively down to 4 schools - Indiana, Kentucky, UNC and Michigan State. Said it would be 'difficult' to start a new relationship with the new UCLA coach. @FloHoops https://t.co/ZueE4sXQ1R

— Adam Zagoria (@AdamZagoria) January 22, 2019
Earlier Monday, another UCLA target, Sierra Canyon guard Cassius Stanley, said he was still considering the Bruins along with Oregon and Kansas but would announce on April 17 regardless of whether UCLA hires a new coach by then.
As for Brooks, he has no timetable at the moment.
"I'm getting down to the nitty-gritty," he said. "I still need to pray on it a little more, talk to my mom and dad and the rest of my family members a little bit more about it and after that whatever God has in the cards for me, that's what I'm going to do. I don't have a timetable right now."
Brooks has taken officials to UCLA, Indiana, Kentucky and North Carolina. He remains up in the air about a potential fifth official to Michigan State.
"I'm still trying to figure it out," he said during a recent interview with Joseph Tipton of Tipton's Edits. "If I'm going to to do it, it's going to be at Michigan State. We're still figuring out a good weekend or if we want to do it or not."
On Monday, he added that he has a strong relationship with Michigan State head coach Tom Izzo.
"He hasn't promised me anything but one thing he did promise me is to push me every day to be the best player I can be," he said. "So that's what I really appreciate about him."
As for Indiana, Brooks said he talks to his AAU teammate and Indiana commit Trayce Jackson-Davis on a regular basis about potentially joining forces at IU, his home-state school.
"No, I don't feel any pressure at all because at the end of the day, it's still my decision," he said Monday. "I have two good friends of mine, Trayce and Armaan [Franklin], they are really good gets, they're in-state guys. And they stay on me a lot to try to get me to come, but I don't feel any pressure to make this decision because it's ultimately my decision at the end of the day."
Kentucky is also pushing hard.
"Kentucky's pitch has been they feel like I'm cut for Kentucky, everybody doesn't succeed at Kentucky," Brooks said. "Coach Cal believes I'm one of the guys that can do that. He believes that I can go in and reach my dreams, me and him working together."
North Carolina is also a strong option.
"North Carolina is still wide open for me," he said. "I can go in and play major minutes. Coach Roy [Williams] says they don't have a player like me right now. Also just the basketball tradition that's at North Carolina is very rich."
---
Adam Zagoria is a basketball insider who runs ZAGSBLOG.com and contributes to The New York Times. Follow Adam on Twitter.