Top 10 Montverde Players Of All Time: D'Angelo Russell, Ben Simmons, & More
Top 10 Montverde Players Of All Time: D'Angelo Russell, Ben Simmons, & More
No shortage of elite players have suited up for Montverde Academy in recent years, evident in the abundance of former Eagles on NCAA and NBA rosters.
Feb 8, 2019
by Kyle Kensing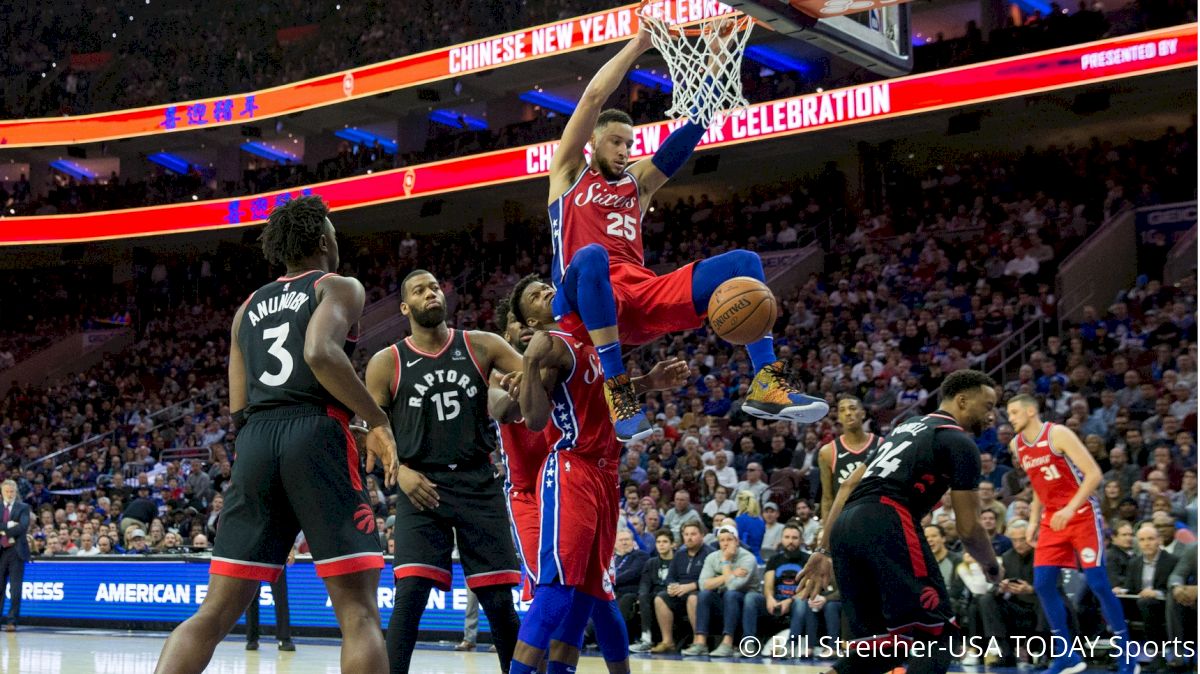 Prep basketball powerhouse Montverde Academy boasts four national championships since 2013, and the Eagles have the firepower to add a fifth this season.
A program does not pile up victories and trophies the way Montverde has without supreme talent. No shortage of elite players have suited up for Montverde in recent years, evident in the abundance of former Eagles on college and professional rosters across the globe.
Based on their play after their time at Montverde, here are the top 10 Eagles of the 21st century.
Honorable Mention
Justin Bibbs: Shut-down defender Justin Bibbs helped ignite Virginia Tech's resurgence under coach Buzz Williams. Bibbs saw increased responsibility for his four years in Blacksburg, culminating with the 2017-18 squad that reached the NCAA Tournament.
Noah Dickerson: 2018 All-Pac-12 performer Noah Dickerson is the man in the middle for a red-hot Washington Huskies bunch. Dickerson averaged 15.5 points and 8.4 rebounds per game a season ago.
Joel Embiid: The Philadelphia 76ers forward is one of the fast-rising stars in the current NBA. Before blowing up on the professional hardwood and pre-dating his single, injury-shortened campaign at Kansas, Embiid was a skinny underclassman on the Montverde junior varsity. He transferred from Montverde, thus never teaming with future Sixers running mate Ben Simmons on the prep courts, but Simmons told the Philadelphia Inquirer Embiid would return for scrimmages in the offseason.
Doral Moore: Doral Moore capped his career at Wake Forest last season, averaging just shy of a double-double with 11.1 points and 9.4 rebounds per game.
10. Kasey Hill
Kasey Hill manned the point for a Florida Gators teams that reached the Final Four in 2014 and the Elite Eight in 2017. He averaged 9.7 points and 4.5 assists in his final collegiate campaign.
9. Devin Williams
Big man Devin Williams played a prominent role on two of the best West Virginia teams in Bob Huggins' tenure as head coach. He averaged 11.6 points and 8.1 rebounds per game for the 2015 Sweet 16 team, and 13.3 points with 9.5 rebounds per game on the 2016 squad.
8. Solomon Alabi
At Florida State, Solomon Alabi was a terror in the paint. He earned ACC All-Defensive honors twice, averaging more than two blocks per game in 2008-09 and 2009-10.
Alabi is currently flourishing in the Asian B2 league, where he's been one of the top scorers and rebounders for the past three seasons.
7. Patricio Garino
Four solid years at George Washington ended with a bang for Patricio Garino. He averaged 14.1 points and was an All-Atlantic 10 honoree in 2016, a campaign that ended with the Colonials winning the National Invitational Tournament.
Garino's since spent time in the G-League, and more recently, as a reserve for Baskonia of EuroLeague.
6. Dakari Johnson
A role player on Kentucky's outstanding 2014-15 team, which included fellow big men Willie Cauley-Stein and Karl-Anthony Towns, Dakari Johnson now has the opportunity to occupy the spotlight professionally.
Johnson scored 20 points in last month's Chinese Basketball Association All-Star Game, per the Lexington-Herald. He's had an outstanding season for the Qingdao Eagles, playing his own part in the exponential growth of the game in China. The CBA features a variety of former NCAA and NBA stars; Johnson's quickly carving out a niche as one.
5. James Bell
James Bell played a progressively important role for his final three seasons at Villanova, culminating in an outstanding 2013-14. He scored 14.4 points, grabbed 6.1 rebounds and snagged 1.3 steals per game en route to All-Big East Conference recognition.
He's brought that same versatility to the European professional leagues. Last season, Bell was a key contributor to Darüşşafaka's EuroCup championship. Midway through the 2018-19 campaign, he joined Buducnost of EuroLeague. He scored 10 points against title contender CSKA Moscow on Feb. 1.
4. R.J. Barrett
Barrett's post-Montverde legacy is just beginning, but it's off to an impressive start. The No. 1 prospect in the 2018 NCAA signing class is a projected top five NBA draft pick, and a central figure to Duke's national championship aspirations.
Barrett's a contender for national player of the year honors like the Naismith Award, averaging 23 points and 7.2 rebounds per game for the Blue Devils.
3. Luc Mbah a Moute
The same willingness to defend, battle in the paint and hit the boards that made Luc Mbah a Moute a key to three straight UCLA Final Four runs has given the Montverde product NBA longevity. This season marked his 12th in an NBA career spanning six franchises.
Mbah a Moute has spent his career as a spark plug and capable defensive stopper off the bench.
2. D'Angelo Russell
In his first three NBA seasons, D'Angelo Russell showed glimpses of the potential from his Montverde Academy days. Year four has marked a true breakout for the multi-talented guard.
Russell is averaging career highs in points at 19.8 per game, field goal percentage at 43.7 and assists at 6.5, helping to pace the surprising Brooklyn Nets into Playoffs contention. Russell's registering numbers on par with his one season at Ohio State, when he was an All-America caliber performer.
1. Ben Simmons
Ben Simmons is a unique talent. Playing at 6-foot-10, he naturally draws comparisons to Magic Johnson. However, another apt parallel may be to that of his contemporary Kevin Durant.
Both played in the post during one-year college careers, and thrived in that role. Simmons averaged 19.2 points, 11.8 rebounds, 4.8 assists and two steals per game in his lone season at LSU.
After sitting out his first professional season due to injury, Simmons transitioned seamlessly into playing the point. He was NBA Rookie of the Year in 2018, and is averaging almost triple-double numbers in his second campaign with the Philadelphia 76ers.
Simmons pairs with another Montverde Academy player, Embiid, to form one of the most exciting young duos in the NBA today.
---
Kyle Kensing is a freelance sports journalist in southern California. Follow him on Twitter @kensing45.