3 All-Americans Will Face Off In The NJ Non-Public B State Championship
3 All-Americans Will Face Off In The NJ Non-Public B State Championship
Bryan Antoine and Scottie Lewis will lead Ranney against Kahlil Whitney and Roselle Catholic (28-3) in the New Jersey Non-Public B state championship.
Mar 7, 2019
by Adam Zagoria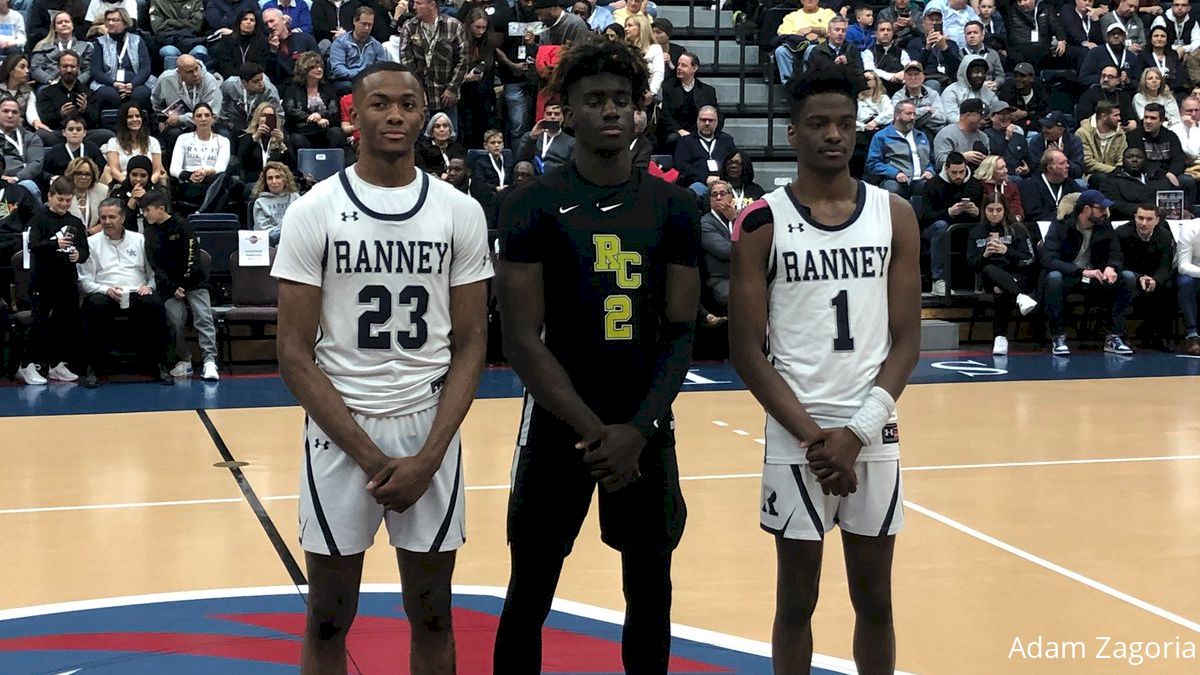 SOMERSET, N.J. — Three McDonald's All-Americans will take the court on Saturday night in Toms River, N.J., with a spot in the New Jersey Tournament of Champions on the line.
Villanova-bound guard Bryan Antoine and Florida-bound wing Scottie Lewis will lead Ranney (27-3) against Kentucky-bound wing Kahlil Whitney and Roselle Catholic (28-3) in the New Jersey Non-Public B state championship. The winner will advance as the No. 1 seed to the TOC, the six-team bracket comprised of four public schools and two non-publics that determines the ultimate state champion.
Ranney and Roselle Catholic have been New Jersey's best teams this season. The Panthers are ranked No. 11 by USA Today, while the Lions are No. 18.
The two teams met in this game last year, when current LSU freshman Naz Reid lifted Roselle Catholic to a 63-61 victory. They faced off again on Jan. 30, when Antoine dropped 25 points in a convincing 61-49 Ranney win that had Kentucky coach John Calipari sitting courtside.
"I mean, it's a huge game. This is the game that I think most people in the state were hoping to see on Saturday," Roselle Catholic coach Dave Boff said late Wednesday night after his team eked out a 48-44 victory over Rutgers-bound guard Paul Mulcahy and Gill St. Bernard's. "We're going to go down there and play our best and I'm sure they're going to do the same. My hope is that both teams play well and hopefully we come out on top."
Pretty cool. Three @McDAAG selections in one state and one game. @Scott_lewis_23 @KahlilWhitney @BryanAntoine_ pic.twitter.com/jM5z8ZVidk

— Adam Zagoria (@AdamZagoria) January 31, 2019
The bad news for Roselle Catholic is that UNLV-bound point guard Josh Pierre-Louis is questionable for the game after falling on his wrist in the fourth quarter and injuring it. Pierre-Louis is a high-flying guard who specializes in one-handed dunks but can also shoot from distance.
"It looked pretty bad when we were on the court," Whitney said. "Hopefully it's not that severe."
This is the 30th anniversary of the Tournament of Champions, which was created in 1989 in part to promote the Bobby Hurley-led St. Anthony's team that ultimately won the inaugural event over big man Luther Wright and Elizabeth.
In the history of the TOC, schools from Non-Public B have won 23 of 30 titles, including 13 by Bob Hurley and St. Anthony's, six by St. Patrick/The Patrick School (including five coached by Kevin Boyle, now at Montverde Academy) and three by Boff and Roselle Catholic. Only four public schools have won the event in three decades.
As for being in position to win a fourth, Boff said, "If that happens that's something that I'll think about later. I'm just really proud of the team and the fact that we've been able to consistently be in this position. I think this is our eighth-consecutive sectional final, which is something I'm very proud of. So going down to another state championship game, we'll just try to play our best."
Heart of a DRAGON!!❤️? 2x time sectional champions baby! #DragonMode pic.twitter.com/6tb1WfSmYl

— THE DRAGON? (@KahlilWhitney) March 7, 2019
The 6-foot-7 Whitney is looking to become the fourth Kentucky commit since 2014 to win the TOC, following Karl-Anthony Towns at St. Joe's-Metuchen in 2014, Isaiah Briscoe at Roselle Catholic in 2015 and Nick Richards at The Patrick School in 2017.
"I'm going into that game as every other game," Whitney said after scoring 15 points against Gill, including the decisive steal on Mulcahy and ensuing foul shots with 2.3 seconds left. "Our biggest goal was to win so I'm going to do whatever it takes to win."
Ranney, meantime, has never won a TOC and is bidding to become the first team from the Shore Conference to do so. Antoine and Lewis have been together four years at the school, along with Florida-bound walk-on Alex Klatsky. They have rewritten the history books at the school and on the Shore. Still, they had to survive overtime and Lewis fouling out before beating Wildwood Catholic 54-50 on Wednesday in the South Non-Public B final.
"Every time we step on the floor, there's history to be made, and it's not like that for every team," Lewis, who went for 17 points and 13 rebounds before fouling out with 3:18 left in overtime, told the Asbury Park Press. "One hundredth win, back-to-back sectional titles. We wanted to get to Saturday, we want to get to the 17th [the TOC final on March 17], and there's a lot of things that need to happen. Winning this game was the next step."
Here's a highlight from last night of @KentuckyMBB commit @KahlilWhitney of @rc_basketball
We have been following him all season for a multi- part documentary on @freshfocusports that will come out in the coming weeks pic.twitter.com/aBtr5QiJnT

— Adam Zagoria (@AdamZagoria) March 6, 2019
Now comes the game everyone in New Jersey is looking towards. Three McDonald's All-Americans on the same court playing for a state title and a spot in the TOC.
"We're going to come out Saturday confident, ready to win and ready to do it together," Lewis said. "The game is going to be fun, it's going to be packed, and we have a lot to prove still."
List of New Jersey Tournament of Champions Winners
1989 - St. Anthony 62, Elizabeth 55
1990 - Elizabeth 65, St. Anthony 62
1991 - St. Anthony 63, Seton Hall Prep 39
1992 - Shawnee 46, Marist 41
1993 - St. Anthony 84, Middle Township 59
1994 - Orange 64, Paterson Catholic 56
1995 - St. Anthony 47, Shawnee 44
1996 - St. Anthony 65, Shawnee 57 (OT)
1997 - St. Anthony 69, Seton Hall Prep 63
1998 - St. Patrick 62, Seton Hall Prep 49
1999 - Seton Hall Prep 54, Teaneck 45
2000 - Camden 50. Seton Hall Prep 46
2001 - St. Anthony 48, Shabazz 47
2002 - St. Anthony 69, Neptune 49
2003 - St. Patrick 61, Camden Catholic 38
2004 - St. Anthony 67, Bloomfield Tech 55
2005 - Seton Hall Prep 63, St. Patrick 60
2006 - St. Patrick 61, Linden 54
2007 - St. Patrick 85, Bloomfield Tech 61
2008 - St. Anthony 69, Science Park 36
2009 - St. Patrick 59, Science Park 57
2010 - Trenton Catholic 53, Camden Catholic 39
2011 - St. Anthony 61, Plainfield 49
2012 - St. Anthony 66, Plainfield 62
2013 - Roselle Catholic 65, St. Joe's-Metuchen 49
2014 - St. Joe's-Metuchen 49, Newark East Side 47
2015 - Roselle Catholic 57, Pope John XXIII 45
2016 - St. Anthony 55, Linden 38
2017 - Patrick School 69, Don Bosco Prep 55
2018 - Roselle Catholic 61, Don Bosco Prep 54
---
Adam Zagoria is a Basketball Insider who runs ZAGSBLOG.com and contributes to The New York Times. Follow Adam on Twitter.