2018-19 EuroLeague & EuroCup Season Calendar
Franz Wagner Stars In EuroCup, Considers NCAA Career
Franz Wagner Stars In EuroCup, Considers NCAA Career
Franz Wagner, brother of Moe Wagner, is on the roster of ALBA Berlin, which plays Unicaja Malaga in the second game of EuroCup quarterfinals Saturday.
Mar 8, 2019
by Kyle Kensing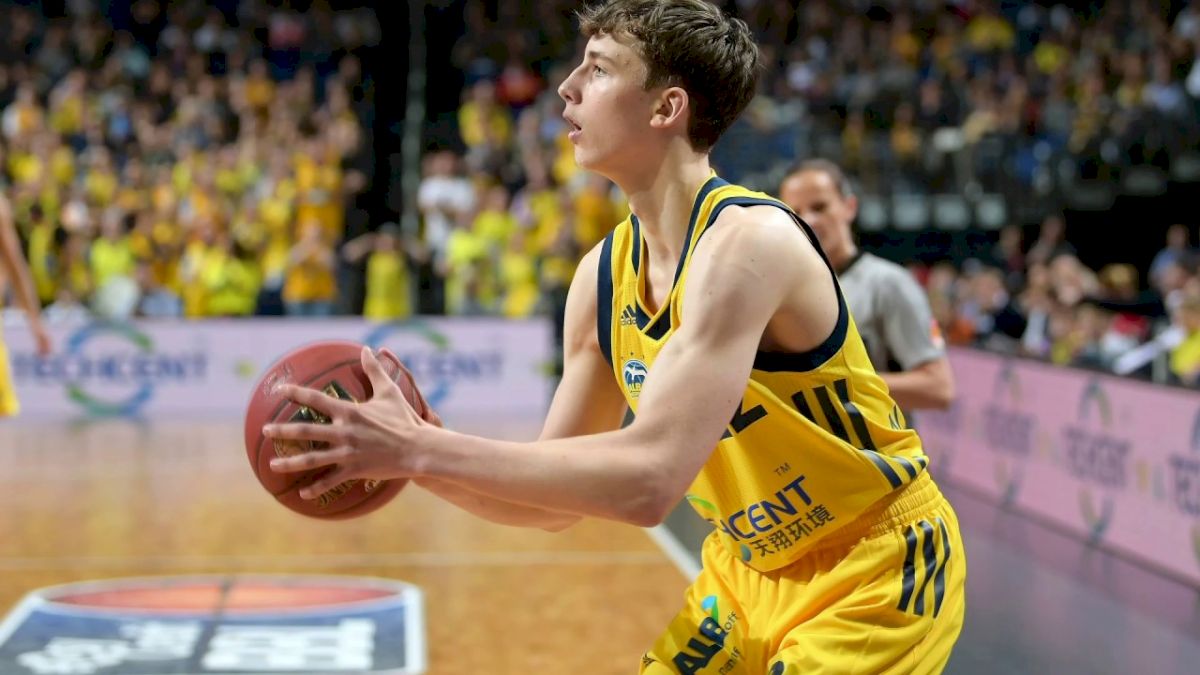 Basketball media buzzed with praise for Moritz Wager in March 2018, as the current Los Angeles Laker led his Michigan Wolverines to the NCAA Tournament championship game.
On his run to March immorality, the German native said the event that captivates millions in the United States every spring did not garner a ton of interest back home. But one person presumably tuned in on the other side of the globe will have the opportunity to follow in Wagner's footsteps—if he so chooses.
Moe Wagner's younger brother, Franz, has his own March postseason basketball to focus on in 2019. Franz Wagner is on the roster of ALBA Berlin, which plays Unicaja Malaga in the second game of EuroCup quarterfinals Saturday, streaming live on FloHoops.com.
As ALBA Berlin's campaign nears its conclusion, Franz Wagner could pursue NCAA greatness and a possible American stepping stone to the NBA. He's garnered interest from Butler, Stanford and his brother's former team in Ann Arbor.
Another Wagner in Maize-and-Blue could be a welcome sight for coach John Beilein—he reached his second national title game in five years last season largely on the strength of Moe Wagner's play. His averages for points, rebounds, assists and steals all jumped over the course of Michigan's six-game run.
A 24-point, 15-rebound, three-steal performance against Loyola in the Final Four solidified Moe Wagner's place on the 2018 NCAA All-Tournament team. He also reached an important milestone in a career that took him to Ann Arbor after his own tenure with ALBA Berlin.
The elder Wagner spent 2014-15 on the club's roster for Basketball Bundesliga, Germany's top league, and was on the roster for a pair of games in EuroLeague.
The brothers have had somewhat comparable professional experiences at this early juncture in their basketball careers. However, Franz Wagner has parlayed his roster spot with ALBA Berlin's top group thus far into some higher profile opportunities.
He sank a 3-pointer in the EuroCup quarterfinals opening game against Unicaja Malaga.
Should 17-year-old Franz Wagner, brother of NBA player Mo Wagner, stay in Germany and play pro ball or make the move to college next year? pic.twitter.com/2U5ODtb0YZ

— FloHoops (@FloHoops) March 7, 2019
Franz's per-36 averages of 10.1 points and 6.1 rebounds per game offer a glimpse into what the 17-year-old can bring as his game continues to develop. The pressing question ahead of him is where he'll be best-suited to develop.
Moe Wagner came to Michigan a skinny, 6-foot-9 forward. He said he always worked on his outside touch while in Germany, not limiting his skill set to the low post. He left for the NBA at about 6-foot-11 as a stretch-four.
The 6-foot-7 Franz Wagner plays on the perimeter, showing off a willingness and ability to shoot the 3-pointer. He connected on 41.7 percent of his attempts during 16 games in the 2018-19 BBL campaign, and is averaging an attempt per game in 15 EuroCup appearances.
Franz described himself as a "big wing" to 247Sports' Evan Daniels in an interview ahead of the EuroCup quarterfinals.
The team that gets Franz Wagner—should he decide to come stateside—will get a different player than his brother. But he could be just as well equipped to make a name in the month of March.
---
Kyle Kensing is a freelance sports journalist in southern California. Follow him on Twitter @kensing45.