Create a free account to unlock this article!
Get Started
Already a subscriber? Log In
The game clock at CHI Health Center Omaha ticked below 40 seconds when Norfolk State guard Chris McEachin fired a pull-up jump shot from the baseline.
McEachin's shot sailed over the rim, but teammate Kyle O'Quinn elevated amid a sea of bodies to score a put-back while getting fouled. The venue—then named CenturyLink Center Omaha—erupted in jubilation, as the Mid-Eastern Athletic Conference representatives took an 83-81 lead in the West Regional NCAA Tournament matchup.
Less than a week earlier in Kansas City, it was the Missouri Tigers faithful who celebrated. They cheered on a Big 12 Conference Tournament championship, raining chants of "S-E-C!" during the trophy presentation; the university's athletic department was in the final months before a transition to the Southeastern Conference.
As O'Quinn's and-one put-back and subsequent foul shot gave Norfolk State an 84-81 lead, Missouri's hope of a program-first Final Four appearance as one final overture before it bowed out of the Big 12 gave way to stark reality: The Tigers were destined to become just the fifth No. 2 seed in NCAA Tournament to lose to a No. 15 seed.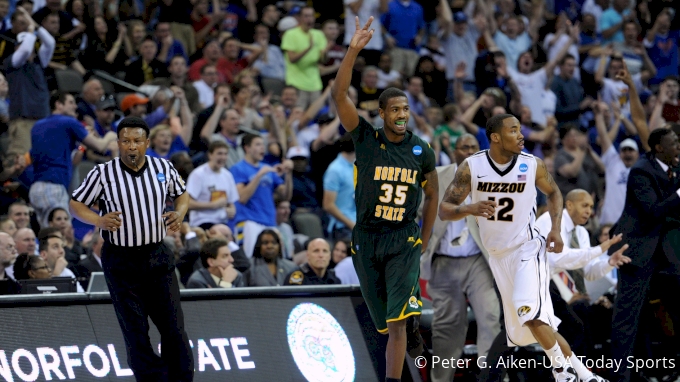 There have been three 15-over-2 upsets since Norfolk State's defeat of Missouri in 2012, including the sixth all-time that very same day: Lehigh over Duke. Prior to March 16, 2012, however, 11 years had elapsed since the last.
That, too, featured the MEAC champion ending a Big 12 team's dreams of a Final Four early. It also marked the second time in NCAA Tournament history a MEAC champion scored such an upset, the first coming in 1997.
The MEAC teams meet this week in Norfolk for the conference tournament on FloHoops.com. The prize at the end of the event is an opportunity for the winner to write its name in NCAA Tournament history alongside these trailblazers.
1997: Coppin State 78, South Carolina 65
Head coach Ron "Fang" Mitchell won 429 games in his legendary career at Coppin State. The most memorable came 10 years into his tenure.
No MEAC team had ever won an NCAA Tournament game prior to Coppin State's Southeast Regional matchup with South Carolina. The Eagles didn't have much of a template to follow, but their win followed a mantra common of March upsets: The longer an underdog hangs around, the more it starts to believe.
"We kept on getting confidence, and before you knew it, we were up," forward Reggie Welch, then a senior, told the Associated Press. "We took it five minutes at a time—there's five minutes, there's five more."
Welch grabbed 15 rebounds, while Antoine Brockington scored 20 points and Danny Singletary dropped 22 off the bench. In those five-minute chunks, the Eagles did not just take a lead: They dominated South Carolina.
"When this thing started, we didn't have a lot of guys who realized how big this could be for them," Mitchell said, per the AP. "Some of them felt it was good just to be in the tournament. But, once we started practicing, I could see the attitude begin to change."
Coppin State's attitude adjustment earned it a place in college basketball lore.
2001: Hampton 58, Iowa State 57
Among the most enduring images of the NCAA Tournament's last two decades is that of then-Hampton coach Steve Merfeld kicking his legs and pumping his fists in the air, lifted by 6-foot-8 forward David Johnson.
Merfeld and Johnson's impromptu rendition of Time of My Life followed an incredible, turn-around jumper from Tarvis Williams in the paint. Williams—who won MEAC Player of the Year that season with averages of 21.9 points and 6.9 rebounds per game—dominated on both ends of the floor. His game-winner capped a 16-point effort to go with 13 rebounds and an incredible six blocked shots.
Even when he wasn't blocking a shot, his presence in the paint altered them; including Jamaal Tinsley's layup attempt in the final second.
"It's great for our league," Merfeld told the Baltimore Sun after the game. Coincidentally, Hampton's no longer a member of the league; the Pirates left for the Big South last offseason.
Still, their NCAA Tournament upset and Merfeld's joyful celebration will forever reflect one of the great moments in MEAC basketball history.
2012: Norfolk State 86, Missouri 84
Norfolk State's upset of Missouri came almost 15 years to the day since Coppin State stunned South Carolina. And while the Spartans responsible for that win in 2012 were barely grade-school age in 1997, Coppin State's NCAA Tournament moment played an important part in their victory.
"I made a call to Fang Mitchell from Coppin State," then-Norfolk State coach Anthony Evans revealed in the post-game press conference. "That's what he told me: Four‑minute increments, stay close and at the end of the game anything can happen. So I give him a great amount of credit for sharing that information with me."
While Coppin State's upset of South Carolina provided Norfolk State with a tangible blueprint, the actual finish proved reminiscent of Hampton's win 11 years prior.
Like Hampton's Williams, O'Quinn put up monster numbers all season en route to MEAC Player of the Year. And, as Iowa State struggled to contain the big man Williams, Missouri had no answer for O'Quinn. His 26 points led a big three with McEachin and Pendarvis Williams, who notched 20 each.
---
Kyle Kensing is a freelance sports journalist in southern California. Follow him on Twitter @kensing45.