McDonald's All-American Hurt Will Announce His College Decision April 19
McDonald's All-American Hurt Will Announce His College Decision April 19
Matthew Hurt is closing in on a college decision. The uncommitted 6-foot-9 forward says he plans to announce on April 19, probably at his high school.
Mar 25, 2019
by Adam Zagoria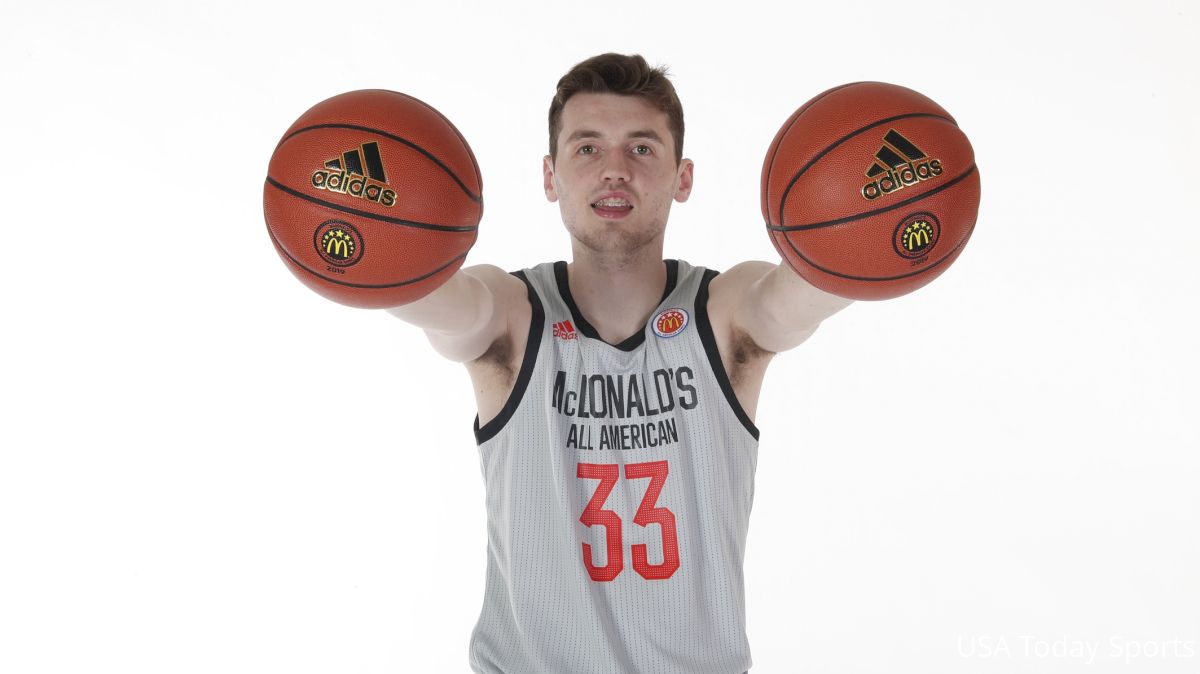 CHAMBLEE, GA — Matthew Hurt is closing in on a college decision.
The uncommitted 6-foot-9 forward from John Marshall High School (MN) says he plans to announce on April 19, probably at his high school. His birthday is April 20.
"I'm getting closer, around April 19 I'll make my decision," Hurt said Monday at the McDonald's All-American Game practice, where he will compete with the West Team on Wednesday night (7 p.m. ET, ESPN2).
Hurt is considering a who's who of elite schools in Duke, North Carolina, Kentucky, Kansas, Memphis and Minnesota.
As for visits, he hopes to get to Memphis before his decision.
"We're going to try to figure out a time maybe to go down there," he said of Memphis.
James Wiseman, the 7-foot-1 star from Memphis East (TN) who has impressed NBA scouts here, would love Hurt to join him there. Wiseman is also working on other uncommitted players Trendon Watford, Precious Achiuwa and Lester Quinones. Watford and Achiuwa are both on the East team here.
"He's been texting me a little bit about it, talking to me about it,"" Hurt said of Wiseman.
2019 @HurtMatthew says he's working on a Memphis visit and is impressed with Penny Hardaway and the staff@FloHoops pic.twitter.com/EVNzDLYLtT

— Adam Zagoria (@AdamZagoria) March 25, 2019
As for coach Penny Hardaway's message, Hurt said, "They have one of the best coaching staffs in the country. They've had NBA experience. Not many coaches get to say that. They played in the league for 10-15 years, so they have that experience and they know what it takes to get into the league and stay in the league."
Kansas has long been linked to Hurt. Kansas head coach Bill Self coached Hurt last June on the USA U18 team that won gold at the FIBA Americas Championship in Canada.
"Right now I don't have a leader, I'm focused on the McDonald's Game," he said. "It's a special week for all of us because it's not just basketball."
In terms of Duke, Hurt said their message is he could be a "Jayson Tatum-, Brandon Ingram-type player. I could be a big impact both on the offensive and defensive end."
Duke commits Vernon Carey Jr. and Wendell Moore are also in the McDonald's Game.
As for North Carolina, Hurt said, "Same thing. They can use me. They're telling me to watch Cam Johnson and Luke Maye this year, so I can see myself in that role next year."
UNC has Armando Bacot in the game, and Bacot is working on uncommitted guys Cole Anthony and Precious Achiuwa to join him.
Kentucky, which has Tyrese Maxey and Kahlil Whitney in the game, is also in the mix for Hurt.
"Some people might not think they're one-and-dones coming into the year but they end up leaving after a year so that's pretty cool," Hurt said of the Wildcats.
Minnesota is the "home-state school, I could play in front of my family and friends," he said of the school where his brother attends.
In the meantime, Hurt will look to impress during the McDonald's Game on Wednesday night.
---
Adam Zagoria is a Basketball Insider who runs ZAGSBLOG.com and contributes to The New York Times. Follow Adam on Twitter.