2018-19 EuroLeague & EuroCup Season Calendar
With Teams Bunched At High Seeds, EuroLeague Playoff Picture Still Unclear
With Teams Bunched At High Seeds, EuroLeague Playoff Picture Still Unclear
In the penultimate week of regular season, EuroLeague competition could see significant change to the playoff picture.
Mar 26, 2019
by Kyle Kensing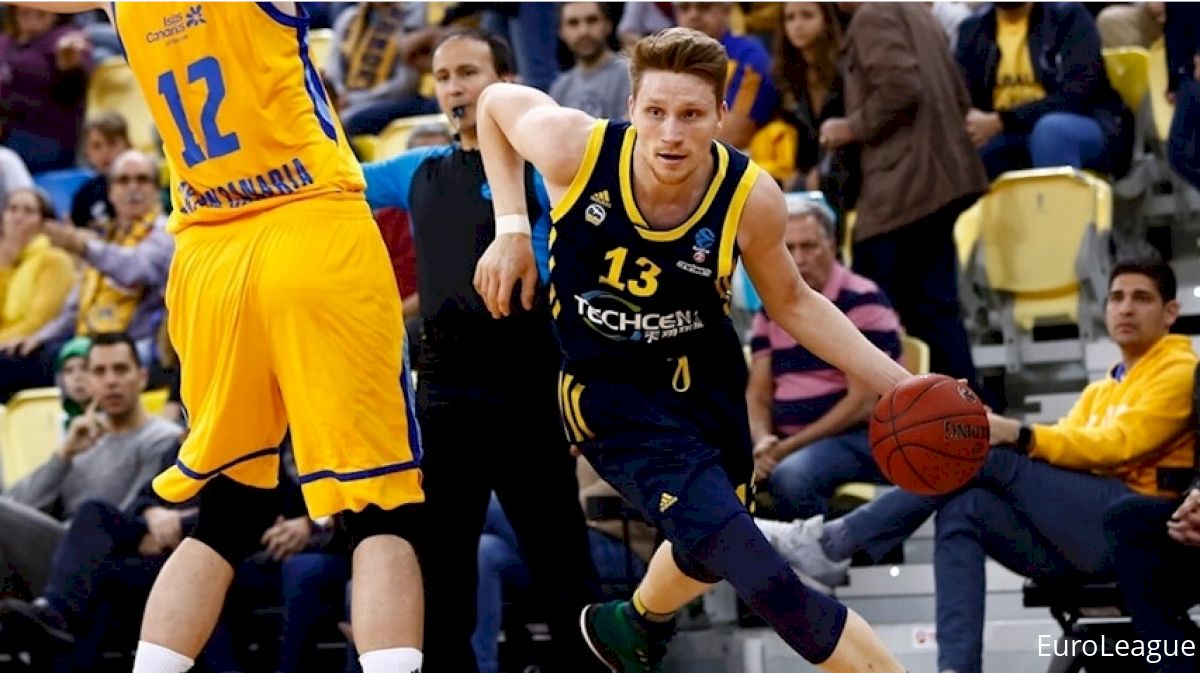 In the penultimate week of regular season, EuroLeague competition could see significant change to the playoff picture.
Olympiacos Piraeus and Zalgiris Kaunas sit at ninth and 10th, respectively, just outside of the eighth and final postseason berth. The two teams meet Friday night at Peace and Friendship Stadium in the return matchup of an 83-75 Zalgiris win on Dec. 6.
Zalgiris got 19 points from Marius Grigonis in the win, and a solid all-around game from Nate Wolters. Wolters was again key last week in a critical Zalgiris win over Darussafaka Tekfen Istanbul, dishing five assists in a victory that kept Zalgiris' playoff hopes alive.
Of no surprise, EuroLeague sixth-leading scorer Brandon Davies also came up big in the win, but the critical development in Zalgiris' potential playoff push is the continued reintegration of Leo Westermann into the lineup.
Westermann missed seven games, a stretch during which Zalgiris went 1-6. The downturn damaged the club's postseason chances, but failed to eliminate it from contention. That said, it will need help down the stretch.
A win Friday against Olympiacos is critical, as is eighth-place AX Armani Exchange Olimpia Milan losing to EuroLeague-leading Fenerbahce Beko Istanbul. Such a scenario creates a three-team logjam, with all three heading into the final round of regular-season play at 14-15.
The picture could become further muddled with 11th- and 12th-place Maccabi Fox Tel Aviv and FC Bayern Munich entering the next-to-last round with the same 13-15 record as Zalgiris. Zalgiris knocked off Maccabi in an outstanding round 27 matchup, 85-83, to complete the season sweep.
Maccabi does, however, own two wins over FC Bayern Munich, the second of which came this month. The 77-70 defeat kicked off a three-game losing streak for Bayern Munich, with the other two defeats coming against fellow playoff hopefuls Zalgiris and Olympiacos.
In addition to the sweep of Bayern Munich, Maccabi split the season series with Olympiacos. Maccabi faces Herbalife Gran Canaria on Thursday, needing a win to remain in the playoff chase. As for Bayern Munich, despite its struggles, a matchup with last-place Darussafaka Tekfen Istanbul could result in the team sporting a record no worse than equal to that of Maccabi and Zalgiris, and perhaps the same as Olympiacos and Olimpia Milan with the right breaks.
All told, these final two weeks should produce chaos. Five of the eight playoff spots are accounted for, with Fenerbahce, CSKA Moscow, Real Madrid, Anadolu Efes Istanbul and FC Barcelona Lassa having already qualified.
Intrigue remains among the top three teams: Fenerbahce leads CSKA Moscow by a single game, while CSKA Moscow's advantage over Real Madrid is also just a single contest. But the real drama of EuroLeague's final regular-season stretch comes in the race for those unfilled spots.
Seven teams are vying for three remaining berths. The difference between sixth- and seventh-place Kirolbet Baskonia Vitoria-Gasteiz and Panathinaikos Opap Athens, and aforementioned Maccabi and FC Bayern Munich, is just two games.
Wholesale upheaval of the EuroLeague's playoff forecast could be on the horizon heading into the 30th and final round of the regular season.
---
Kyle Kensing is a freelance sports journalist in southern California. Follow him on Twitter @kensing45.