2018-19 EuroLeague & EuroCup Season Calendar
Upsets Rock Game 2 Of EuroLeague Playoffs
Upsets Rock Game 2 Of EuroLeague Playoffs
Three of the EuroLeague's four best-of-five playoff series are now effectively best-of-three.
Apr 22, 2019
by Kyle Kensing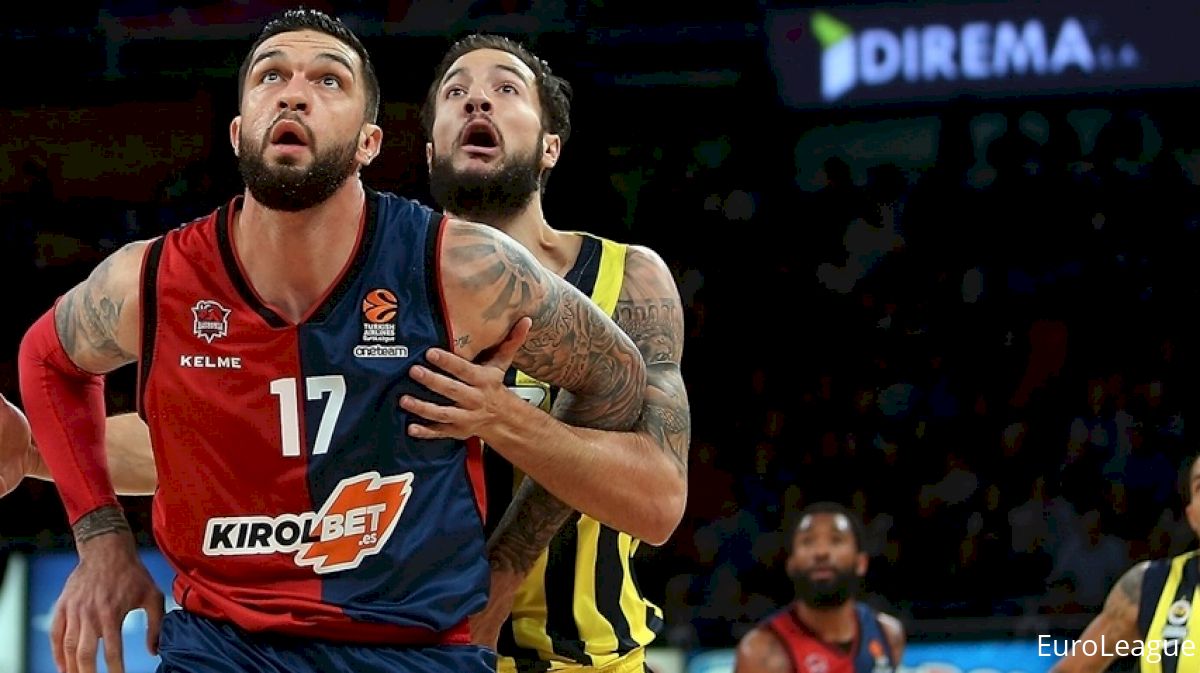 Three of the EuroLeague's four best-of-five playoff series are now effectively best-of-three.
Game 2 wins on the road for FC Barcelona Lassa, KIROLBET Baskonia Vitoria-Gasteiz, and Zalgiris tied their series with Anadolu Efes, CSKA Moscow, and Fenerbahce Beko Istanbul, respectively. Home-court advantage now resides with the underdogs, which host two games needing two wins to close out the series.
All three Game 2 results also underscored how dramatically the tone of a series can shift from game to game. Nowhere was this more evident than at Ulker Sports Arena in Istanbul, site of Zalgiris' 82-80 defeat of top-seeded Fenerbahce.
EuroLeague's regular-season top dogs were quite literally untouchable at home in the regular season, going a perfect 15-0. Fenerbahce's home venue was particularly a house of horrors for Zalgiris, which lost there in regular-season play by 17 points, then in Game 1 of the playoffs by 33.
Game 2 could not have been any more different for Zalgiris, which rode EuroLeague's hottest finishing stretch into the eighth and final postseason berth. The club almost doubled its Game 1 output of just 43 points, and did so establishing the pace in the first half.
Legendary head coach and nine-time EuroLeague champion Zeljko Obradovic favors a suffocating defensive style that, in the regular season, yielded the fewest points of any club (74.6 per game). Losses came as infrequently as points, but in those rare instances that the No. 1 seed did fall, opponent point totals jumped significantly to 86.8.
Zalgiris' Game 2 win continued that trend, and detailed the blueprint the eight seed must follow to return to the Final Four. No sweat: just shoot almost 71 percent from inside the 3-point arc again. Zalgiris must also shake off a nerve-racking ending, which saw Fenerbahce flip the script and hold the visitors to just nine fourth-quarter points.
Baskonia similarly succeeded in Game 2 forcing the home team out of its comfort zone, albeit in this case, high-scoring CSKA Moscow managed just 68 points. Baskonia held the most prolific offense in the EuroLeague Playoffs at 86.3 points per game to just 46.9 percent shooting inside the arc, and 30 percent beyond it.
And, like Zalgiris, the reversal of styles resulted in snapping an impressive home-court winning streak. The Game 2 loss was CSKA's first at Megasport Sport Palace in 22 contests. This was also just the second home loss for CSKA in the 2018-19 season.
For the seven-seed Baskonia to advance to the Final Four, it will need more performances like the MVP-earning effort it got from big man Vincent Poirier in the win.
The MVP of The Playoffs, Game 2@viinze_17P puts in one of his BIGGEST performances of the season ?#GameON pic.twitter.com/WAyR9ruum5

— EuroLeague (@EuroLeague) April 20, 2019
Quick thread on Baskonia's Game 2 win @ CSKA, snapping their 21-game #EuroLeague playoff win streak at home

Vincent Poirier is a monster. 14 PTS (6/6 2FG, 2/2 FT), 15 REB (4 off.), 4 STL, 1 BLK in 21:43. To pull off an upset, you need guys who hustle like him. Infectious energy pic.twitter.com/DEKm8srPYK

— Austin Green (@LosCrossovers) April 21, 2019
Forcing CSKA into contested shots and controlling the glass is one way to tie up a series; another is shooting a torrid 42.3 percent from 3-point range as a team, which Barcelona Lassa did in Game 2 against Efes.
Efes finished the regular season as EuroLeague's second-best 3-point shooting team; Barcelona Lassa ranked ahead of only Baskonia and Panathinaikos among playoff squads shooting from deep. The role reversal may not be a tenable route to a Final Four berth for Barcelona—MVP candidate Vasilije Micic is unlikely to endure another 2-of-8 performance from behind the arc—but the fifth seed finds itself in a solid position with two home games upcoming.
Only defending champion Real Madrid can close out with a sweep. The club needed to weather a fourth-quarter rally from Panathinaikos in Game 1, with former stars and current NBA'ers Luka Doncic and Willy Hernangomez in attendance.
The boys are back ?@luka7doncic x @willyhg94 ?#GameON pic.twitter.com/FfGP1t4lIW

— EuroLeague (@EuroLeague) April 19, 2019
Game 2 was much more comfortable for the reigning champs. They parlayed a 21-8 first quarter into a 15-point win, with four players scoring in double-figures in the process.
Real Madrid swept the regular-season series with Panathinaikos, which included Rudy Fernandez sinking a 3-pointer in the waning seconds for a 74-73 Round 29 victory in Athens.
WHAT TO WATCH THIS WEEK
- Vincent Poirier's Game 2 MVP effort resulted in him setting a new EuroLeague single-season rebounding record. The 14-point, 15-rebound, four-steal effort also came with Poirier coming off the bench.
Poirier's 26 starts in the previous 31 games are second only to Shavon Shields' 28 starts, but the lineup switch for Toko Shengelia proved savvy. Coach Velimir Perasovic's starting lineup for Game 3 will be an intriguing storyline, as will CSKA coach Dimitris Itoudis' counter.
- Edgaras Ulanovas averaged a healthy seven points per game in the regular season for Zalgiris, but was just the fifth-most productive scorer in the club's balanced lineup. Coach Šarūnas Jasikevičius could lean more on the veteran swingman in light of Ulanovas' key contribution to the Game 2 win.
Ulanovas made nine of his 11 field-goal attempts, which doubled his average per-game shot output in the regular season. His ability to get into the paint off the dribble played a critical role in Zalgiris building a big lead in the third quarter, but Fenerbahce adjusted well in the final period.
Dribble-drive penetration worked doubly effectively in Zalgiris building its lead, as Fenerbahce MVP candidate Jan Vesely racked up four personal fouls and logged just 16:10. Vesely still managed 12 points, second-most on the Fenerbahce roster.
- Efes did not go deep in its rotation for either contest against Barcelona Lassa. Most notably, big man Adrien Moerman logged 37:31 in the Game 1 win, and a full 40 in the Game 2 loss. He was effective in both contests, but the lengthy runs for a cornerstone of Efes' 2018-19 turnaround will test his endurance in the critical road games this week.