Nikola Jokic Is A Modern Day Arvydas Sabonis
Nikola Jokic Is A Modern Day Arvydas Sabonis
Nikola Jokic has always been undeniably talented, but the Denver Nuggets' big man's ascent this season borders on basketball folklore.
May 3, 2019
by Kyle Kensing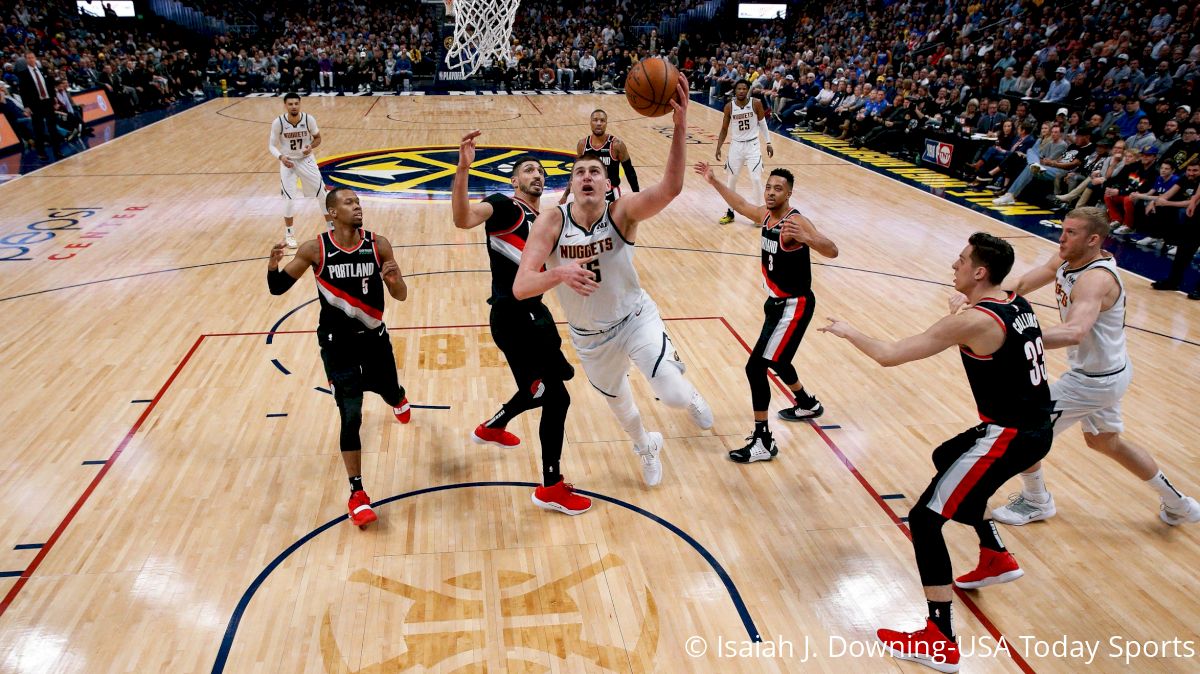 Nikola Jokic has always been undeniably talented throughout his four-year NBA career, but the Denver Nuggets' big man's ascent this season borders on basketball folklore. It's only right, then, to contrast the former EuroLeague Basketball Next Generation Tournament and Adriatic League standout with basketball's Paul Bunyan.
For those who grew up on hoops in the 1990s and 2000s, Lithuanian legend Arvydas Sabonis is best remembered as a competent role player for the Portland Trail Blazers; someone who occasionally broke out a how-did-he-do-that highlight play, despite his apparent lack of dexterity.
A 1995 New York Times account, just before Sabonis' NBA debut, best describes that decade's version of the former Soviet giant.
"He has the shot of an off-guard, the eyes of a point guard, the body of a Hercules but — unfortunately — the mobility of a statue."
But for those well-acquainted with the tales, the same Times piece includes a familiar anecdote from former Boston Celtic Dino Radja. Radja repeats a refrain that still resonates decades later, and which gains new relevance commensurate with Jokic's rising stardom.
"Believe me, he was that good. Know him long time. In 1985, he was a beast. He ran the floor like Ralph Sampson. Could shoot the three, dunk. He would have been an N.B.A. All-Star 10 years in a row. It's true, I tell you."
The stories sound like hardwood fables, with Sabonis as John Henry or Paul Bunyan. Perhaps they're the basketball equivalent of those old SNL skits with Will Ferrell, John Goodman, and Mark McKinney drunkenly shouting about the dubious exploits of Bill Brasky.
Either way, the accounts of 1980s Sabonis' game — before injuries and general wear rendered him a "statue" — describe a Magic Johnson-influenced combo-guard in the body of a mid-career Shaquille O'Neal.
No-look dimes, thunderous dunks off the dribble, all without compromising dominance on the glass; this is the Sabonis legacy.
Cold War hostilities between the United States and USSR prevented Sabonis from making his mark in the NBA, but he flourished in European leagues. He averaged 25.2 points, 14.5 rebounds, and 3.9 blocks per game in the 1989-90 Liga ACB season; comparable numbers to that year's NBA Rookie of the Year, David Robinson, who put up 24.3, 12, and 3.9 for the San Antonio Spurs.
Juxtaposing Sabonis with Robinson is only fitting, as the crowning moment of Sabonis' peak for American hoop-heads came against The Admiral in the 1988 Olympics.
Sabonis posted better all-around numbers four years later while leading the tie-clad Lithuanian team to bronze in Barcelona, but his 13-point, 13-rebound showing against Robinson in the Seoul Games' semifinal proved Sabonis' mettle against one of the best to ever play center in the NBA. It was a repeat of the Soviet big man's showing against Robinson and the Americans in the 1986 World Championships, just six months after The Admiral led Navy on an improbable Elite Eight run in the NCAA Tournament.
Studying short clips on YouTube is the only tangible corroboration of the stories we have to answer "What if." But Jokic's breakthrough into elite NBA status offers further perspective.
Watch the surprise MVP candidate of the 2018-19 NBA season during the playoffs, and it's difficult to not marvel at his soft jump shot and point guard-like passing. A 7-footer should not possess some of the silky-smooth qualities that define Jokic's game—particular not a 7-footer who looks like he'd be a city league all-star at best, were he eight inches shorter.
The passing and outside touch certainly bring to mind memories of Sabonis—I quickly discovered this wasn't a wholly original thought. No less than NBA great Chauncey Billups broached the subject earlier this year.
For y'all that really know basketball, what ya think? Ye or Na?? pic.twitter.com/zgGqSYRYCb

— Chauncey Billups (@1MrBigShot) March 9, 2019
Even at that, we only have the comparison of mid-1990s to 2000s Sabonis, past his prime, with a young Jokic still on the ascent. Not that it's a bad comparison—Sabonis only averaged fewer than double-figures once, in 2002-03, after coming out of a one-year retirement. Lest you think that was the end for him, the next year he put up 21.2 points, 13.7 points, and three assists per en route to EuroLeague MVP for his home nation's Zalgiris.
Yet, while Sabonis' culmination for American audiences came in the Olympic Games, and his ride into the sunset came in EuroLeague, Jokic used both to set the foundation. Jokic put up 12.4 points and 8.4 rebounds per game for Mega Vizura Belgrade during the 2013 EuroLeague Next Generation Tournament.
In the 2014-15 Adriatic League season, he won MVP and started the internal buzz among the Denver Nuggets front office, as described in this February 2019 Denver Post report. Jokic followed up his 2015-16 NBA All-Rookie recognition with a solid 9.1 points and 6.0 rebounds per game in the 2016 Rio Olympics.
And now, in the 2019 NBA Playoffs, we're witnessing the maturation of a bonafide superstar. It's the fulfillment of a true basketball fable, which some have waited more than three decades come to life.