2019 Jr. NBA Global Championship - West Region
Results Roll In From Jr. NBA Global Championship Regionals
Results Roll In From Jr. NBA Global Championship Regionals
The field for August's Jr. NBA Global Championship nears completion, with another round of teams punching their tickets to Orlando in Regionals.
Jun 18, 2019
by Kyle Kensing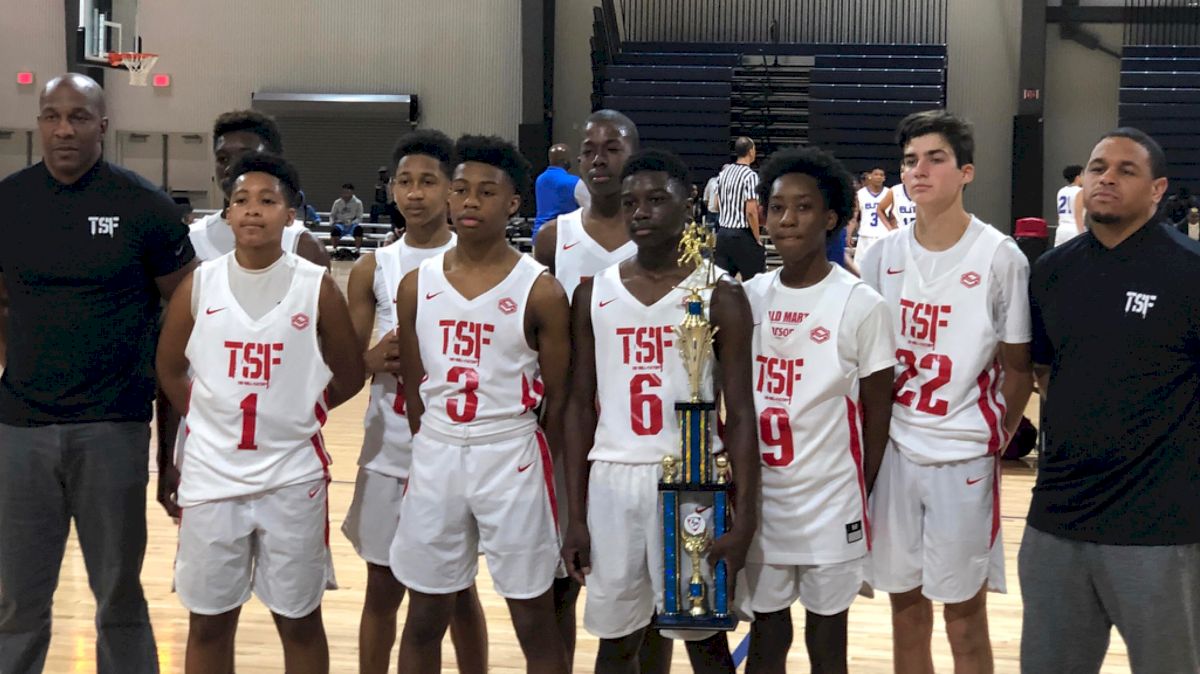 The field for August's Jr. NBA Global Championship nears completion, with another round of teams punching their tickets to Orlando in Regionals.
Squads from the U.S. West and Southeast Regions, as well Canada and the Asia-Pacific Regions on the International side, advanced on June 16. Complete rosters of teams on both the boys and girls brackets now await only the Northwest (June 21-23) and Northeast (June 28-30) regionals. International spots in Global Championship Aug. 6-11 are now fully booked.
SOUTHEAST REGIONAL
TSF Mack 2023 coach Julian Barfield told the Jr. NBA that in the fourth quarter of his club's 86-66 championship game win over Team United, he had an emphatic message: "Finish, finish, finish."
TSF Mack dropped an AAU matchup earlier this year to the same squad after surrendering a 13-point lead, but they made sure there would be no rally this time around. Kanaan Carlyle scored 31 points to close the weekend with 86. Carlyle and Co. were shown some post-championship love from Charlotte Hornets guard Shelvin Mack, the club's sponsor.
.@NBA guard Shelvin Mack (@ShelvinMack), congratulates his TSF Mack 2023 squad after winning the Boys Championship at the Southeast Regional! ?? #JrNBAGlobalChampionship pic.twitter.com/ziWFq0Excl

— Jr. NBA (@jrnba) June 16, 2019
TSF Mack rolled into the title game with a balanced quarterfinal win of 79-49 over GCK2023. Four players scored in double-figures in that one, while Carlyle set the pace in the semifinal with 22 points. Teammate Isaiah Collier dropped 18 in the 78-40 semifinal win, part of a 95-point weekend.
Robert Dillingham closed the Regional with a weekend-high 143 points, 18 of which came in the championship loss for Team United. Teammate Jaylen Curry added 10 and finished tied for fourth on the weekend with 111 points.
FBC United The Family earned its place in Orlando with an impressive team showing. Four players averaged in double-digit scoring throughout the weekend, with Jaloni Cambridge notching 81 points (13.5 per), Courtney Ogden hitting for 77 (12.8), Reniya Kelly right behind with 76 (12.7), and Ava Watson tallying 71 (11.8).
The 73-52 win over The SC 76ers was more of the same. Cambridge hit for 20 points, but she also dished 10 assists, spread among teammates who scored between five and 14. Everyone got in on the action, including Ogden, who had nine points and 11 rebounds.
"We're going to Orlando!" FBC United The Family are the Southeast Regional Girls CHAMPIONS! They will represent the Southeast Region at the #JrNBAGlobalChampionship in August! ?? pic.twitter.com/NLosKh0lBH

— Jr. NBA (@jrnba) June 16, 2019
WEST REGIONAL
Coastal Southern California experienced a light drizzle on June 16, but the heavy deluge fell in Ladera Sports Center courtesy of Isaac Martinez. The City Ballers guard connected on 10-of-16 3-pointers in the championship game en route to 41 points, leading his team to the Boys West Regional title.
Martinez's 41 points combined with 21 from Tyler Rolison, and the two capped the weekend with matching 105-point totals—second-most in the field. The tandem powered City Ballers to the club's second consecutive Regional championship, 88-71 against Give-N-Go Supreme.
Rolison also dropped 20 points in the 76-58 semifinal win over Team Create National, with Quinten Webb chipping in 19. City Ballers began bracket play with a 91-47 rout of the Central Valley Hornets. All seven City Ballers to play in the quarterfinal scored at least nine points.
In the girls bracket, Judea Watkins and Breya Cunningham set the tone for the champion San Diego Waves, the two leading all scorers in the tournament with 108 and 83 points. Both Watkins and Cunningham posted championship-game double-doubles (23 points and 12 rebounds and 22 points with 13 rebounds, respectively) in a 78-58 defeat of the California Storm.
The Waves were dominant all weekend, claiming wins of 80-52 in the quarterfinals against the West Coast Ballers and 75-49 over GBL Team Derek Fisher in the semis. Cunningham registered another double-double in the semifinal with 13 points and 10 rebounds, giving her 23 of her tournament second-best 41 boards in the final two games.