Hofstra's Justin Wright-Foreman Looks To Become First CAA Draftee Since '15
Hofstra's Justin Wright-Foreman Looks To Become First CAA Draftee Since '15
Hofstra guard Justin Wright-Foreman's journey to the 2019 NBA Draft has been a winding one, but the NYC kid may just find his name on the board.
Jun 20, 2019
by Jerry Beach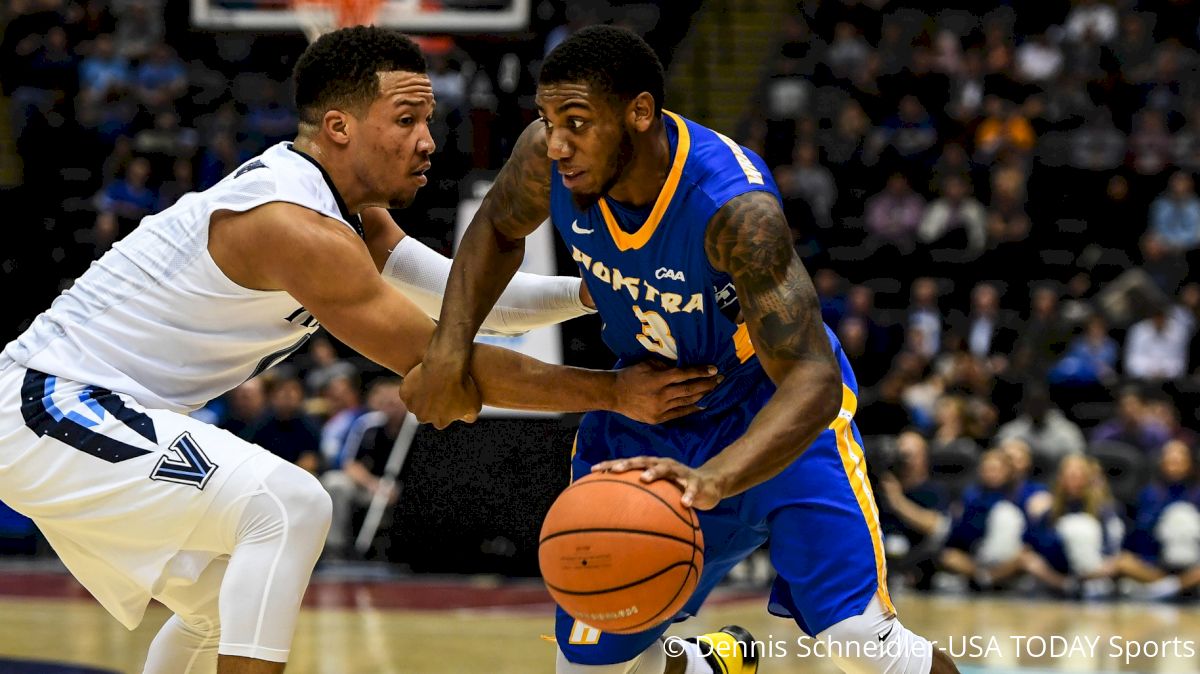 Other high school basketball players entering ninth grade in the fall of 2011 might have pored over the list of their peers already projected as high-major recruits and potential NBA lottery picks. But not Justin Wright-Foreman.
"My first year of high school, I didn't know where anybody was ranked," Wright-Foreman said. "This is no joke. I really didn't know anything about who Jayson Tatum was, or who D'Angelo Russell was (or) Ben Simmons. I was just playing basketball and wanted to play basketball after high school."
Almost eight years later, Wright-Foreman is a college graduate once again looking the other way from rankings. Except this time, the rankings include him.
Wright-Foreman, who finished his career at Hofstra with 2,327 points—second-most in school history—ranked second in the nation in scoring last season and won back-to-back CAA Player of the Year awards as a junior and senior, is a consensus top-75 prospect heading into the NBA Draft, which takes place Thursday night at Barclays Center in Brooklyn.
MBB (In The News): Hofstra star Justin Wright-Foreman hoping to get NBA chance - via @News12LI / @N12jamiestuart - https://t.co/blZLaeciw3

— Hofstra Basketball (@HofstraMBB) June 14, 2019
"I'm just grateful to be in this moment," Wright-Foreman said. "It's still so surreal to me, because I still can't believe I'm in this position that I'm in today. But I'm extremely grateful for it and I know I worked hard for it."
At least three sites have him being selected in the back end of the second round. The Ringer has Wright-Foreman going to the Pelicans with the 57th pick while both Rotoworld and The Athletic have him going to the newly crowned Raptors with the 59th and penultimate pick.
"I try not to pay attention to all these, but obviously, I see my name," Wright-Foreman said. "I'll go on Twitter and then I'll see my notifications and my name pop up.
"I'll just have to wait and see (tonight)."
Wright-Foreman could help the CAA make history tonight. Just 22 CAA players have been drafted by the NBA since the league was founded in 1982, including nine since the draft was reduced to two rounds in 1989.
No CAA player has been drafted since 2015, when William & Mary's Marcus Thornton was picked 45th overall by the Celtics. Thornton has yet to play in the NBA, which means the most recent CAA draftee to reach the league is Hofstra's Charles Jenkins, the only player ahead of Wright-Foreman on the Pride/Flying Dutchmen all-time scoring list. Jenkins was selected 44th by the Warriors in 2011 and played two seasons with the Warriors and 76ers.
But there's a chance the CAA may add to its draft total by midnight. In addition to Wright-Foreman, former College of Charleston star Jarrell Brantley is rising fast in the pre-draft rankings and is considered a potential second-round pick.
Wright-Foreman and Brantley began their draft prep at the 3x3U national championship during the Final Four, when they teamed up with Northeastern's Vasa Pusica and UNC Wilmington's Devontae Cacok to win the title and the $100,000 cash prize. Wright-Foreman was named the MVP of the tournament.
"I've been talking with him, he's been doing really well," Wright-Foreman said.
Jarrell Brantley had the most defensive win shares of anyone in his conference three of his four NCAA seasons. He earned a trip to @PIT_Basketball and averaged 21.1 points + 10.1 rebounds per 36 minutes while shooting 45.5% from 3.

Our full interview: https://t.co/dNVf44JreG ?

— Bryan Kalbrosky (@BryanKalbrosky) June 12, 2019
Wright-Foreman's stock took a brief hit during the first day of the G-League Elite Camp on May 13, when he missed all seven of his field goal attempts and was limited to two points in the first of two scrimmages.
Wright-Foreman, who finished his Hofstra career by scoring in double digits in each of his final 88 games, bounced back in the second game, scoring 16 points off the bench—but he wasn't invited to the NBA Draft Combine.
Of course, shrugging off a slow start is nothing new for Wright-Foreman, whose ascension at Hofstra was the stuff of Hollywood screenwriters. He averaged just 4.1 minutes per game during his freshman season, when he scored a total of 44 points, and didn't move into the starting lineup full-time until well into the CAA schedule as a sophomore.
"It just added more fuel to the fire," Wright-Foreman said of his G-League Elite Camp debut. "It just allowed me to come out the next game and just be aggressive, because I don't have two bad games in a row."
Wright-Foreman climbed back up the radar amid a hectic workout season, during which he auditioned for at least 10 teams, including the local Knicks and Nets. On Wednesday, he visited with the Celtics for a second time.
"These last two months have been the most exciting two months of my life," Wright-Foreman said. "I've just been flying all over the place, doing back-to-backs with the 76ers and Minnesota. Then I did the Lakers and Clippers within those two days, back-to-back. Then I did the Nets and the Knicks back-to-back. It's overwhelming sometimes, but then it's also getting you prepared for the back-to-backs that you have to do during the season."
Wright-Foreman isn't the first CAA player to reach draft night with the profile of a perfect second-round flier as a sharp-shooter who can play either guard position while providing instant offense off the bench. Of course, come round two, NBA teams also like to take fliers on younger international players whom they perceive as having higher upside and whose rights they can control while the prospects continue playing overseas.
At least six international players have been selected in the second round every year this decade.
From HS of Construction to barely playing as a freshman to NBA Draft, Justin Wright-Foreman @HofstraMBB is ready for the next step in his remarkable journey. Teams are intrigued by the high-scoring southpaw. "I love the way he plays: https://t.co/FvCEDQnwLl #hofmbb @JayWright_3

— Zach Braziller (@NYPost_Brazille) June 19, 2019
Wright-Foreman doesn't have to look far to find proof that going undrafted doesn't diminish a player's chances of reaching the NBA. Charleston's Joe Chealey wasn't drafted last year but signed a two-way contract with the Hornets and made his NBA debut Jan. 30.
And as the New York Post noted in a Wright-Foreman feature on Wednesday, undrafted free agent Fred VanFleet, who was shuffled between the Raptors and their G-League affiliate 16 times as a rookie two seasons ago, just played a key role in Toronto's championship run.
If Wright-Foreman isn't picked tonight, he will almost surely put his signature to a free agent contract in the coming days. Still, as he wound down from his final pre-draft visit and prepared to spend draft night with his family in Queens, he acknowledged there's a cache to being drafted—a validation of just how far he's come from the kid who paid no attention to rankings as a high school freshman.
"It is a certain luster to it," Wright-Foreman said. "Because I'm a New York City kid, and it's at Barclays, so who doesn't want to hear their name called?"