Four CAA Alums Wrap Up NBA Summer League Play
Four CAA Alums Wrap Up NBA Summer League Play
Four CAA hoops alumni—Jarrell Brantley, Joe Chealey, Justin Wright-Foreman and Devontae Cacok—wrapped up in the NBA Summer League.
Jul 15, 2019
by FloHoops Staff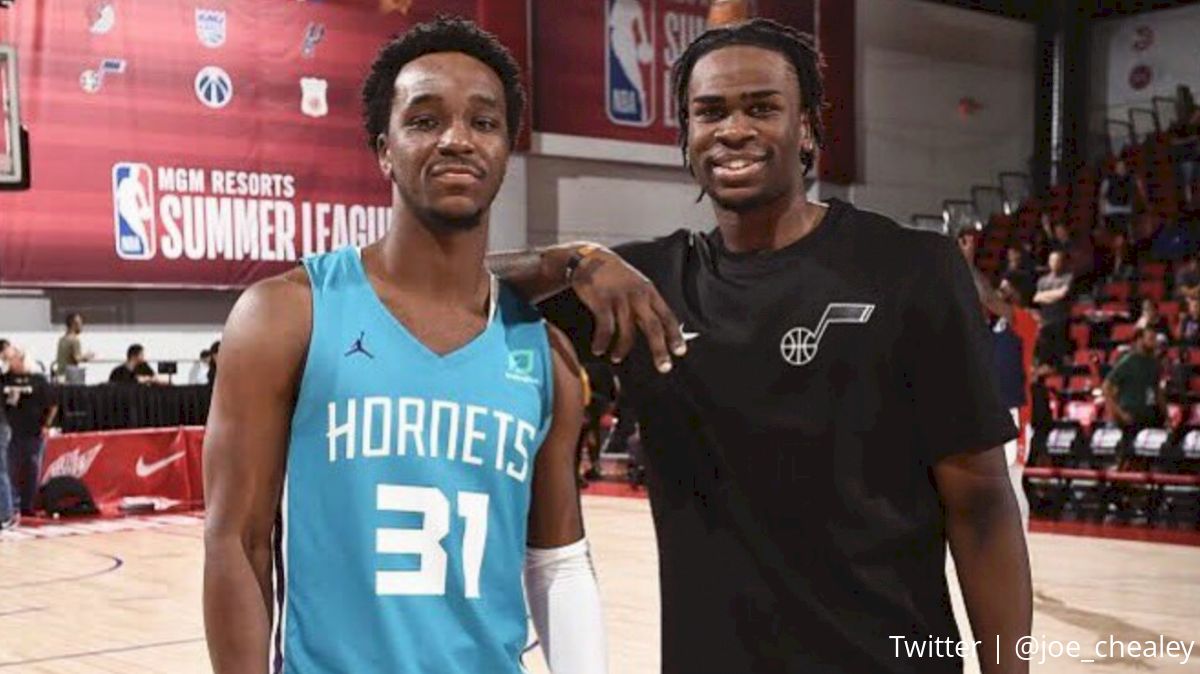 Four Colonial Athletic Association men's basketball alumni—the Charleston pair of Jarrell Brantley and Joe Chealey, Hofstra'sJustin Wright-Foreman and UNCW's Devontae Cacok—recently wrapped up play in the NBA Summer League.
Jarrell Brantley, Utah Jazz (Charleston)
Brantley, drafted 50th overall in the 2019 NBA Draft by Indiana before his rights were traded to Utah, appeared in four games with the Jazz – two in the Salt Lake City Summer League and two in the Las Vegas Summer League … Brantley started all four games in which he played … The four-time All-CAA honoree battled hamstring tightness and was held out the last three games of the Vegas Summer League.
Speaking of defensive tanks, Jarrell Brantley looks like an NBA-ready player.
Amazing feel on help side D with verticality to contest at the rim, and the uncommon mix of powerful body with short feet allows him to be a potential switch nightmare. pic.twitter.com/hOJdoaMVj5

— Lorenzo Neri (@lorenzoneri84) July 7, 2019
Across four games, Brantley averaged 8.8 points and 5.0 rebounds per game in 21.5 minutes … Brantley was 14-for-37 from the field, including an 11-for-25 mark in Salt Lake City … Brantley debuted with 11 points, four rebounds, two assists, one block and one steal on July 1 … Two days later, Brantley posted 16 points and six rebounds, going 6-of-14 from the field … In 24 minutes in his Vegas Summer League debut, Brantley notched seven points and eight rebounds.
Devontae Cacok, Los Angeles Lakers (UNCW)
Cacok appeared in both the California and Las Vegas Summer Leagues … Across eight games, Cacok averaged 12.0 points and 8.5 rebounds and 21.0 minutes per game … Cacok recorded three double-doubles in his eight contests … The two-time First Team All-CAA honoree debuted on July 1 with eight points and six rebounds off the bench before busting out with 16 points on 8-of-12 shooting and 12 rebounds in 19 minutes the following day … Cacok closed the California Summer League with 13 points and five rebounds in 15 minutes.
Your daily Devontae Cacok dunk highlight.#LakeShow (?: ESPNU) pic.twitter.com/6FX9FFPLgj

— Los Angeles Lakers (@Lakers) July 7, 2019
Opening the Vegas Summer League, Cacok posted his second double-double with 12 points and 10 boards on July 5 … Coming off the bench on July 6, Cacok recorded his Summer League-best with 17 points, going 7-of-11 from the floor … Cacok's third double-double of Summer League came on July 8, when he recorded 10 points and 10 rebounds … The following day, Cacok signed an Exhibit-10 contract with the Lakers … Cacok shot 60-percent (45-for-75) from the floor, adding 2.0 steals and 1.3 assists per game … Cacok's performance prompted Lakers blog "Lake Show Life" to dub him the team's Summer League MVP.
Joe Chealey, Charlotte Hornets (Charleston)
Chealey, who made his NBA debut with Charlotte on Jan. 30, 2019, before suffering a meniscus tear in March, appeared in four games with Charlotte in the Vegas Summer League … Chealey made one start, averaging 16.8 minutes per game on his way to 5.5 points and 2.5 assists per game.
What a dime by #GLeagueAlum @Joe_Chealey ?@CofCBasketball ↗️ @greensboroswarm ➡️ @hornets #NBASummer pic.twitter.com/ynRxfWj7lR

— NBA G League (@nbagleague) July 9, 2019
The two-time First Team All-CAA honoree made his Summer League debut on July 5, recording two points and two rebounds in 14 minutes off the bench … Chealey posted his Summer League high with 16 points on July 8, hitting 4-of-6 field goals and 7-of-9 free throws … Chealey made his lone start in Summer League play on July 13, going 2-of-5 from the field, finishing with four points, two steals and an assist.
Justin Wright-Foreman, Utah Jazz (Hofstra)
Wright-Foreman, drafted 53rd overall in the NBA Draft by Utah, was challenged by the Jazz staff to make the transition to point guard during the Summer League … Wright-Foreman appeared in four games, making four starts before sitting out the final three Vegas Summer League games due to right knee soreness/right hamstring tightness.
they gave him a lane? oh, they gave him a lane. pic.twitter.com/t1W7sImcv1

— Utah Jazz (@utahjazz) July 6, 2019
The two-time CAA Player of the Year made his Summer League debut with six points, three assists and three steals on July 1 … The following evening, Wright-Foreman notched his finest Summer League performance, going 8-of-13 from the field en route to 20 points and four assists … In his first game at the Vegas Summer League, Wright-Foreman tallied 14 points, six rebounds, three steals and two assists on July 6 … Wright-Foreman wrapped Summer League with seven points and four assists on July 7 … Wright-Foreman was 16-of-48 from the field while averaging 11.8 points, 3.3 assists and 1.5 steals.
---
Release provided by the CAA.