2019 Cairns Taipans vs Illawarra Hawks | NBL
LaMelo Watch: Illwarra Picks Up First Win In Round 2
LaMelo Watch: Illwarra Picks Up First Win In Round 2
LaMelo Ball and the Illawarra Hawks had two matchups in their Round 2 fixture back in Australia. Here's everything you need to know.
Oct 14, 2019
by Aaron Torres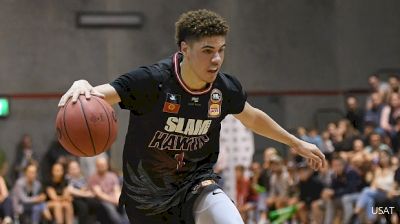 It was a busy week in the NBL and also a busy week for the league's two high-profile, teenage American superstars.
While RJ Hampton and the New Zealand Breakers did a two-game exhibition tour in the United States facing the Memphis Grizzlies and Oklahoma City Thunder, LaMelo Ball and the Illawarra Hawks had two matchups in their Round 2 fixture back in Australia.
Here's everything you need to know about Ball's last seven days, in this week's "Melo Watch."
An Up-And-Down Two Games for Ball, But Illawarra Picks Up Its First Win
Ball had a debut to remember in Round 1, finishing with 12 points, 10 rebounds, and five assists in his first NBL regular-season game against the Brisbane Bullets. Things weren't quite so smooth this week, although the Hawks were able to pick up the first win of their young season on Monday night.
But first, there was a Friday night matchup with defending league champion Perth Wildcats that didn't go quite as planned for the Hawks. Illawarra fell 103-76 as the Hawks fell behind by six points after the first quarter, 13 at intermission, and 28 after the third.
Individually it was an up-and-down affair for Ball, as he finished with a team-high 15 points to go along with eight assists and three rebounds. Unfortunately, he also turned the ball over four times, and his shooting woes continued. Ball went just 4-of-14 from the field and 1-of-6 from behind the three-point line.
After the game, Illawarra coach Matt Flinn defended his young star, saying that, in time, his jump shot will come around.
"He shoots a lot of reps like everyone," Flinn told reporters. "We get a lot of shots up. He doesn't break out much in my opinion. Some of the shots he missed tonight we see him make a lot. We want to give him belief. I'm not going to put handcuffs on him at all. My job is to put him in spots that suit his skillset. I think we're achieving that."
To Ball's credit, he scaled things back in the Hawks' second game of Round 2, as Illawarra picked up its first win of the season on Monday night against the Cairns Taipans.
As we projected could happen last week, Flinn elected to put former NBA guard Aaron Brooks in the starting lineup along with Ball, and the move seemed to have a positive impact for both Ball and his team. Playing alongside Brooks, Ball shot a solid 4-of-8 from the field with five rebounds and five assists, as Illawarra used a big third quarter to pull away and then hold on late for an 89-87 win over the Taipans.
Brooks led the way with 19 points, providing a veteran, steadying presence alongside Ball, who is nearly half Brooks' age.
LaMelo Continues to Pick Up Praise On & Off The Court
While it was an up-and-down week on the court for Ball, off of it, he continues to pick up praise from his peers.
Although he didn't have his finest outing against Perth, Ball's skillset caught the eye of one very high-profile opponent: Wildcats' star Bryce Cotton. Cotton is one of the most respected players in all the NBL, as a former league MVP in 2018, who also played for the Utah Jazz, Phoenix Suns, and Memphis Grizzlies during the 2014-15 and 2016-17 NBA seasons.
While Ball has work to do, Cotton can see why fans and NBA front offices are so excited about him.
"Despite how young he is, you can tell the upside he has," Cotton said. "He's already got some game with him, but you can see the upside."
Melo also gained praise from players state-side. And it came in the way that most guys show respect these days: through Instagram.
A Round 1 highlight video that Ball posted on Instagram received comments from throughout the basketball community, with everyone from Lance Stephenson (a one-time teammate of Ball's older brother Lonzo), Hawks guard Trae Young (that's the Atlanta Hawks, not Illawarra), and NBA rookies Ja Morant and Tyler Herro chiming in.
Herro, the No. 14 pick last year out of Kentucky, went so far as to call Melo "#1 pick."
And finally, Ball received the ultimate praise from one especially important NBA player, when his own brother Lonzo weighed in with his thoughts on LaMelo's evolution in Australia. During an interview with The Athletic's Shams Charania, the eldest Ball brother said that he believes his baby bro has a chance to be special.
"'Melo has a chance to be a better player than me, for sure," Ball told The Athletic. "I feel at the same age, he's better than me. In real time, I don't think he's better than me."
The eldest Ball wasn't too quick to give credit, however.
"But I'm the big brother so I'm always going to have that edge over him," Lonzo told The Athletic.
Away from basketball, Ball's father LaVar continued to make headlines — and not necessarily for the right reasons.
The Ball family patriarch told TMZ that despite reports to the contrary, the family-owned "Big Baller Brand" is not out of business, and both Lonzo and LaMelo could continue to work with the brand going forward.
"Lonzo can think all day [that he is leaving Big Baller Brand]," Ball said. "He ain't signing with nobody. Big Baller Brand. That's what I said."
That narrative runs counter to what has been reported in other places, in which Lonzo and LaMelo could potentially break off and sign endorsement deals with traditional shoe companies.
Another Two-Game Round for Ball Awaits
After playing two games in Round 2 this week, Ball will again play twice this coming week in Round 3.
On Friday, Illawarra will travel to Melbourne to take on SE Melbourne Phoenix. And on Monday, they will host the Adelaide 36ers.