LaMelo Watch: Ball Shines Amid Illawarra's Struggles
LaMelo Watch: Ball Shines Amid Illawarra's Struggles
LaMelo Ball and the Hawks played two games in Round 3, and it was tough sledding for the club, even as Ball continues to gain individual acclaim.
Oct 22, 2019
by Aaron Torres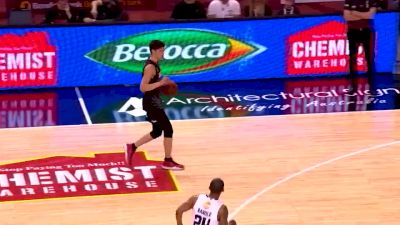 After a week in which many top NBL clubs traveled across the globe to face NBA teams in preseason exhibitions, everyone was back in Australia taking part in Round 3 action this weekend.
That, of course, included the Illawarra Hawks, home of one of the most intriguing prospects in all of basketball, LaMelo Ball. Ball and the Hawks played two games in Round 3, and it was tough sledding for the club, even as Ball continues to gain individual acclaim.
Here's what you might have missed in this week's "LaMelo Watch."
The Hawks continue to struggle, and at times, so too does Melo
When it comes to the state of the Illawarra Hawks organization and its most prized prospect, two things which seem contradictory are both be true: The Hawks can be in the middle of some major struggles as a team, even as Ball continues to shine individually.
The Hawks opened the weekend with another disappointing loss, this one to SE Melbourne United, which through the weekend is one of only two undefeated teams in the NBL fixture (the Sydney Kings are the other). Illawarra fell 106-102 on Friday night, falling behind by seven at halftime. They were never able to catch up.
Statistically, however, it was another solid game for the youngest Ball brother, as he finished with 11 points, 7 rebounds, 4 assists, and 1 steal. Overall it was a good shooting night for Ball, who went 4 of 9 from the field. Unfortunately, LaMelo did continue to struggle from behind the arc, making just 1 of 5 from three-point land.
Still, even following the defeat, Illawarra coach Matt Flinn raved about his young point guard.
"He's just a joy to be around," Flinn told reporters. "He loves the game. His enthusiasm for the game is infectious. You see it tonight. He balls out. His, genuinely, first and last love is playing basketball and that's fun to be around."
With the praise behind him, Melo and Illawarra returned to the court on Sunday evening, and in what has become all too familiar a trend, fell behind early to the Adelaide 36ers and played catch-up from there. The Hawks again fell down by seven at halftime, on their way to a 98-92 defeat. Veteran guard Aaron Brooks led Illawarra with 31 points, the highest point total of any NBL player this season.
As for Ball, it was much the same as Friday night, as he had a statistically solid output, with 15 points, 5 rebounds, and 7 assists, but still can't seem to find rhythm in his jump shot. He finished the night shooting just 1 of 7 from behind the three-point line, and is now just 3 of 25 from beyond the arc this season.
Despite his struggles shooting the ball, though, Ball provided one of the highlights of the early NBA season, dropping a beautiful, behind the back pass to former UConn Husky Josh Boone, who finished the play in traffic.
???@MELOD1P ➡️ @The_Real_JBizzy ?#FlyAsOne x #NBL20 pic.twitter.com/Q8pm7HJiAN

— Illawarra Hawks (@illawarrahawks) October 21, 2019
Ball Continues to Earn Praise, As Family Drama Swirls Back Home
Similar to his play on the court, Ball's week off the court was filled with peaks and valleys.
On a positive note, an Instagram post revealed just how revered he is by the locals in Illawarra.
And furthermore, Ball is continuing to draw real buzz as a top NBA Draft pick.
Late last month ESPN revealed a Way-Too-Early 2020 mock NBA Draft which showed just how much Ball has grown in the eyes of NBA scouts. The mock draft had him at No. 3 overall, behind only Memphis forward James Wiseman and Georgia guard Anthony Edwards in the early projections for next spring.
And this week, apparently the folks in the desert caught on to how well Ball has been playing as well. Over at FanDuel you can bet on whether Ball will be the No. 1 pick in the draft, with the Illawarra guard garnering odds of +420 to go No. 1 overall.
Finally, there was a bit of negative, with more drama stateside (or at least in the Western Hemisphere) as the Ball's former family manager Alan Foster spoke out from his new home in Colombia.
While it's unknown exactly why Foster is in Colombia (it's probably that whole "being sued by the Ball family" thing) he is of course accused of stealing millions of dollars from the family. And late last week Foster went on the defensive, on his new YouTube channel.
None of Foster's accusations were made directly at LaMelo, with most of the criticism coming against father Lavar Ball. LaVar's methods produced three Division I quality basketball players in Lonzo, LiAngelo, and LaMelo Ball. However, it also caused some of the injury problems that have plagued the older two brothers, according to Foster.
"He had the boys running on cement, running hills on concrete," Foster said, referencing the myriad of injuries Lonzo has faced as a pro. "Can you imagine the damage that does on your knees? On your ankles? And then, when they play in the game — whether it's AAU, high school — LaVar requested that they stayed in the full game with no breaks, no rest. So, Lonzo's 21 years old but his ankles are really like 31 years old."
As best we can tell, no member of the Ball family has responded to Foster's claims.
Illawarra will again play two games in Round 4
It will be a quick turnaround for Illawarra, as they get set to play two games this week in Round 4 of NBL action.
It all begins Wednesday, with the first-ever matchup between Ball and fellow highly-touted American teenager RJ Hampton, as Illawarra faces the New Zealand Breakers. New Zealand has played just two games in NBL play after spending a week in the United States facing off against the Memphis Grizzlies and Oklahoma City Thunder in preseason action.
And on Saturday, LaMelo will be back on the court as Illawarra takes on the Perth Wildcats.
The Hawks lost to Perth by 27 points during Round 2 action.