LaMelo Watch: Rave Reviews Continue To Roll In For Ball
LaMelo Watch: Rave Reviews Continue To Roll In For Ball
A week after the marquee matchup with RJ Hampton and New Zealand, life was somewhat back to 'normal' for LaMelo Ball in Auckland.
Nov 4, 2019
by Aaron Torres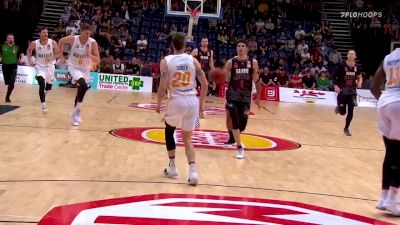 It's been a busy, but high-profile couple days for fans of the NBL.
Last week we got our first matchup between the two marquee American teenagers in the NBL, when RJ Hampton and LaMelo Ball squared off in Auckland. We documented the matchup at length, including an interview with Hampton's father Rod.
Watch LaMelo Ball LIVE on FloHoops
This week it was somewhat back to normal, as Ball and the Illawarra Hawks played just one game. Even in another loss, Ball picked up plenty of acclaim, with another NBA Draft expert heaping high praise on him.
So what did you miss the last seven days? Let's get you caught up in this week's "LaMelo Watch."
LaMelo Continues to Shine, Amid a Disappointing, Injury-Ravaged Season with the Hawks
The Hawks played just one game during Round 5 play, and in what has become a bit of a recurring theme in these updates, Illawarra struggled.
The Hawks suffered arguably their most disappointing loss of the entire season over the weekend, falling to the Brisbane Bullets 83-69. Even worse, the team lost one of its veteran American imports for the season, when Aaron Brooks suffered an Achilles tear. Alongside Ball, Brooks had been one of the few bright spots for Illawarra, as the former NBA guard was averaging 17 points per game, including a 31-point performance back on October 20th. That was, at the time, the most points scored in an NBL game this season.
Without Brooks the Hawks faltered early against Brisbane, and never found their groove, falling behind 12 after the first quarter and 21 at halftime.
On a positive note, Ball again flashed an elite offensive skill-set in the loss, leading the team with 19 points, to go along with nine rebounds, six assists and three steals.
There were negatives however.
For starters, Ball's shooting struggles continue as he finished just 6 of 19 from the field and 2 of 10 from beyond the three-point arc. On the season he is shooting just 34 percent from the field.
Even worse was an apparent lack of interest on defense, something that irked head coach Matt Flinn.
"[Ball] is a talented kid, he can get to the hole and he creates for other people," Flinn said after the game. "But again, we play at both ends of the floor, and at times, not just Melo, but we had multiple breakdowns defensively."
As Flinn said, all the blame doesn't fall solely on Ball's shoulders on this one.
On the night, Illawarra allowed Brisbane to shoot 43 percent from the field, including 53 percent inside the three-point arc.
No team is going to win many games playing that way.
Despite the Tough Week, The Rave Reviews Continue to Roll In For LaMelo
While the results on the court haven't gone the way Illawarra supporters would like, it has done little to damper the big-picture excitement for Ball long-term.
The excitement was created in large part thanks to the much-anticipated matchup with Hampton, a matchup which brought ESPN draft analyst Mike Schmitz over 5,000 miles to see both young players in action.
Schmitz's ESPN colleague Jonathan Givony had previously raved about Ball during a visit to Australia in September, claiming that Ball could be the potential No. 1 pick in the 2020 NBA Draft.
And Schmitz backed up those reports following a trip to Australia this week.
"From everything I've seen, this is the most talented player in the draft," Schmitz told ESPN's Scott Van Pelt.
Schmitz then followed it up with a written report on ESPN, where he gushed again about Ball's innate natural ability.
"When you strip away the circus that has surrounded the Ball family, you'll find a 6-foot-7 point guard with elite basketball instincts, uncanny creativity, an even on-court demeanor, unwavering confidence and natural talent with the ball that no other player in the 2020 draft class currently holds."
Schmitz of course did add that there are still questions about Ball, specifically about the role that his father LaVar and other family members could play once Melo gets to the NBA. That's not surprising given LaVar's history with the media.
Despite the family circus though, Schmitz wasn't the only one to rave about Ball's progress this past week.
Following a big performance from second-year NBA player Luka Doncic on Friday night, former NBA head coach and long-time point guard Earl Watson went on Twitter and compared the youngest Ball brother to Doncic. After training Ball in the off-season Watson believes, like Givony, that Ball has the chance to be the No. 1 pick in the upcoming NBA Draft.
Paralysis from analysis => @MELOD1P NBA PRE DRAFT SCOUTING! He's the #1 pick, he's 18, no one plays defense at 18 & he's a pro's pro; work ethic, masterful nuances of the position, skill & mindset. #misslikeLUKA

— Earl J Watson (@Earl_Watson) November 2, 2019
And finally, it was a bit of a family reunion Down Under this week, as the entire Ball family (minus Lonzo) visited LaMelo in Australia.
Following the trip, a report from Fox Sports Australia's Olgun Uluc surfaced that said middle brother LiAngelo was not only in Australia, but actually worked out with the team.
I'm told LiAngelo actually visited LaMelo in Wollongong early on, and he even trained with the Hawks. Still, the Balls have done a good job at making sure the circus didn't follow them to Australia, and they want to keep it that way. https://t.co/Ij63RCcVkq

— Olgun Uluc (@OlgunUluc) October 28, 2019
But before we get to too much speculation that LiAngelo could join LaMelo in Illawarra, the truth is that it's unlikely.
Although the Hawks have an extra spot for an import following Brooks' injury, early reports are that they prefer former NBA players Jerian Grant and Tyler Ulis to fill the role.
One Game Ahead Next Week
Like this week, Round 6 will feature just one game for Illawarra. It comes on Saturday when they face off with the Cairns Taipains.
The game presents Illawarra with their best chance at a win in coming weeks.
The Hawks sole win of the season came against Cairns in an 89-88 victory back on October 14th.