Illawarra at Cairns | 2018-2019 NBL
LaMelo Watch: Ball Leads Illawarra To Second Win Of Season
LaMelo Watch: Ball Leads Illawarra To Second Win Of Season
LaMelo Ball had his best game as a professional as his team picked up its second win of the season.
Nov 11, 2019
by Aaron Torres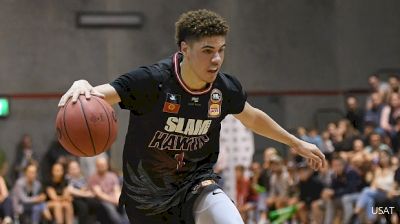 Over the last few months LaMelo Ball has been touted as the potential No. 1 pick in the 2020 NBA Draft, with his game praised high and low by current and former NBA players. But despite all the buzz Ball has created, he hadn't put together a complete game yet in the NBL, one where his vast set of skills was on full display.
Well that all changed this weekend, when Ball had his best game as a professional as his team picked up its second win of the season. It also came as Ball continued to receive praise both in Australia and the United States, all while a surprising controversy popped up as well.
Yes, it was a whirlwind week, and we cover it all in this week's "LaMelo Watch."
LaMelo Shines as Illawarra Picks Up Just Its Second Win of the Season
There is no nice way to put it: While Ball has had individual moments of success this season, it's been a long, disappointing few months overall for his team, the Illawarra Hawks. Well that all changed Saturday night as Ball had his best game as a pro, and the Hawks picked up their second win of the season, beating the Cairns Taipans 101-91. Both of Illawarra's victories this season have come over Cairns.
The victory itself marked the best individual game Ball has played since arriving in Australia a little over two months ago. The 18-year-old Ball finished with a mesmerizing, 24-point, seven rebound, nine assist performance, doing it on 9 of 21 shooting from the field. It included a spectacular night from behind the arc, where Ball made 5 of 11 three-point attempts.
A week after criticizing Ball for his defensive play, Hawks head coach Matt Flinn gushed over his young star on Saturday night.
''Everyone saw tonight what we see a lot in practice,'' Flinn said. ''He's very talented and he gets talked about in the draft circles for a reason because he can do things and get to spaces on the floor that some others can't. He's been challenged a lot in this league with his handles and a lot of people have tried to get after him and he keeps ticking those boxes.''
Among the highlights in the game was this nifty no-look pass to Dave Anderson for an easy layup.
24 points, 8 assists, 6 rebounds, 3 steals, 1 block & the W.@MELOD1P x #FlyAsOne pic.twitter.com/I09qZ3QwEp

— Illawarra Hawks (@IllawarraHawks) November 9, 2019
For Illawarra supporters, this win was a positive step in the right direction for a handful of reasons, as for at least one night, both the Hawks biggest problem and Ball's biggest problem were solved.
Starting with the team, they have been plagued by one slow start after another this season, falling in big holes early and unable to come out of them late. That changed this weekend, as Illawarra jumped out to a 22-21 lead after the first quarter and then exploded for 37 points in the second quarter. That opened up a 59-45 halftime lead and never look back.
Also for Ball individually, it had to be nice to see a couple of deep threes fall through the hoop. While Ball has more than adequately handled himself in the pro ranks, the one thing he hadn't been able to do was hit shots consistently from deep.
That changed on Saturday when he finished with a season-high five three-pointers.
He had nine total three-pointers in his seven previous NBL games this season.
Up & Down Week Off the Court for Ball
It wasn't all deep three-pointers and rainbows for Ball and Illawarra off the court this week however, as the club battled speculation that Ball could be gone from the team before the season is done. It came via a comment from Australian basketball legend Shane Heal, who said, "I don't think there is any way that he is having any roast turkey in Australia for Christmas Day, I think he is back home."
Well Flinn didn't take kindly to those comments, using part of his postgame media availability to address them.
"As far as I'm concerned he's contracted for the season and he's buying in like every other player we've got," Flinn said. "I hear speculation, but we just treat it day by day. You saw a guy tonight who is really invested in his team and if you go down and sit in the locker room you'll see a kid who is really invested in his teammates."
Even amid the semi-media storm, Ball continues to pick up praise from both his peers in Australia and from talent evaluators back in the United States.
It started earlier this week, when former NBA champion Andrew Bogut was asked about Ball via an interview with The Athletic. Bogut currently plays for the Sydney Kings, a team which will actually face Illawarra for the first time this weekend. Still, from a distance, he has been impressed with Ball's play.
"Obviously a player who knows how to read the game well," Bogut told Strauss. "You can tell when he gets in the lane and a guy helps, he can tell exactly where the guy is helping from and where the ball should go. Unbelievable passer and playmaker. I think sometimes very flashy, both positively and negatively sometimes. That flair in playmaking, that can help and hinder at times. That comes with the territory of being a young fellow."
Meanwhile back in the United States, both talent evaluators and TV personalities across basketball raved about Ball's early work in Australia. He is currently listed as the No. 3 pick in ESPN's latest mock draft, and No. 5 in the Athletic's newest mock as well.
Meanwhile on television, former lottery pick Jay Williams raved when he was asked about Ball during a segment on ESPN's "Get Up" last week.
"When I saw LaMelo Ball a couple of years ago, he was 6 feet 1 inch," Williams said. "He's 6 feet 7 inches now — he's a 6-foot-7 guard. Now, his shooting is a little bit different and people are questioning that. But LaMelo Ball is in the conversation for being the first pick in the NBA Draft."
Just One Game for Ball in Round 7 Next Week
For the third week in a row, Illawarra will play just one game next weekend.
It will come on Saturday night, when they play Bogut's Sydney Kings in Sydney.